Prague is a home to a number of popular destinations and tourist attractions that are greatly commended by local and foreign travelers. The ancient Czech capital's views are undeniably breathtaking at any time of the year, particularly on holidays. A day of wandering around the beauty of the heart of this city is an incomparable and fulfilling adventure one could ever experience. Book your stay at the best boutique hotels or the top party hostels in Prague.
But the fun doesn't end just because a day of sightseeing does. Prague's charm and magic continue from daylight to nightlife scene, making it a city that plays host to a lot of fabulous evening pleasures and activities. From amazing theater performances, music clubs, and bars to romantic river cruises, here is the compilation of best things to do in Prague at night.
First on the list of what to do in Prague at night is visiting Prague National Theatre. The rich, artistic tradition of Prague is well-shown in every Czech opera performance produced in this Neo-Renaissance theater. Since inception, it has played a significant role in the development of the Czech language, music and country's dramatic arts. It has the largest ballet company in the city running from 5 to 7 performances depending on the season. A sample of their performances includes Swan Lake Nutcracker productions, Laterna Magika, Cinderella and other local productions.
National Theatre

Address: Národní 2, 110 00 Nové Město, Czechia

Website: National Theatre
Prague Card
Discover how animals behave after dark by dropping by on the most visited zoological garden in the Czech Republic. Prague Zoo conducts popular evening tours depending on their announcement of "special night tours" offer. This unusual experience provides more comfort to visitors since there is no throng of people to deal with and allows more opportunities for them to ask questions. Together with tour guides, visitors may learn some interesting facts and stories about the life of the zoo inhabitants. Look forward to see flying foxes and brush-tailed possums and other kinds of monkeys which are active at night.
Prague Zoo

Address: U Trojského zámku 3/120, 171 00 Praha 7, Czechia

Website: Prague Zoo
Prague Zoo Admission Ticket including Round Trip Transfer

Duration: 3 to 8 hours
Spend your magical evening by dining and cruising along River Vltava, the longest river in the Czech Republic, and take in the floodlit beauty of Prague by meandering along the breathtaking views of the river. Though you're in a capital city, you can feel the presence of nature with the swans floating around in search of food and other birds flying and swooping down on the water. From the river around Charles Bridge, you can see the Highland and slopes of the magnificent Petrin Hill. To start an enchanting night, try to dine at one of the riverside restaurants or choose a buffet of hot and cold dishes on the boat while sailing.
River Vltava

Address: Vltava River Prague, Czech Republic

Website: Vltava River
Prague Boats 3-hour Dinner Cruise

Duration: 3 hours
One of the exciting night activities to do in Prague is joining the ghost and vampire tours and discovering the eerie side of the historical city. This tour focuses on storytelling of ghosts, legends, and paranormal events while walking with a group of mystery hunters along the darkened streets of Prague's Old Town. There are no special effects or cheap tricks included just to frighten the tourists. The tour is a great deal package for those who seek some spooky sightseeing trip and spine-chilling mystery adventures.
Ghost and Legends Walking Tour

Address: Stare Mesto (Old Town), Prague, Czech Republic

Website: Ghost Tour in Old Town
Prague: Ghosts and Legends Walking Tour

Duration: 1.5 hour
5. Combine dinner and a movie at Royal Café Theatre
Editor's Note: There's no photo available at the time of writing
A mix of 1920s Czech First Republic and Hollywood, exceptionally redecorated and with an entertaining listing of theater performances and film screenings, Royal Theater Café is a wonderful combination of old and new. This multi-purpose cultural venue was one of the largest and most modern of its time, set in a splendid old movie theater, and was established in 1929. The cinema is more of a dinner theater having special theme nights making it so busy with a lot of schedules in line.
Royal Café Theatre

Address: Vinohradská 2165/48, 120 00 Praha 2, Czechia

Website: Royal Café Theatre
Dedicated to the late great American author and journalist Ernest Hemingway, this Old Town bar is inspired by the author's classic era and a great slice of the good life. Tagged as one of the best and most popular bars in town, it portrays a wide selection of innovative cocktails, great old American ambiance, and classic pop hits. If you want to taste absinthe when you visit Prague, go straight to Hemingway Bar and try their signature drink: the Hemingway Daiquiri, an icy, fruity drink that boasts fresh lime, pink grapefruit juice, a dash of syrup, maraschino, and 13-year-old-rum as its ingredients. Add this bar to your Prague night tour!
Hemingway Bar

Address: Karoliny Světlé 279/26, 110 00 Staré Město, Czechia

Website: Hemingway Bar
Prague: Pub Crawl and International Party

Duration: 4.0 hour
7. Feel the beat at Palac Akropolis
A multi-functional and multi-cultural institution that harbors a theatre, an info center, a radio headquarters, a restaurant, and a club. Palac Akropolis is a space for young artists which offers various performances such as alternative music drama and cultural events; from DJs to string quartets, from innovative dance to movement theatre projects. This multi-purpose building presents progressive music genres as well as exhibitions and expert programs.
Palac Akropolis

Address: Kubelíkova 1548/27, 130 00 Praha 3, Czechia

Website: Palac Akropolis
8. Exhaust the night in Municipal House
This is Prague's high and finest Art Nouveau complex building with the extraordinary explosion of vegetal and allegorical ornaments and decorations. Municipal House consists a concert venue, three restaurants, the oldest bar in Prague and some of the most beautiful art nouveau architectural pieces.
Municipal House

Address: nám. Republiky 5, 111 21 Staré Město, Czechia

Website: Municipal House
If you're a fan of soccer, bring your love for the game to Prague and watch a match live! You will be hosted by David and his friends, who are locals of Prague and are equally passionate about soccer as you are. You'll be meeting at a local pub for a friendly get-to-know chat before traveling to the league match. It is a great way to meet locals and makes for a fun and unique evening experience in Prague, too!
Soccer Event with Czech Professional Fan

Duration: 3.5 hours
This is one of the most unique experiences you'll ever have on vacation. Not only will you have awesome pictures by the end of the tour, but you will also have made a new friend in your host, too! Your guide Pavel will meet you and accompany you around Prague. Let him know if there's an area you wish to see, and he'll take you there. You will get to mingle with other locals by visiting a few pubs and having a chat. Once the sun sets, the light painting begins.
Light painting in Prague

Duration: 3 hours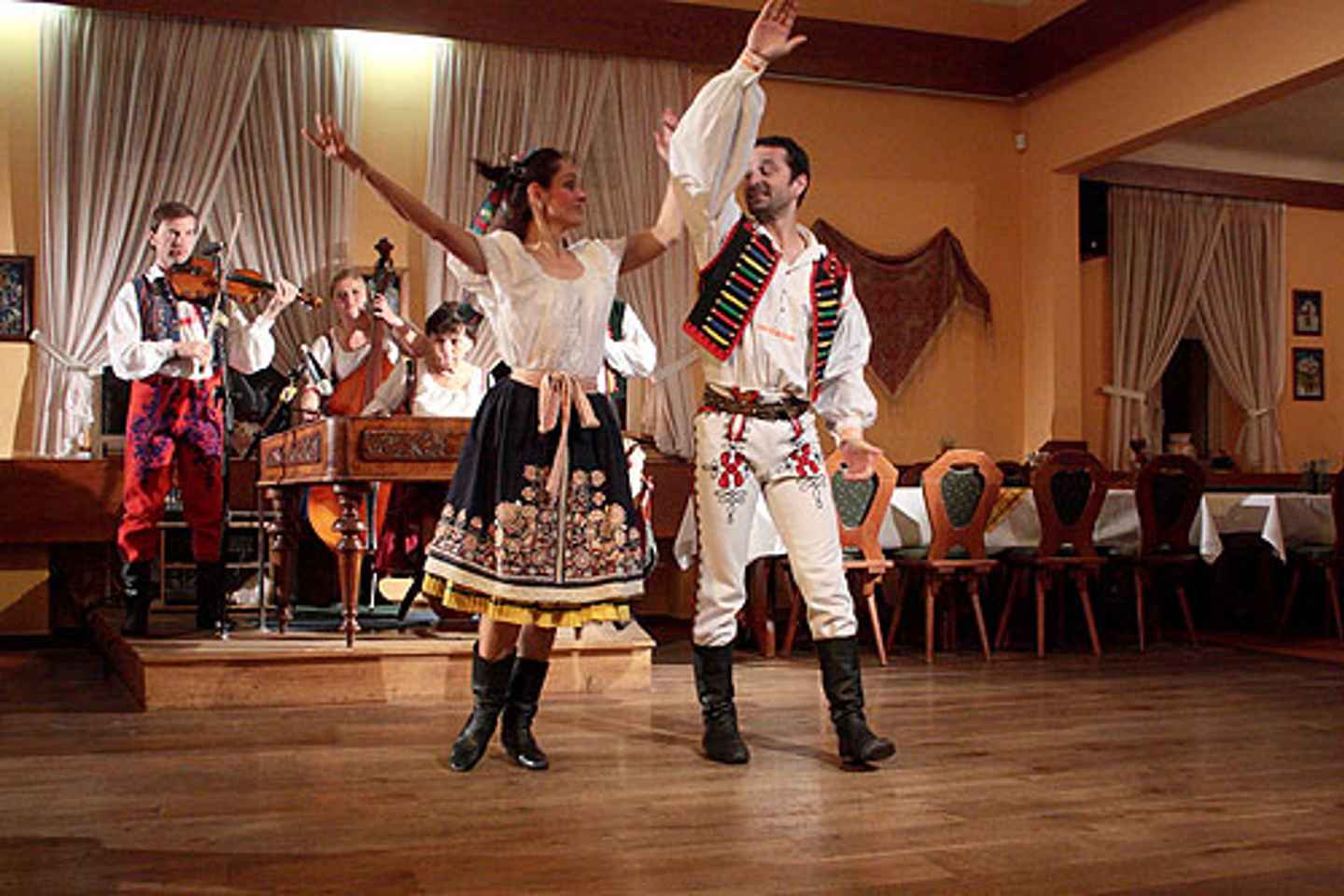 A typical Slavic evening with special folk music and dance performances makes U Marčanů a popular folklore restaurant and entertainment venue for tourists coming from different parts of the globe. Located in a quiet part of Prague 6 not far from Prague Castle, this restaurant serves a menu made of traditional Czech dishes and to pair with it, there are high-quality Moravian wines and excellent pilsner beer. Guests are encouraged to participate in every show which is a one-hour program of Bohemian, Moravian, Slovak folk or gypsy songs and dances.
U Marčanů

Address: Veleslavínská 25/14, 162 00 Praha 6-Veleslavín, Czechia

Website: U Marčanů
Prague: Folklore Dinner with Music & Dance

Duration: 3 hour
Refresh yourself with the unique taste of Czech beer served in this modern, upbeat pub located on Dlouha Street. A popular nightspot in the center of Prague's gorgeous Old Town is a spacious pub offering a large menu where you can read detailed descriptions of all the assorted beers on tap from the Czech Republic's best microbreweries. Among the most popular products are the beer flights of five or ten brews found at the long wooden bar. Their local specialty is the Real Deal Ale, a beer made specifically just for the Prague Beer Museum by the Permon Brewery.
Prague Beer Museum

Address: Smetanovo nábř. 205/22, 110 00 Staré Město, Czechia

Website: Prague Beer Museum
Prague Beer and Czech Tapas Evening Walking Tour

Duration: 3 to 4 hours
Experience the night tour and don't ever sleep
Shout out to all those thrill-seekers who love to stay awake when the dark finally closes in! In addition to the city's famous buildings and entry-free museums, these Prague night attractions will surely give you the energizing vibe to make you active and dynamic. Get on your feet and start your nightlife!
Disclosure: Trip101 selects the listings in our articles independently. Some of the listings in this article contain affiliate links.
Get Trip101 in your inbox
Unsubscribe in one click. See our Privacy Policy for more information on how we use your data