Amsterdam goes by many names, in fact, Venice of the North is one of its nicknames. No matter what you call the Dutch capital, it doesn't change the fact that Amsterdam ranks high as one of the best cities in the world. Filling your itinerary with all the things to do and sights to see in Amsterdam can prove to be a stressful task, especially when you consider all the experiences Amsterdam offers. A good way to make quick work of planning your Amsterdam tour without missing any of the must-visit attractions and must-do activities in the city is to go on a prearranged day tour with a reputable travel company. Lucky for you, we already found all the top day tours in Amsterdam, The Netherlands. Take your pick, pack your bags, for it's almost time to go.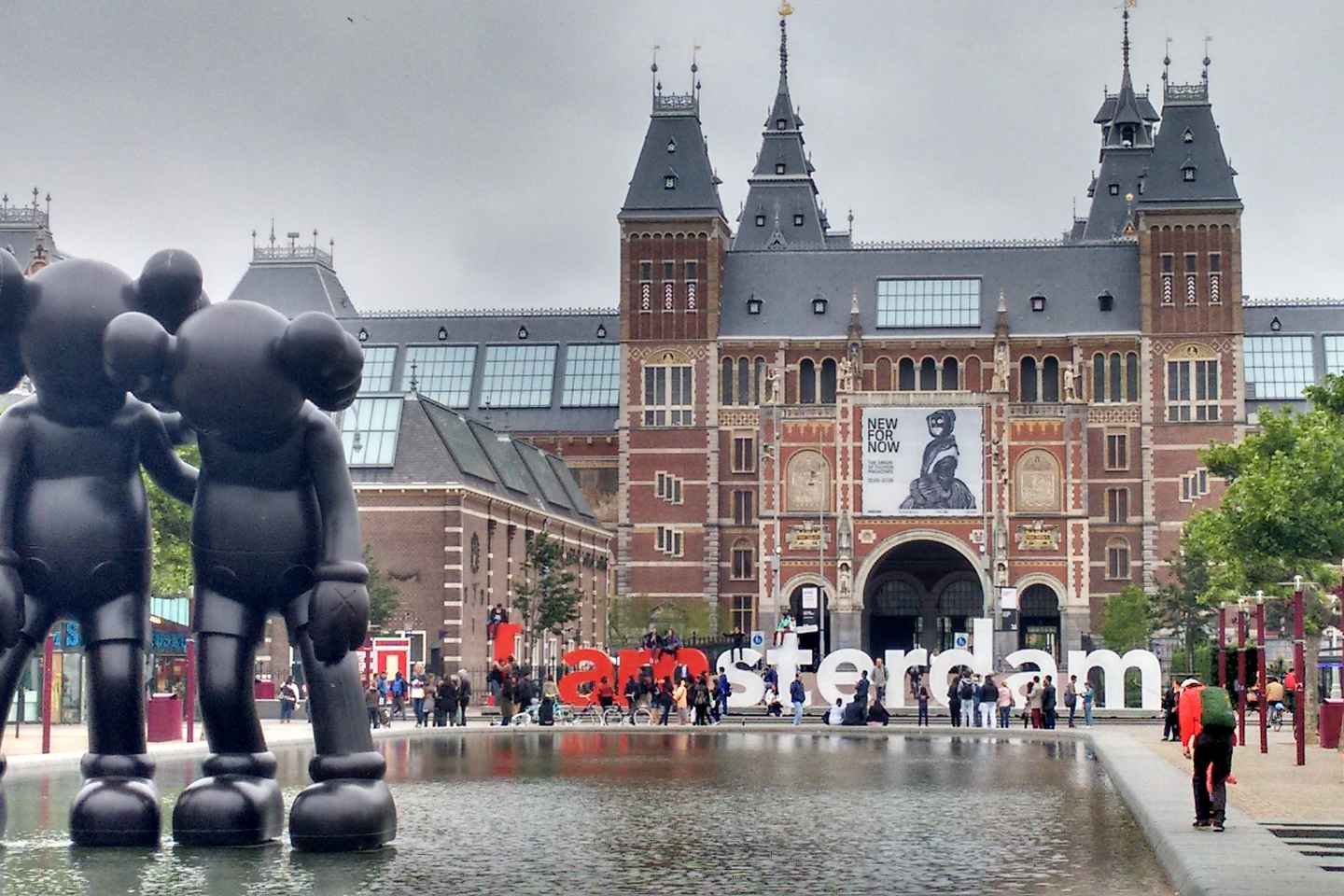 They say one of the best ways to experience the city is through the guidance of a local and we totally agree. In this walking tour, you'll meet up with a local guide who will show you what Amsterdam is all about in two to six hours. You can adjust your tour accordingly depending on your interests. Rest assured, by the end of the tour, you'll be somewhat of an expert on Amsterdam city culture. Don't forget to ask about the best restaurants and bargains in the city. We highly recommend this tour to travelers who have a bit more time to spend in the city and want some flexibility in their itinerary.
Amsterdam Private Welcome Tour with a Local Guide

Duration: 2.0 hour
If you've already been to the Van Gogh Museum but would still like to squeeze two Amsterdam must-dos in one day, this is your alternative. The tour will start out with the 75-minute canal cruise in the De Pijp neighborhood. After that, the tour will continue on to the Rijksmuseum, where you can learn more about Dutch art and history.
Blue Boat Company City Canal Cruise and Rijksmuseum

Duration: 3 hours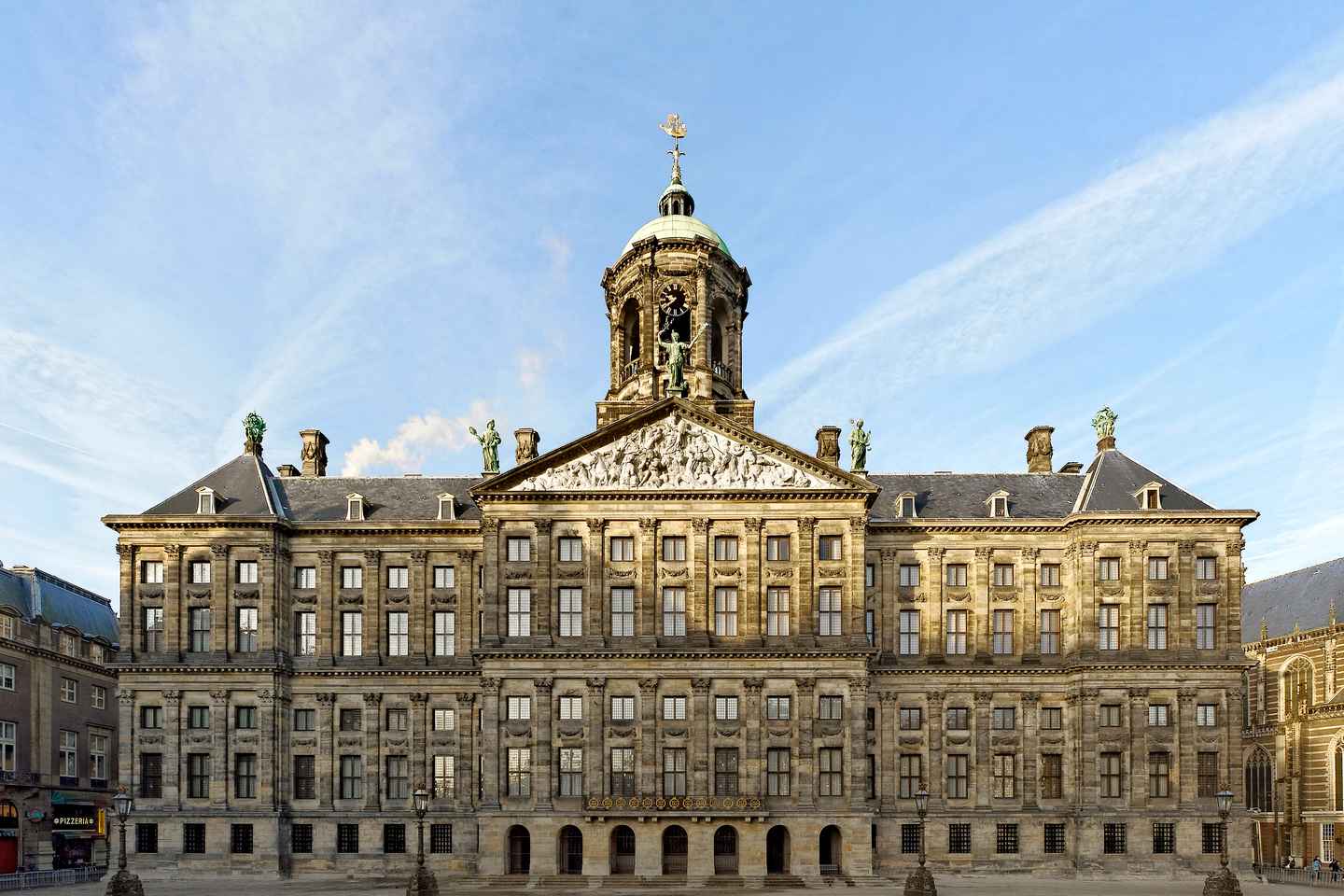 Built in 1648, the Royal Palace of Amsterdam is one of the three palaces in Denmark being used by the Dutch Royal Family. It serves as King Willem Alexander's official reception palace. Its gilded halls the location for many state and royal functions. Don't miss the chance to tour one of the Netherlands' most iconic royal buildings and historical monuments. Skip the long lines with this tour so you can admire the palace and all of its grandeur. Find beautifully preserved Golden Age furniture in the rooms and admire the masterpieces that adorn the walls. You'll be given an audio guide (available in different languages), so you'll learn more about this 17th-century beauty.
Amsterdam: Royal Palace Entry Ticket and Audio Guide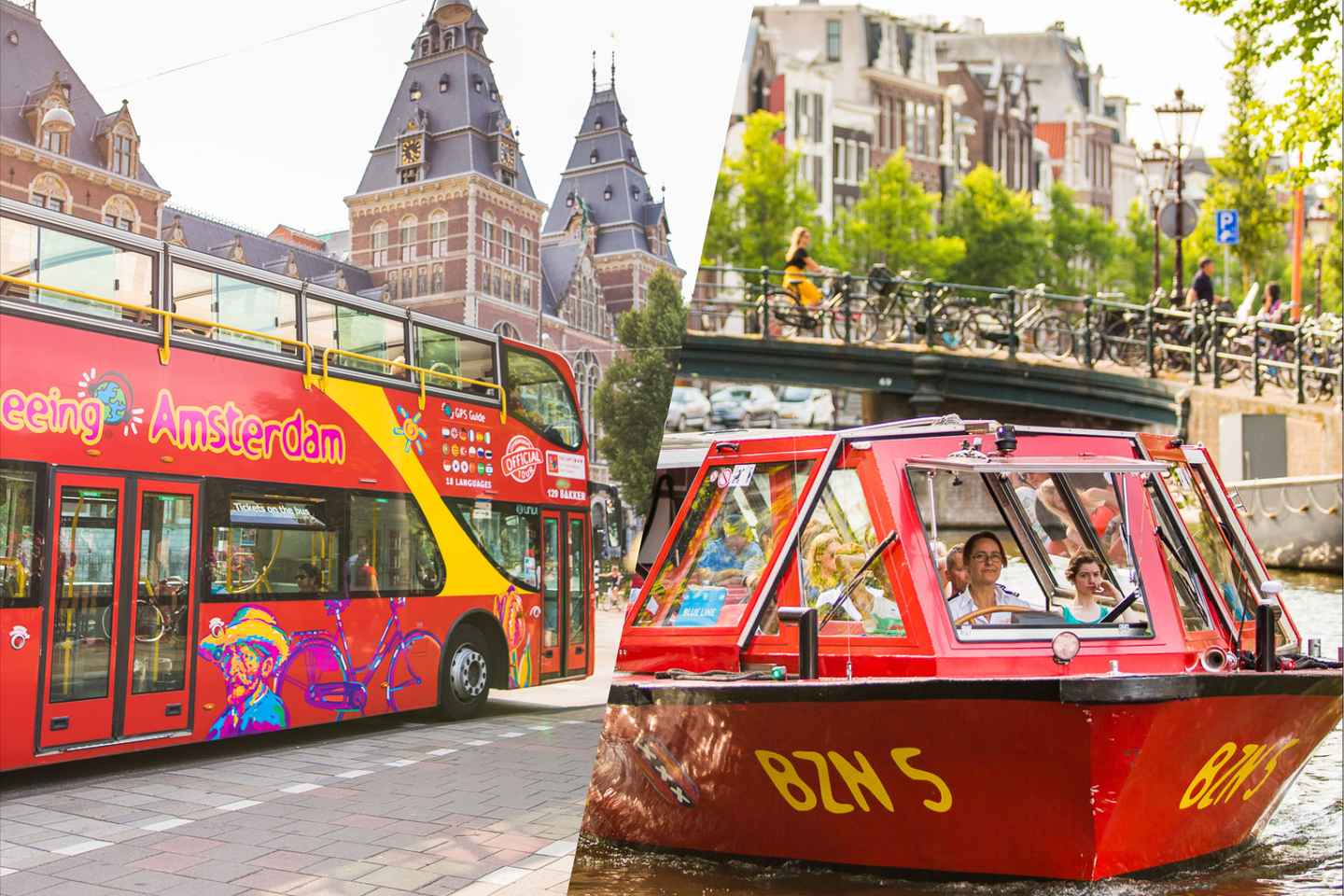 Some may argue that boarding the ubiquitous red tour buses that roam around Amsterdam is an activity that's too "touristy," but we wholeheartedly disagree. These tour buses are a great way to see all of Amsterdam's best spots, especially for holidaymakers who are on a bit of a time crunch. More importantly, we think these tours give a great introduction to the city, especially if you don't know much about Amsterdam. This hop-on, hop-off tour includes the Van Gogh Museum, the Anne Frank House, the Red Light District, and Amsterdam's Flower Market in the itinerary. After the bus tour, you can take a hop-on, hop-off canal tour of the city.
Amsterdam: Hop-On Hop-Off Bus and Boat options

Duration: 1.0 day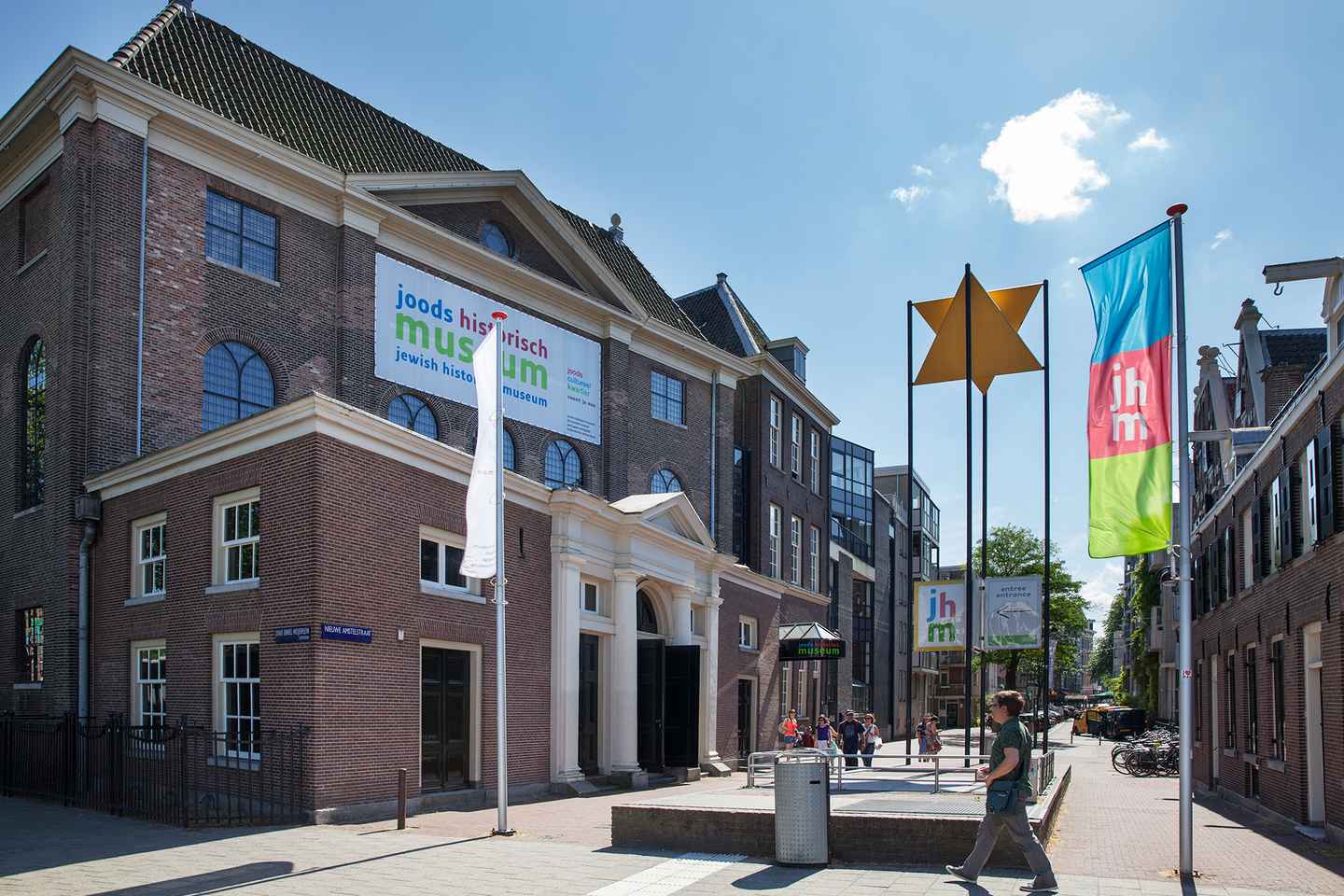 The Holocaust is one of the darkest events in human history and so, as the old adage goes, one must learn of the past in order to not repeat it. This enlightening tour starts off with a short trip to Amsterdam's old Jewish Cultural Quarter, where you can find out more about Jewish history, traditions, customs, and the roles they played (and continue to play) in Dutch society. This part of the tour is self-guided so you can fully explore attractions such as the Children's Museum, the National Holocaust Memorial, and the National Holocaust Museum. At your preferred time, you can head to the second part of the package: the two-hour Anne Frank walking tour. Starting from the Jewish Historical Museum, your group will slowly make its way to the Anne Frank House. Along the way, you'll learn more about the German occupation of the Netherlands in 1940-1945 and how Anne Frank became an enduring symbol of hope.
Amsterdam: Anne Frank Tour & Jewish Quarter Entry Ticket

Duration: 2.0 hour
Are you only in Amsterdam for three to five hours? Don't stay cooped up in the airport – go out and explore! This tour allows you to take a private guided tour so you can make the most out of your time in Amsterdam. Stops include the Anne Frank House, the Royal Palace of Amsterdam, and the city's tallest windmill. Three to five hours isn't enough to see all of the city, but it will give you plenty of reason to go back and stay for a couple of days.
Amsterdam Layover Private Tour with Airport Transfer

Duration: 3 to 5 hours
Think "windmills" and The Netherlands immediately come to mind. Lucky for you, there's an area outside of Amsterdam that has plenty of these iconic farm structures. This package will take you on a private tour with an art historian who will lead you throughout the whole five-hour excursion. Don't worry, there will be plenty of rest stops, one of which includes a picnic featuring a traditional Dutch lunch spread and, of course, an array of Dutch cheeses.
Private Guided Bike Tour to the Dutch Windmills

Duration: 4 to 6 hours
There's something so memorable about spending hours and hours wandering the halls of a world-class museum. This tour allows you to experience just that. Skip the line and head straight inside the Rijksmuseum, a repository of everything about Dutch history and art. There are approximately a million objects on display in this sprawling museum, so take your time to go through everything. Just remember the museum closes at 5 pm.
Skip the Line: Rijksmuseum Amsterdam Entrance Ticket

Duration: 2 hours
Amsterdam is renowned for many things, two of those being its extensive network of canals and the Van Gogh Museum. This tour combines the best of both worlds. You'll be taken on a 75-minute canal cruise, followed by a visit to the Van Gogh Museum, where you can admire some of the artist's best works. In this last stop, you're free to explore the museum at your own pace.
Blue Boat Company Amsterdam Canal Cruise and Van Gogh Museum

Duration: 8 hours
Amsterdam is a city that keeps on giving
Find more day tours in Amsterdam and learn more about the city when you browse our website for more Amsterdam city guides.
Disclosure: Trip101 selects the listings in our articles independently. Some of the listings in this article contain affiliate links.
Get Trip101 in your inbox
Unsubscribe in one click. See our Privacy Policy for more information on how we use your data