Nusa Lembongan is an island in Indonesia situated southeast of Bali. It is the most well-known island out of the group of three islands that make up the Nusa Penida district. Notable attractions include Devil's Tear, Mangrove Forest, and Yellow Bridge. Devil's Tear is located near to Dream Beach and it's a prime spot to view crashing waves against rocks and catch the sunset. Travelers should be careful not to stand too near to the cliff as it can get quite slippery.
While at Mangrove Forest, hop on a boat for a tour of the mangroves and wildlife. Snap some gram-worthy pictures at Yellow Bridge and cross over to get to Ceningan Island. For this article, we will look into the best diving spots in Nusa Lembongan and what to expect underwater. If you have not had the chance to dive, seriously consider for an experience like no other!
Best time to visit Nusa Lembongan
The average year-round temperature is about 27°C (80.6°F) with a humidity level of about 85 to 90% so expect warm weather and tropical climate. However, as with most activities, traveling during the rainy season wouldn't be too appropriate. To avoid that, you may want to cross out traveling dates from October to April. From May to September, the island usually experiences summer weather perfect for diving and other water sports. Do monitor the weather forecast nearer to departure.
Once you've arrived, try to speak to a local operator to check out the wind and wave conditions to decide whether a morning or afternoon dive would be more appropriate. But in the event that you can't get the relevant information and have a day to spare, we would highly recommend you to set off in the morning. Just in case the sea conditions aren't favorable for a morning dive, you still have the afternoon to work with.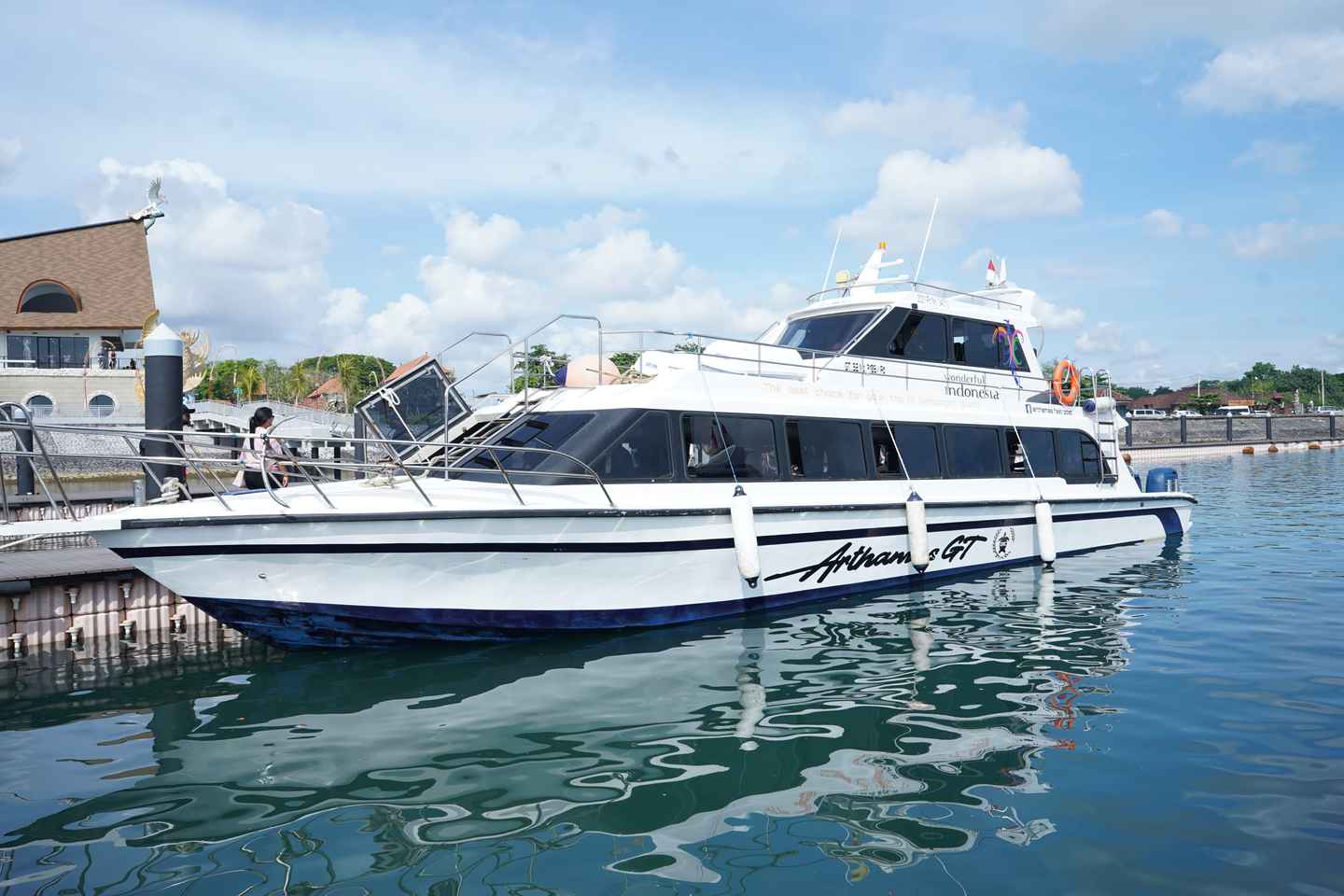 Since Nusa Lembongan has no nearby airports, you can get there only by boat. There are different types available, mainly public boats/ferries, Perama boats, and fast boats. The most budget-friendly option is via a public boat which costs 4 USD and will take you approximately 90 minutes to reach the island from Bali.
Looking to save some time? Go for the speedboat at 19 USD which will take you only 35 minutes to reach Nusa Lembongan. Most boats depart from Padangbai in East Bali and Sanur Beach but the latter makes a better option. You can book tickets directly from local travel agencies or through your hotel's front office. The price you pay usually includes a hotel pickup in Bali and a transfer to your hotel in Nusa Lembongan. If that is not stated upfront, do ask accordingly. Alternatively, book through GetYourGuide for the most convenient round trip transfers.
Tip: Dress comfortably and keep your personal belongings safe since you will be plodding through knee-deep water (sometimes thigh-deep waters) while getting on and off the boat.
Sanur Bali to/from Lembongan: Speedboat Transfer

Duration: 30.0 to 1.0 minute
We will introduce you to three popular dive resorts in Nusa Lembongan. However, if you're on a budget, we've got you covered with the best hostels here. Have a read!
Blue Corner Dive Resort Lembongan
This 3-star property is about 1 km (0.6 mi) from Jungutbatu Beach and Lembongan Dive Center. You will have the option of choosing a family room with two single beds and a queen bed or a beach bungalow with one queen bed. Both options include a balcony and room service is available. You will also be able to access the Wi-Fi in all rooms and public areas.
Batu Karang Lembongan Resort & Spa
Batu Karang Lembongan Resort & Spa, a 4-star resort, is a 4-minute walk to Scoot Lembongan (ferry service provider). They provide a couple of room options from double rooms to plunge pool villas and suites. There is also a gym, steam room, day lounge, meeting facilities, a day spa and three swimming pools on-site.
The Acala Shri Sedana
Located a 9-minute drive from Yellow Bridge, this property has a superb rating at the time of writing. Room options include superior, deluxe, a sea view suite with a balcony, and even a one-bedroom with a private pool. Trust us, the views are to die for.



Batu Karang Lembongan Resort & Spa
Some of the best diving spots in Nusa Lembongan include Toyapakeh, Crystal Bay, Mangrove (Sakenan), Ceningan Wall and Manta Point.
Toyapakeh
This is the to-go place for mola mola, also known as ocean sunfish, which resembles a fish head with a tail and a flattened body.
Crystal Bay
Take a 22-minute drive from Toyapakeh and you will get to Crystal Bay, another prime spot to see mola mola and beautiful ocean reefs.
Mangrove (Sakenan)
The diving place is named after its location beside the Mangrove Forest. Apart from diving, it's also a famous location for snorkelers. Spot some pufferfish, barracuda and giant trevally while you're there.
Ceningan Wall
Suitable for advanced divers, Ceningan Wall has to be dived at depth to be truly appreciated. If you're able to swim against the strong currents, take time to observe the invertebrates, octopus and nudibranchs between wall cracks.
Manta Point
To reach Manta Point, you will need to take a 45-minute boat ride along limestone cliffs. If you're in luck, you will be able to wave to swooping mantas passing you by.
For a fuss-free diving experience, book through Voyagin below:
10% OFF Bali Scuba Diving at Best Sites of Nusa Lembongan

Price: From 169 USD
What to expect underwater
Abundant sea life! Apart from the ones mentioned at the individual dive spots, you will explore a coral reef that's home to bright tropical fish, turtles and anemone. Some of them are only available in specific spots so count yourself lucky to have this experience not everyone can have. For example at Manta Bay, you might be able to catch a glimpse of bamboo sharks and woebegong sharks.
Things to know about diving in Nusa Lembongan
There may be strong currents in certain areas but you will most likely be briefed before gearing up and entering the waters so this is the right time to be a good student. Also, for those who experience seasickness or those who are beginners and aren't sure what to expect, start taking pills 12 to 24 hours before going to sea.
Prevention is better than cure. Breathe slowly and deeply to avoid an out-of-air emergency. For peace of mind, you may want to consider travel insurance and read through the terms and conditions before purchase. Returning divers can also take a refresher course to dive safer.
Keen to protect yourself with World Nomads' wide coverage policies for your upcoming trip? Click here for an exclusive Trip101 discount code!
Apart from diving, there are other activities to do at Nusa Lembongan. Or you can head to Nusa Penida and tread the Pura Goa Giri Putri Cave, admire the Peguyangan Waterfall or trek down the spine of Kelingking 'T-Rex', which is an Instagram-famous coastal cliffscape that looks like a T-rex.
In addition, you can take a tour and get your day's activities sorted!
Nusa Lembongan Snorkeling & Mangrove Day Tour from Bali

Duration: 10hrsDuration
Dying to dive?
We hope you're all set for diving in Nusa Lembongan after going through this guide. Remember to check out the seasonal sea life and book a trip during the dry season for the best conditions to dive in. You only live once and we think you will not regret giving diving a chance. Take that plunge!
Disclosure: Trip101 selects the listings in our articles independently. Some of the listings in this article contain affiliate links.
Get Trip101 in your inbox
Unsubscribe in one click. See our Privacy Policy for more information on how we use your data