The capital of Bavaria, Munich is a stunning mix of lovely sights, noteworthy museums, and out-of-the-world baroque churches. The area of Kunstareal in Munich is a bundle of art museums, featuring a plethora of masterpieces, where getting confused about which museum to visit first is quite common. One week in Munich is too little, even if you want to explore the tip of its iceberg. There are two remarkable monuments of the Wittelsbach monarchs that boast sweeping views of the Alps – these are the top of St Peter's Church and the Rathaus. Marienplatz is home to landmarks that include the neo-gothic Neues Rathaus, where plays and shows are held, inspired by 16th-century stories. Along with all this, the German city is home to renowned companies and organizations, including football team FC Bayern, Volkswagen, and BMW. What makes this city extra special is its Oktoberfest, where tens of thousands of people from around the world come together to enjoy a two-week-long festival of drinking beer, getting drunk, and getting involved in a world full of fun. But, Munich isn't all about Oktoberfest. If you want to learn about real Bavarian culture, heritage, and traditions, you must check out these must-visit food markets in Munich, Germany.
1. Munich Christkindlmarkt
Munich Christkindlmarkt, also known as the Medieval Christmas Market in Munich, stays true to its name. Several wooden huts line the market and exude a "Middle Ages" vibe. The sellers with their variety of wares are dressed in historic costumes, whereas some of the craftsmen exhibit their ancient crafts. The market also organizes performances of artists inspired by the characters of big TV shows.
Some of the items worth trying here is the mulled wine, which is prepared using ancient spices. Also don't miss out on the bratwurst and flammbrot.
Munich Christkindlmarkt

Address: Wittelsbacher Platz, Wittelsbacherpl., 80333 München, Germany

Website: Munich Christkindlmarkt

Opening hours: 11:30am - 8:30pm (daily)
2. Münchner Flohmarkt auf der Theresienwiese
This is a paradise for bargain shoppers and one of the biggest flea markets in the country, Theresienwiese is an annual event of flea market held every April, close to Munich's border. If you want to check out a lot of stuff and do some bargain hunting on your vacation, you can't go wrong with this event.
This flea market features some of the best second-hand goods, which either look brand-new or are vintage. This is one place where the best bargain hunters and sellers gather under one sky. The event is organized by the Red Cross, which financially supports many local social endeavors.
Münchner Flohmarkt auf der Theresienwiese

Address: Matthias-Pschorr-Straße 1, München, 80336 Germany
3. Wienermarkt
A daily food market situated in Munich district's Haidhausen, Wienermarkt is the smallest food market in the city. As the saying goes, great things come in small packages and Wienermarkt truly defines this saying. Shopping here is the perfect way to stock up on all the essentials needed for day-to-day life. Visitors can pick up fresh fruit, vegetables, and more here.
The best part about this market is its renowned bread - the fresh pumpernickel loaf. Along with the regular treats, the market also features multiple small delis in the nearby areas. You will get a true feeling of Bavaria as you stroll around this market.
Wienermarkt

Address: Innere Wiener Straße 19, 81667 München, Germany

Website: Wienermarkt
4. Trabrennbahn Daglfing
Held in the Daglfing district in Munich, Bavaria's capital, Trabrennbahn Daglfing is a harness race track comprised of three ovals, one inside another. Along with this, there are flea markets here that are perfect to indulge in some bargaining, shopping, and eating. Visitors can check out the antique items, unique works of art, tiny trinkets, and more. You can also find traditional Bavarian delicacies to feast on during, before, or after you are done with shopping.
Trabrennbahn Daglfing

Address: Trabrennbahn München-Daglfing, Rennbahnstraße 35, 81929 München, Germany

Website: Trabrennbahn Daglfing

Opening hours: Fri: 8am - 3pm; Sat: 6am - 4pm (closed on Sun - Thu)
5. Auer Dult
Although not a fixed market, Auer Dult comes up thrice a year near Mariahilf Church and has been functioning since 1310! The "Dult" in Auer Dult, simply means "observance" and the market is comprised of traditional family rides and over 300 stalls that sell everything and anything from cookware to brooms and more. Try the classic foods here, including the stekelerlfisch, which is a barbecued fish on a stick known for melting in your mouth, the moment you take the first bite.
Auer Dult

Address: Mariahilfpl., 81541 München, Germany

Website: Auer Dult

Opening hours: 10am - 7pm (daily)
6. Elisabethmarkt
A place to experience true Bavarian culture, along with a sip of Bavarian beer, Elisabethmarkt is a daily food market in Munich's Schwabing district and has been operating for over 100 years. Exuding true Bavarian heritage, the market is known for selling homemade beer, fresh groceries, varieties of meat, and local cheese. Post World War II, the city moved the market to pavilions, instead of buildings. Visitors will find over 20 stalls between the Schwabing areas of Arcisstraße, Nordendstraße, and Elisabethstraße.
Elisabethmarkt

Address: Elisabethplatz, Schwabing-West München, Bayern, 80796, Germany

Website: Elisabethmarkt

Opening hours: Mon - Thu: 8am - 7pm; Fri: 7am - 7pm; Sat: 7am - 2pm (closed on Sun)
7. Kavalleriemarkt
Not too far from the Olympic Tower, one of the famous attractions in the city, Kavalleriemarkt, otherwise known as the Cavalry Flea Market often gets overlooked because of its surrounding attractions. But that is also a good thing, as you can get hold of the best products for amazing prices here. Held on the weekend, the term "diversity" is considered the core of this market.
Even though the market is a bit outside of the city center, the Cavalry Flea Market is easily reachable via private or public transport. Popular items sold here include curios and antiques. So, if you are looking for this kind of thing, this is the best place to be.
Kavalleriemarkt

Address: Schwere Reiter Straße 15, 80797 Munich

Website: Kavalleriemarkt

Opening hours: Fri: 10am - 8pm; Sat: 8am - 8pm (closed on Sun - Thu)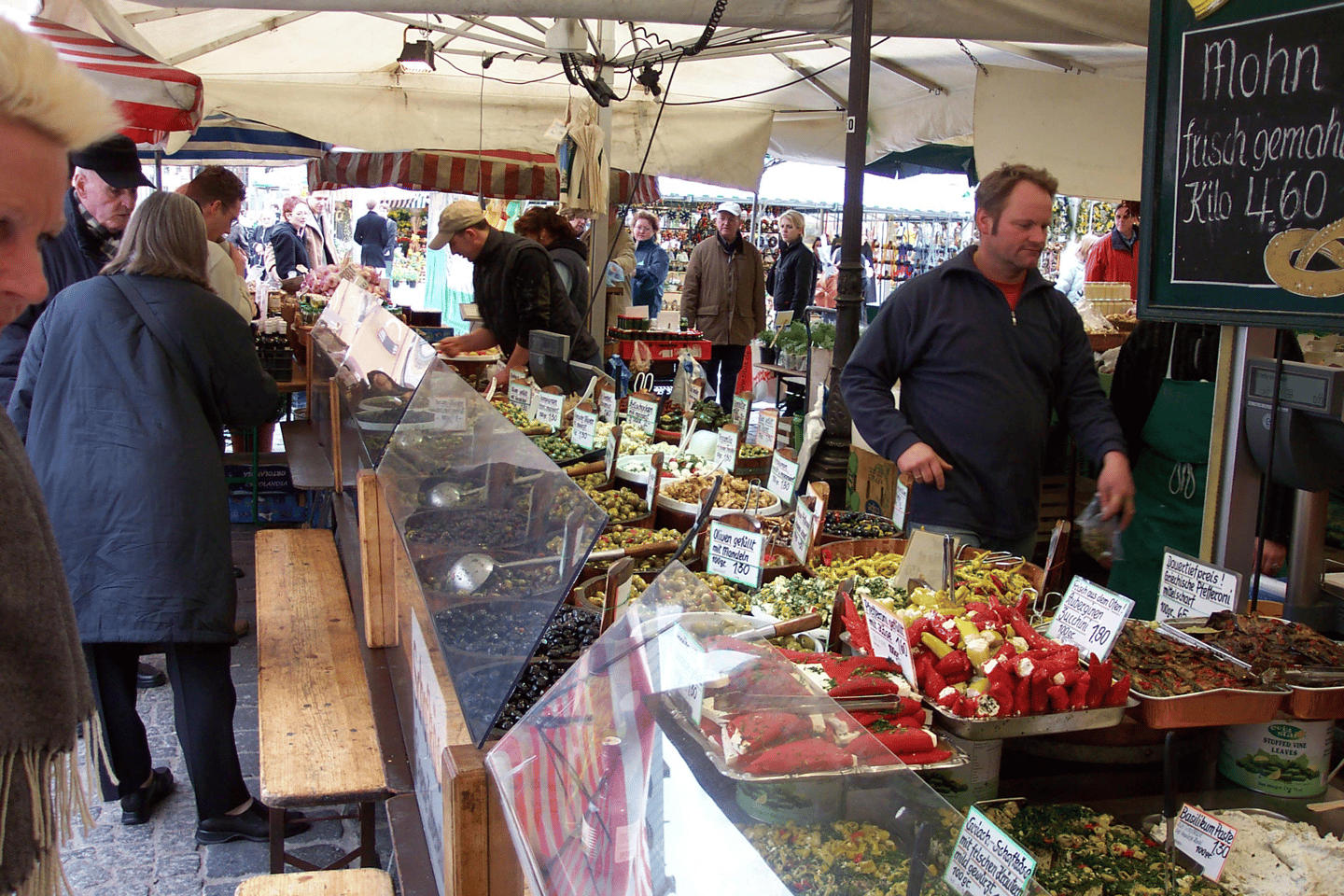 A daily food market in the heart of Munich, Viktualienmarkt is the grandfather of the food markets. What was once a farmer's market has grown and evolved into a famous market focused on gourmet foods. It was once situated in the center of Marienplatz and was later moved between the squares of Heiliggeist-Kirche and Frauenstraße.
Today, this market sells everything from spices to fresh fruits and vegetables. Visitors can also find handcrafted toiletries here, along with fresh flowers.
Viktualienmarkt

Address: 3 Viktualienmarkt, Altstadt-Lehel München, Bayern, 80331, Germany

Website: Viktualienmarkt

Opening hours: Mon - Sat: 8am - 8pm (closed on Sun)
Munich: Viktualienmarkt Gourmet Food Tour

Duration: 2 hour
Munich food markets
Munich is home to a plethora of food markets that one can enjoy. Whether you are looking forward to shopping for fresh produce, a Bavarian snack, or unique trinkets, these markets in the city have something to offer for every visitor.
Disclosure: Trip101 selects the listings in our articles independently. Some of the listings in this article contain affiliate links.
Get Trip101 in your inbox
Unsubscribe in one click. See our privacy policy for more information on how we use your data