Renowned for being the fashion capital of the world, Milan is also a bustling financial hub in Italy. However, it's also a city steeped in old-world European-styled architecture and populated with ancient cathedrals and churches amidst the conglomerate of high-rise buildings. As one of the more populated Italian cities (with a population of 1.3 million), its attractions can be crowded at times. Nevertheless, there's an abundance of historical sites and modern galleries to visit to explore the many facades of the city–you don't necessarily have to squeeze with the crowd to uncover its charm. Here's a list of 10 best non-touristy things to do in Milan, Italy.
1. Crack open a cold one with the locals at Birrificio Lambrate
Birrificio Lambrate is a traditional, English-style pub that looks like it was taken right off the streets of Dublin. Nevertheless, grabbing a drink here is a true Milano experience and a great way to immerse yourself in local culture. With a wide selection of decently-priced craft beers (13 regular beers on tap, and a rotating selection of more than 20 flavors), and a delicious bar food menu, this is a favorite watering hole of many locals–that's how you know it's the real deal. The Via Golgi outlet also has an in-house restaurant with an appetizer buffet, so you don't have to worry about drinking on an empty stomach.
Birrificio Lambrate

Address: Via Camillo Golgi, 60, 20133 Milano MI, Italy

Website: Birrificio Lambrate

Opening hours: Mon - Fri: 12pm - 2am; Sat: 7pm - 2am (closed on Sun)
2. Dine on horse meat at Macellaria Equina 'Da Vito'
If you've ever had the urge to try horse meat, here's your chance. Macellaria Equina 'Da Vito', a butcher shop with an overwhelming selection of meat and sausages, is a carnivore's paradise. It might be hard settling on a cut to eat, but luckily, there are friendly English-speaking servers to patiently assist you. Once you've made a choice, the restaurant will cook and serve it to you. Located in an indoor market, it might be a bit of a distance from the city center. Nevertheless, it's well worth the trek and you can explore the local market scene as well.
Macellaria Equina 'Da Vito'

Address: Mercato Comunale Lorenteggio, Via Lorenteggio, 177, 20147 Milano MI, Italy

Website: Macellaria Equina 'Da Vito'

Opening hours: Sat, Mon - Wed: 12pm - 3pm; Thu & Fri: 12pm - 3pm, 7.30pm - 11pm (closed on Sun)
3. Marvel at Milan's very own Church of Bones
Beneath the peaceful facade of San Bernardino alle Ossa lies a collection of thousands of human bones. Dating back to 1145, the ancient church has a long history, but is best known for its ossuary–a small side chapel that was built to collect human bones from the neighboring hospital when the church's cemetery was full. The entire ossuary is lined with skeletal remains from the ceiling to the ground; even the pillars are decorated with bones. It's a fascinatingly unique and haunting place that's well worth a visit. Do make sure that you're dressed modestly (i.e no tank top or shorts in the summer) or you will be denied entry.
San Bernardino alle Ossa

Address: Via Verziere, 2, 20122 Milano MI, Italy

Website: San Bernardino alle Ossa

Opening hours: Mon - Sat: 8am - 12pm, 1:30pm - 6pm (closed on Sun)

Price: Free entry
4. Dance the night away at Spirit de Milan
Editor's Note: Photo taken from the establishment's official social account
Spirit de Milan is a unique space–it's a restaurant, dance floor, and pub situated in a preserved glass factory. Beneath its rundown facade is a lively party where locals congregate for a night of revelry. The space also often hosts musical events (it's renowned for its swing nights), which you can enjoy over a succulent dinner, and head over to the dance floor after. A space where everyone is bound to have a good time, it truly showcases the spirit of Milan.
Spirit de Milan

Address: Via Bovisasca, 57/59, 20157 Milano MI, Italy

Website: Spirit de Milan

Opening hours: Wed - Sun: 7:30pm - late (closed on Mon and Tue)

Price: 50 - 100 USD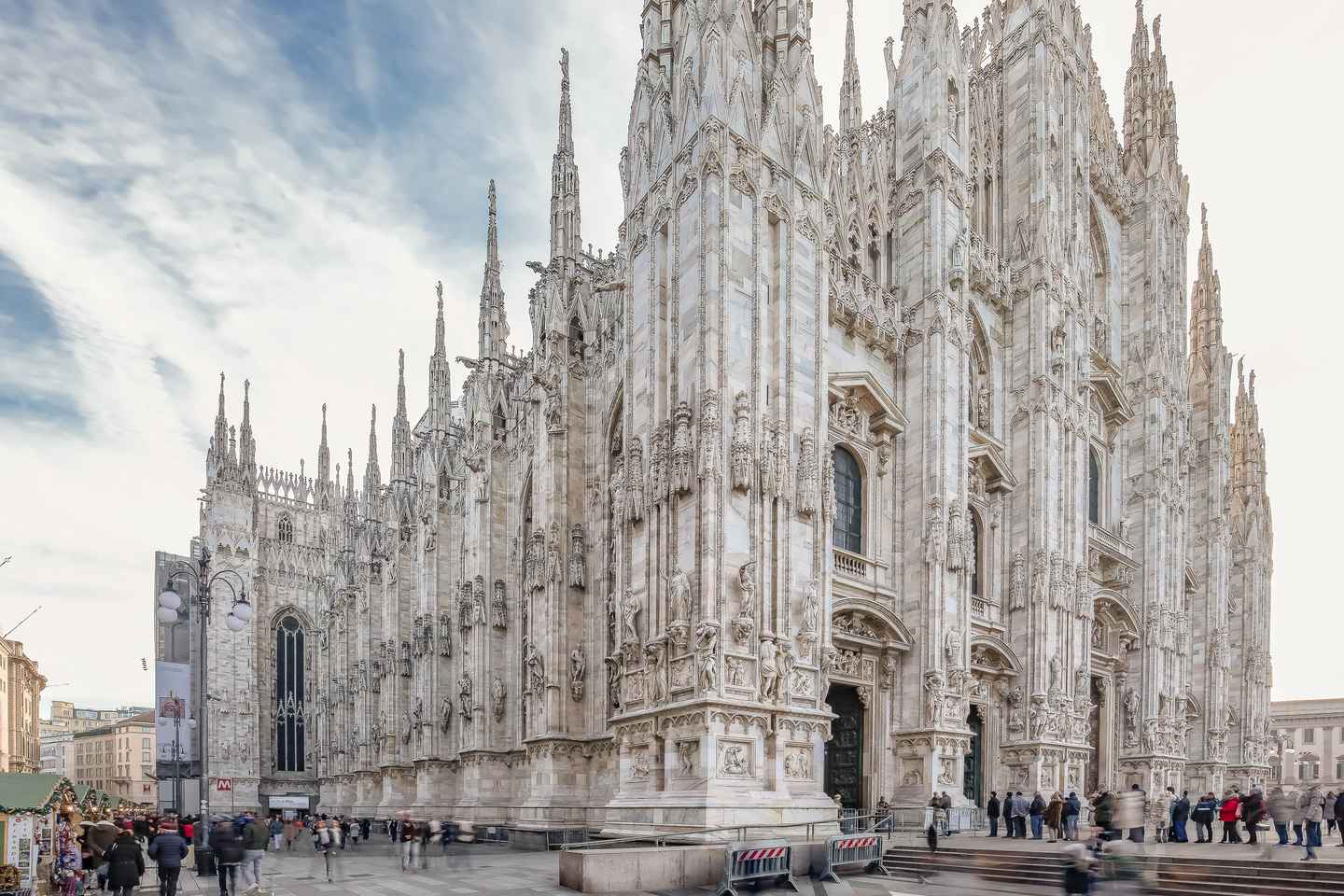 Milan's Duomo is decidedly one of the most impressive structures in the entire city, revered by tourists and Milanos alike. The fourth largest church in the world, this gothic-styled building took six centuries to complete. It's not hard to see why, with its elaborate design and myriad of statues (some claim that there are more than 3,300 statues in total). One of the most curious statues of the Duomo is a carving of a dinosaur-like creature munching on a leaf, whose existence has baffled historians. Its specific source and symbolism remain a mystery and contributes to the mystique surrounding this ancient cathedral.
Milan Cathedral and Rooftop Ticket
6. Wait for your train with the royals at Stazione Centrale
Stazione Centrale is Milan's version of NYC's Grand Central Terminal. As the city's main railway station, thousands of commuters pass through its hallowed halls daily. However, not many know about the Royal Pavilion, an exclusive waiting room reserved for the royal family. Rumor has it the room was once planned to welcome Hitler during his travels to Italy. The room is open only on special occasions, although you can catch a glimpse of it from Platform 21 of the station.
Stazione Centrale

Address: Piazza Duca d'Aosta, 1, 20124 Milano MI, Italy

Website: Stazione Centrale

Opening hours: Open on special occasions (check website)

Price: Free entry
7. Explore the hidden network of bomb shelters beneath the bustle of the city
Beneath the buzz of the city lies a hidden, underground network of bomb shelters and tunnels that were built to protect citizens from bombings in World War II. In fact, some of the shelters are situated beneath schools and shopping complexes. Although the shelters have long been excavated and studied, it's definitely still an intense experience stepping down in these pieces of history.
Milan's Bomb Shelters

Address: Various points around the city

Website: Milan's Bomb Shelters

Opening hours: 24 hours (daily)

Price: Free entry
Try your hand at designing your own perfume in the fashion capital of the world. This unique, customized 90-minute long workshop will educate you on the vibrant history of luxury perfumes before you embark on your very own perfume-making journey. You can even bring a bottle of your handcrafted scent home.
Italian Perfume Workshop in Milan

Duration: 1 hour
Live out your dreams of becoming the next Michael Schumacher with this once-in-a-lifetime to zoom down Milan's highway in a Ferrari supercar. Don't worry about safety, as there'll be a safety briefing before your drive, and an experienced instructor will be seated next to you during your joy ride. Zipping down the Italian highway, set against the beautiful Swiss Alps, in a Ferrari supercar–this 30-minute experience will definitely stick with you for life.
Ferrari Test Drive Experience & Tour in Milan 30min (10km)

Duration: 30 minutes
Housed in a former distillery complex, Fondazione Prada looks, at first glance, unassuming and sterile. Nevertheless, beneath its modest exterior lies a trove of art collections, from beautiful sculptures to trippy, vibrantly colored pieces and interactive installations. There's even a cinema that screens contemporary and historical films every week. The collections change every few months, so no two trips are the same. Definitely come by earlier to give yourself enough time to fully explore the museum; you can stop by the in-house bar and cafe for a short break.
Fondazione Prada Private Tour

Duration: 3 hours
A trove of culture
Often depicted as a flashy, globalized cosmopolitan hub, the cultural and historical sights of Milan are often overlooked. However, take the time to visit its cultural sites and you'll discover a rich history beneath its glitzy and modernized facade. Experience Milan like a local and fin that it's truly a place where traditional European charm meets the modern cosmopolitan lifestyle.
Disclosure: Trip101 selects the listings in our articles independently. Some of the listings in this article contain affiliate links.
Get Trip101 in your inbox
Unsubscribe in one click. See our privacy policy for more information on how we use your data