Despite Singapore's peace and stability, its tormented history during the war is not forgotten. Kranji War Memorial, located in the northern part of the country, is a sombre memorial for the Allied soldiers who fell defending Singapore and Malaya in WWII. It is the final resting ground for more than 4,000 soldiers and serves as a tribute to more than 24,000. The large, peaceful expanse of the War Memorial is comprised of three areas: the War Graves, the State Cemetery and the Military Graves. A walk along its serene and well-maintained grounds will definitely yield many sobering insights about World War II and lead to a deeper appreciation of peace efforts. Check out this guide to Kranji War Memorial, Singapore.
Things to do / Highlights
An imposing, 24-m-tall (78-ft) star-topped pylon stands in the middle of the War Cemetery, bounded by three memorials around it. This serves as a final tribute for more than 24,000 fallen soldiers whose names are inscribed on its surface. To its west is Singapore Memorial, and Singapore Cremation Memorial is located behind the pylon. The latter commemorates almost 800 cremated soldiers. On the eastern side is Civil Hospital Grave Memorial, which honours casualties who perished in the military hospital at the time.
Catch the sunset from the memorial grounds
Located on a hill, you'll be able to admire the view overlooking the northern area of Singapore, as well as the border it shares with Malaysia, which further adds to the serenity and emotion of the experience. The War Memorial is open from 8 am to 6:30 pm, so you might be able to catch the sunset here. The evening sunset will cast the memorial grounds in a surreal and peaceful light - just be sure to leave its grounds before the main gates are closed!
Visit the State Cemetary
Nestled in the corner of the War Cemetery is the State Cemetery, where only two graves can be found. This cemetery is the final resting place of two prominent presidents in Singapore's history: Singapore's first president, Yusof bin Ishak - who served from 1965 to 1970 - and his successor, Benjamin Henry Sheares, who served from 1970 to 1981. You can also find the adjoining Singapore Military Cemetery next to the War Cemetery. The Military Cemetery, although a non-war burial site, was established in 1975 when military graves from other cemeteries were exhumed.
Try to catch a memorial service
A memorial service to pay tribute to the fallen is also held annually on the Sunday closest to Remembrance Day (11th of November). The public is welcome to head down to pay their respects during the service. If you intend to attend, note that there is limited seating available for the ceremony, so do head down early if you want seats. Do check out their official website for more information about Remembrance Day events.
Travellers tips
Noise level
First and foremost, it's important to bear in mind that the war memorial is a solemn place of mourning, so do keep noise to a minimum (especially if there are kids around) and maintain a respectful environment.
Facilities
There are also no food or toilet facilities on its grounds - the nearest food stalls and restrooms are at Kranji MRT station, so do make use of the facilities there before heading here. Don't forget to bring some water along as well - we all know how brutal the sun can get in Singapore! It's best to arrive here in the early morning so that you can avoid walking around under the afternoon sun.
Accessibility
The hilly terrain makes it rather inaccessible for wheelchairs or those with limited mobility, and there are some steps that you have to climb to reach the memorial. If you're heading here by public transport, it's a 15-minute uphill journey from the nearest MRT station, so do be prepared to walk a bit. Bring an umbrella with you for some shade.
How to get there
Public transport
Getting here by public transport is rather straightforward. The nearest MRT stop is Kranji Station, which is located on the North-South (red) line. From the MRT, you can take the buses 160 or 170 to the cemetery - it's only two stops away. On foot, it's about a 15-minute walk to the entrance of the memorial. Don't worry about getting lost, as there are clear signs and directions along the way, and you can also get a guided map or ask for directions from the friendly station staff.
Taxi or ride-hailing apps
You can also always flag a cab or book a ride through ride-hailing apps like Grab or Gojek - be warned, however, that some cabbies might have trouble with the exact location, as the memorial is located in a relatively obscure place. You can also refer to the memorial as 'Kranji Cemetery' if it makes things easier.
Kranji War Memorial information
Kranji War Memorial

Address: 9 Woodlands Rd, Singapore 738656

Opening hours: 8am - 6:30pm (daily)

Cost: Free

Official website: Kranji War Memorial

Department of tourism: Visit Singapore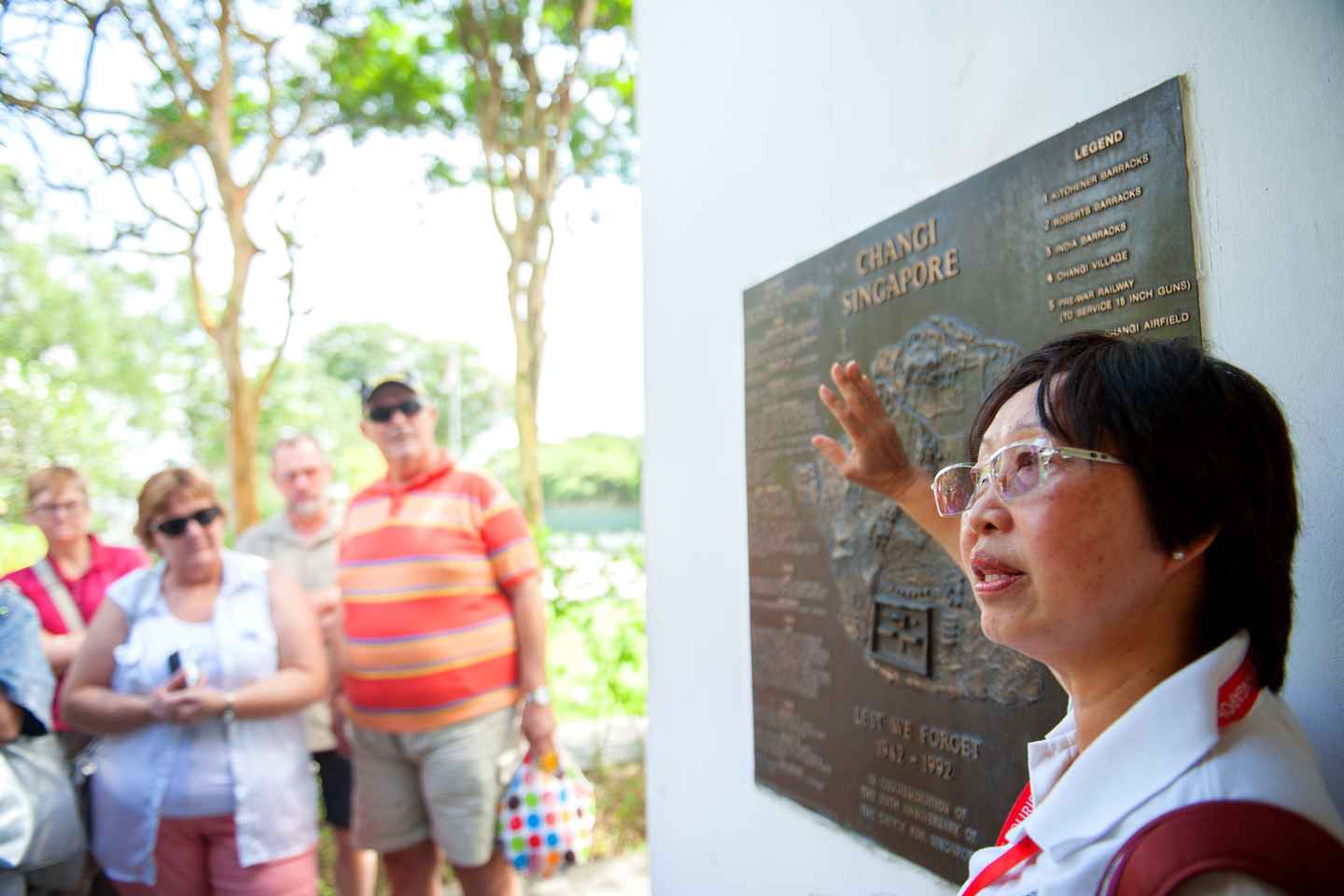 Singapore: Changi World War II Tour

Duration: 4 hour
Disclosure: Trip101 selects the listings in our articles independently. Some of the listings in this article contain affiliate links.
Get Trip101 in your inbox
Unsubscribe in one click. See our privacy policy for more information on how we use your data