Are you looking for places to visit in Jamaica where you can raft? If yes, then you have reached the right place. People from all over the world travel to Jamaica to learn or practice one of the island's most popular things to do, rafting. There are many attractive spots in and around Jamaica that can give you goosebumps at any given. Starting from the glistening water attractions to cruise ports, this place has everything that you expect to see in your dreams. So, what are you waiting for? Pack your bags and check out these new spots that let you practice rafting in Jamaica.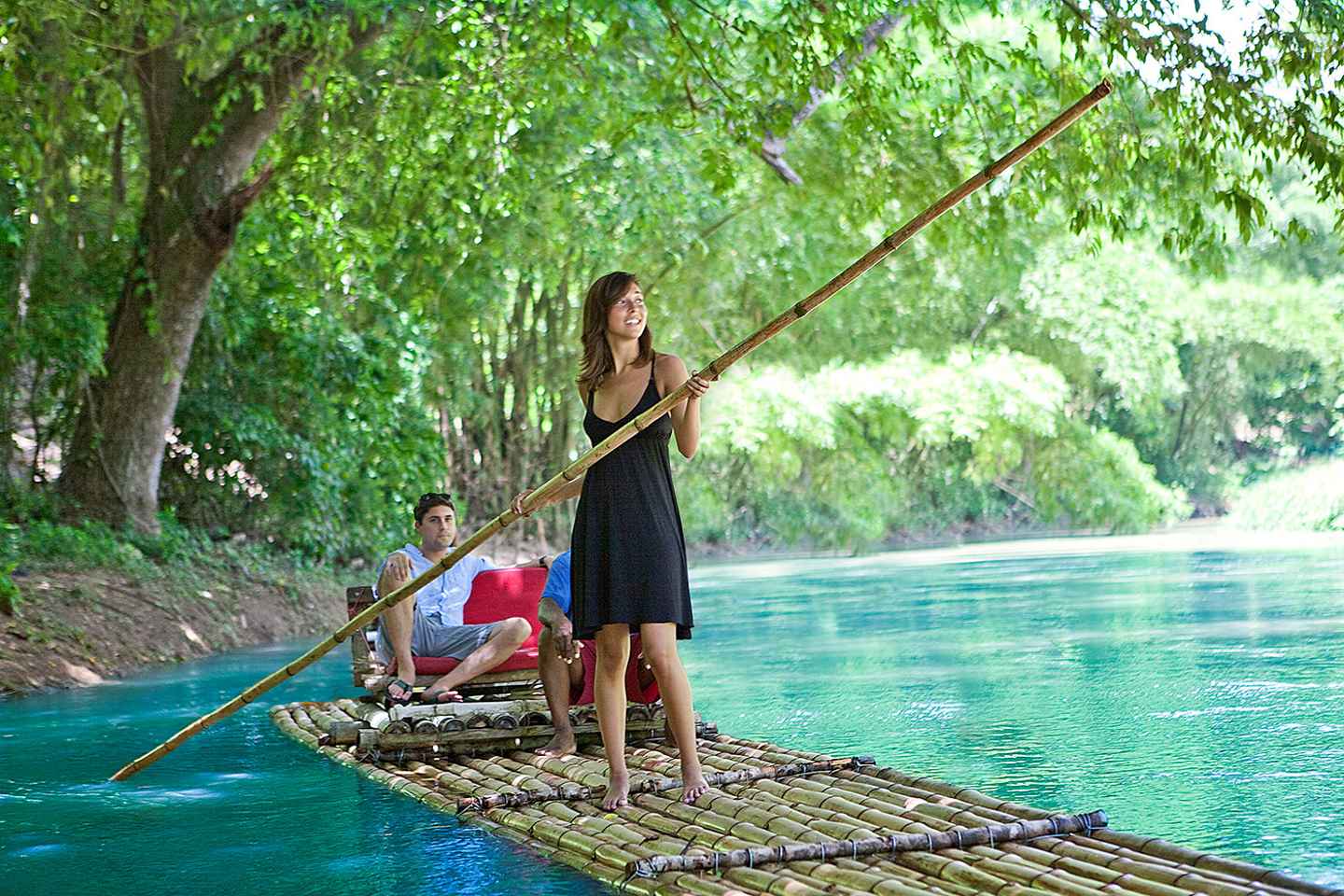 Did you ever raft a 3-miles (4.8 kilometers) stretch in one go? If not, then it's time for you to have some fun at the Martha Brae River in Jamaica. Martha Brae is known to attract many visitors from different parts of the world every year. The village is spread across about 6 acres (2.4 hectares) of land.
Once you have planned your visit to Jamaica, you will come across this beautiful destination that you cannot miss. The place offers many picnic grounds where you can sit with your family or friends, and enjoy your supper. It takes up to two hours to reach this destination from Falmouth, which means you will be rafting for about two hours at a stretch. So, did you add this destination to your bucket list now?
Duration: 3.0 hour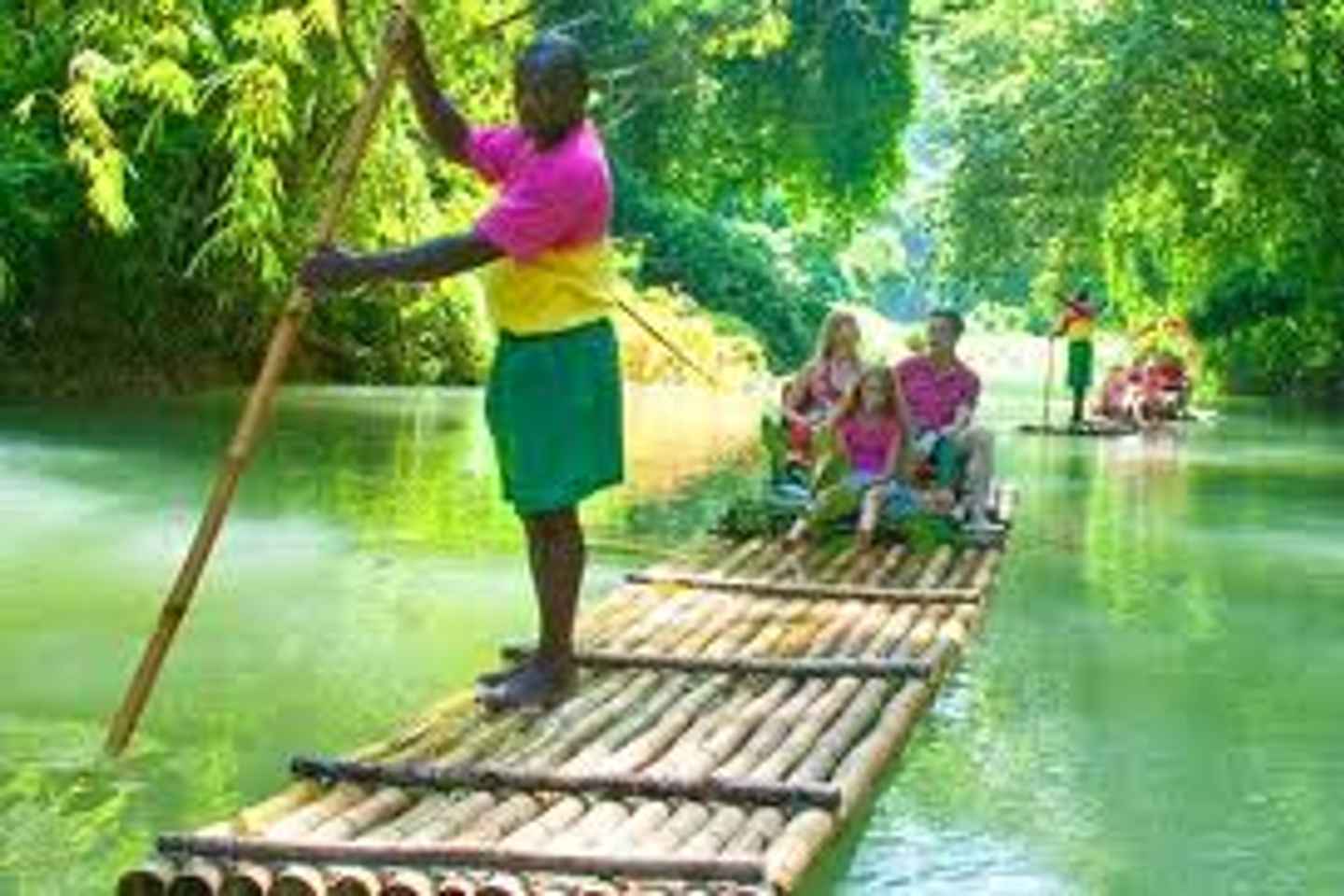 If you are looking forward to having the best experience of the best river rafting in Jamaica, then you must add Martha Brae to your bucket list when traveling to Jamaica. The 3-mile (4.8 km) long journey might give you a memorable experience in the waters. It takes about 2 hours for you to reach the destination in a bamboo raft.
When you are in the beautiful waters, you will come across luscious green rainforests that can make you forget your busy city life experiences. You can have your "me-time" while you raft in the waters. Don't miss out on capturing pictures when you are in the waters.
Duration: 2.0 hour
One of the best aquatic attractions of Jamaica, Martha Brae River is the perfect place to swim around and have fun with your friends and families. You can raft for about two to four hours, and enjoy the natural glow, tropical flora and fauna, and the local culture, during the day and at night too.
You can also pay a visit to the medical herb garden, Falmouth: the historic site of Jamaica, and end your day with a beach party. So, it's time for you to choose the best raft available and move along.
Duration: 6 hours
With many tourists visiting every year to raft, the Martha Brae River is amongst the best bamboo rafting destinations in Jamaica that grab most people's attention. All you need is a raft and a guide to moving around different places while you raft across the river. Even beginners can get to enjoy the best ride with someone guiding them throughout their trip.
It's an ideal escape for you from city life as you can easily spend quality time, exploring the beauty of nature. So, what are you waiting for? Plan well in advance to avoid the last-minute rush.
Duration: 4 hours
If you haven't planned your trip to Jamaica yet, then there are a couple of things that you must add to your bucket list now. If you are not opting for an escape from Montego Bay to the central city through the Martha Brae River, then you are missing the best part of the trip. It's all about how you manage to get some time off from your busy schedule and visit this place.
You can carry a beer along with you if you drink, and watch the beautiful sceneries pass by when you sail through the clear waters. A comfortable ride at the end of your trip is something that can make your trip memorable and cherishable.
Duration: 3 hours
If you are still soaking into the beauty of nature in Jamaica, then there's more to it too. A beautiful ride from Falmouth Port will not only give you the best rafting adventure of your life but will also thrill you to some extent as you would head downstream.
You will cross many bends and curves of the rivers as you sail to enter the Caribbean Sea. Aren't you thrilled now? If yes, then grab this opportunity to book tickets to one of the best destinations in the world.
Duration: 3 hours 30 minutes
It's time for you to get onto a 30-feet (9.14 meters) raft and sail through the waters of the Great River, Jamaica. You will get to enjoy the best experience of your life when you watch the luscious green forests and sail through the waters to reach your destination.
The Great River covers most of the regions that will not only take your breath away with its scenic beauty but also give you enough chances to find peace when breathing the fresh air. You can spend up to two hours in the river and enjoy its beauty.
Duration: 2 hour
If you visit the Martha Brae River, then you must look forward to hiring a cruise to sail across the river waters. The river is surrounded by many green forests that help you soak in the cool green while spending some quality time with your beloved. This is a perfect destination for all couples who are either on their honeymoon trip or seeking romance.
Also, for all those friends who are trying to have adventurous activities, it's an ideal destination for them too. You can spend easily up to four hours in the river, before reaching the destination. Isn't it interesting?
Duration: 4 hour
Have you experienced the best river-rafting adventure ever in your life? Do you want to sense that feeling when riding through the Rio Bueno? If yes, then you must book your tickets now so that you don't face tough times when booking tickets at the last moment.
During this three-and-a-half-hour excursion, you will get to enjoy the best moments of your life with a professional guide. You can spend quality time with your families and friends on the white sand beach and also swim in the beautiful transparent water. So, pick up your bags, and get ready to experience something that you may not have done before.
Duration: 3 hours
Follow the do's and don'ts to stay safe
As you would be traveling through the water bodies of Jamaica, you must take care and be prepared for any situation. Make sure that you don't carry heavy baggage as most of the time you will be traveling through the waters. Also, don't forget to enjoy and cherish the beautiful moments of your life when you tour the spots offering the best rafting experience in Jamaica.
Disclosure: Trip101 selects the listings in our articles independently. Some of the listings in this article contain affiliate links.
Get Trip101 in your inbox
Unsubscribe in one click. See our Privacy Policy for more information on how we use your data