Nusa Lembongan is an island located southeast of Bali, Indonesia. Alongside Ceningan island and Penida island, they make up the Nusa Penida district. There are a couple of activities to do and attractions to see at Nusa Lembongan. This includes admiring the crashing waves at Devil's Tears, exploring Mangrove Forest through a local boat and snapping photos to your heart's delight at the Yellow Bridge.
In this article, we will look at the various ways to get to Nusa Lembongan from Sanur, Bali, through fast boats, Perama boats, local boats, and cruise ships. We will also highlight important information you should know before departing for your trip.
Important information to know
So you've spent days at Bali island and had wonderful views of the forested volcanic mountains, iconic rice paddies, and lovely beaches. Now, you're thinking of exploring somewhere else not too far to tick off a new bucket list item. We've got you covered!
First of all, you've got to head to Sanur, a seaside town in the southeast of the island of Bali. It's approximately 79.3 km (49.3 mi) from the city center of Bali and a non-stop car ride will take you slightly less than three hours to reach. It's a scenic beach with shallow water that acts as a port to Nusa Lembongan.
You will spot colorful fishing boats at this beach. Feel free to take some pictures before you hop on your boat or ferry to bid goodbye to Sanur and wave hello to Nusa Lembongan.
The best season to travel is from May to September, where summer weather is mostly present. Avoid picking dates from October to April since it's the monsoon season and high tide with strong currents can be dangerous. Do monitor the weather forecast nearer to your departure date.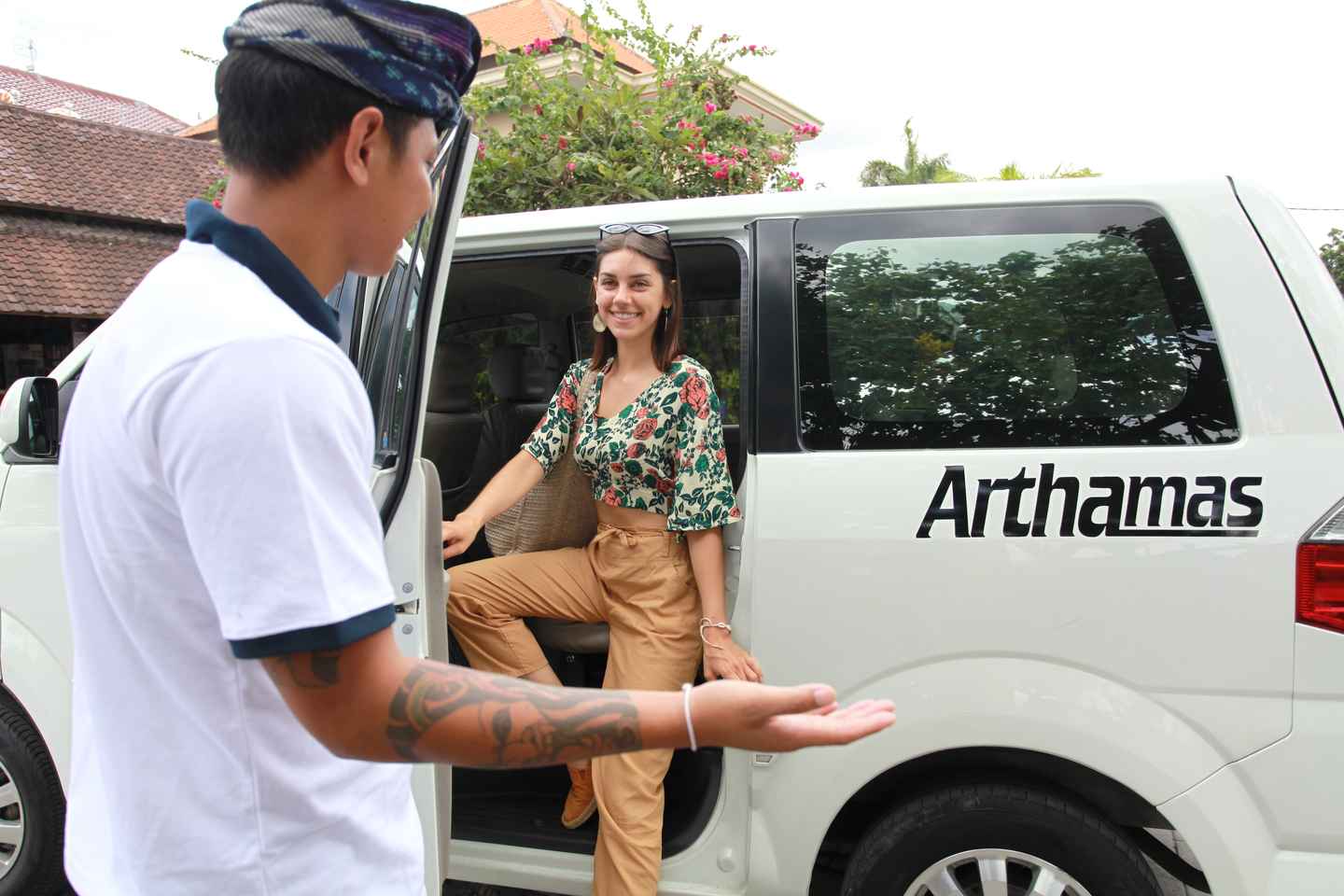 There are a couple of fast boat operators out there: Scoot, Rocky, Bali Eka Jaya, and Gili Transfers.
Scoot
Scoot Fast Cruises goes directly to Nusa Lembongan from Sanur. This company also offers both half and full-day tours on Nusa Lembongan for those who are interested. Being a winner of Indonesia's Leading Cruise Operator for eight consecutive years, they are committed to providing their guests with the safest travel experience by being fully insured with Lloyd's of London. They have four departure times starting from 9:30am and a return ticket for an adult costs 400,000 IDR (29 USD).
Rocky
Operating under the name PT. Tirta Segara Nitia, Rocky Fast Cruise was established since 2010. Their boats operate return service from Serangan to Lembongan island and have also four departure times starting from 10am. A one-way ticket for an adult or child will cost 300,000 IDR (22 USD) per pax. Serangan is approximately 10.4 km (6.5 mi) from Sanur.
Bali Eka Jaya
Bali Eka Jaya, commonly known as Ekajaya Fast Ferry, departs from two destinations in Bali: Serangan and Padangbai. A quick search for a ferry departing from Serangan on Friday, 1 May 2020, costs 350,000 IDR (26 USD) at 8:30am. While on the same date for a ferry departing Padangbai, costs the same but leaves at 3pm. The former option takes an hour while the latter takes 30 minutes. These are one-way ticket prices.
Gili Transfers
Gili Transfers provides fast boats from eight ports in Bali. Sanur and Padangbai are included. A one-way ticket departing from Sanur on Friday, 1 May 2020, starts with prices from 18 USD. The range of prices is as a result of different operators available on its site, similar to how Skyscanner works.
If you think it's too much a hassle to compare prices and isn't sure which operator to pick, then get your fast boat transfer tickets from GetYourGuide, a reliable and convenient way to travel between the islands in just 30 minutes.
Bali: Nusa Lembongan Island Speedboat Transfer

Duration: 30.0 minute
By Perama boats
Perama boats are basically local boats aimed at non-locals who are looking for a balance between budget and convenience. The average price of a one-way ticket will cost about 165,000 IDR (12 USD) for a 90-minute journey (subject to weather conditions). Perama Tour & Travel offers the sale of tickets. Boats departing from Sanur to Nusa Lembongan on Friday, 1 May 2020, has three timings: 8:30am, 11am and 3pm.
By local boats
This is probably the cheapest option we've got for budget travelers. However, it isn't recommended for families with children as it's usually packed to the brim with people and passenger safety may be questionable at best. A 90-minute journey will cost about 4 USD, which is definitely the cheapest that you will get out of all of the available options.
Remember that your luggage will be loaded onto the boats and considering the condition of local boats, it's probably best if you do not have bulky, expensive carriers that may potentially get wet or roughly handled during the loading process.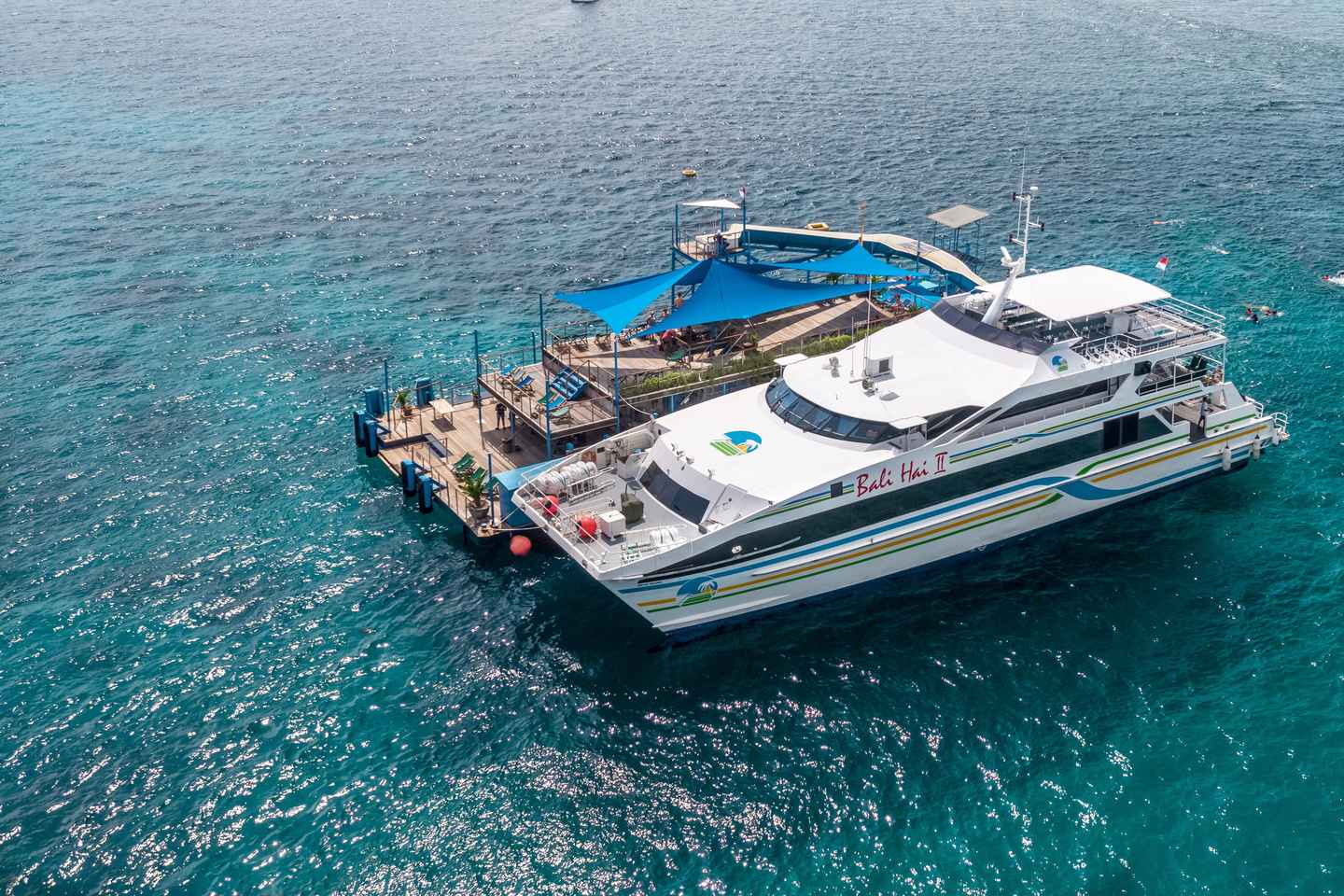 Please note that cruise ships are for tourists with sufficient time for sightseeing and not exactly suitable for those who are rushing from island to island or chasing after destinations on a tight schedule.
For example, GetYourGuide offers a day's trip with activities via cruise for travelers looking to engage in fun-filled activities such as snorkeling, coral viewing, island cultural walks and more. With the price you pay, from 118 USD, you will get free hotel transfers, food and drinks, unlimited banana boat rides, snorkeling equipment and more. The luxury catamaran departs at 9:15am and the day tour will end at 4:15pm.
Infants under four years old do not require a paid ticket to participate.
Bali: Reef Cruise Day Trip to Nusa Lembongan

Duration: 7 hour
Once you're arrived at Nusa Lembongan and have tread through Devil's Tears, Mangrove Forest and dived at the best dive spots, hop over to Nusa Lembongan's neighboring island, Nusa Ceningan, through the Yellow Bridge and visit the Blue Lagoon. Take pictures by the cliff or record a video as you cliff-jump when it's safe.
Return to Nusa Lembongan for the sunset before you wind down with a drink at Scooby Doo Beach Bar. For more details on the things to do at Nusa Lembongan, read our article here. Of course, you can always join an island tour from Viator to save yourself from planning!
Nusa Lembongan Island Tour with Snorkeling

Duration: 10 to 12 hours
While each boat has its pros and cons, reaching and experiencing Nusa Lembongan is still a worthwhile experience. Whether you're a budget traveler, seasoned tourist or comfort-first explorer, we hope our breakdown of choices available was comprehensive enough for you. Now, over to you to decide!
Sail to Scenic Nusa Lembongan on a Luxury Catamaran

Price: From 141 USD
Disclosure: Trip101 selects the listings in our articles independently. Some of the listings in this article contain affiliate links.
Get Trip101 in your inbox
Unsubscribe in one click. See our privacy policy for more information on how we use your data