Makadi Bay in Egypt is located on the Red Sea coast, and is one of the most exquisitely beautiful places one can visit. When you're in Makadi Bay you will see exotic fish and coral reefs while diving in the blue waters or just go snorkeling off the desert island. You can do amazing things like fishing in a glass bottomed boat, eat the most delicious food on earth, stay in the luxurious hotels of Makadi Bay and also play a whole lot of golf! Read on to learn more about the best things to do in Makadi Bay!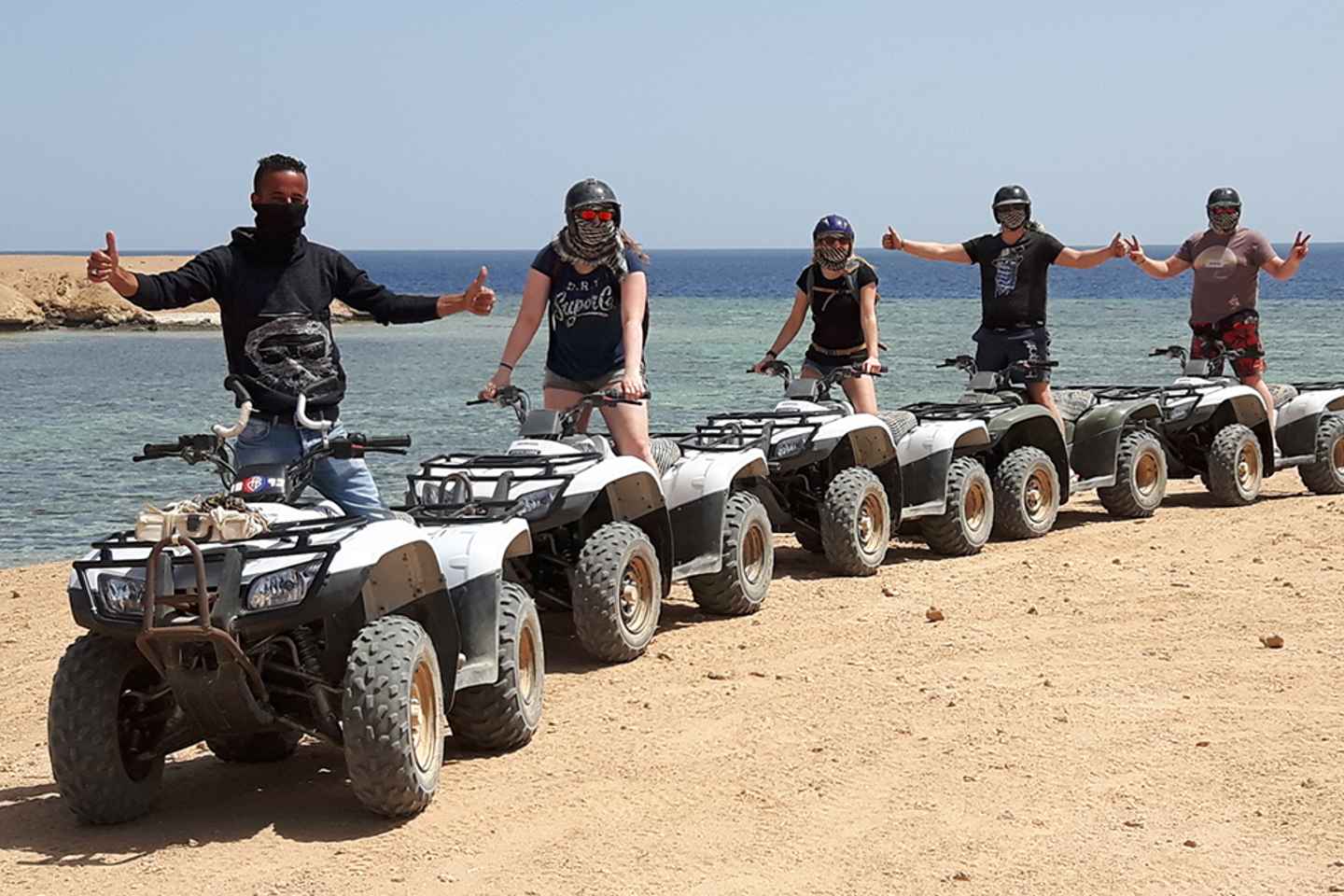 You can enjoy a desert adventure riding on a quad bike in the desert at Makadi Bay. Pick one of the quad bike tour operators in Makadi Bay and you will get a pick-up from your hotel. You will start from the Sahara Park, and after going for a test drive, you will begin your bike ride in the desert of Hurghada, see a mirage on the way, go climbing the sand dunes and enter a Bedouin village.
You will get a warm welcome here, have a delicious lunch, explore the village by yourself and get to know more about traditional desert life. In the evening you can see the beautiful sunset in the desert and have a yummy Arabian buffet dinner. After dinner, you will be treated to a belly dancing performance by local dancers, folk music, and a snake show as well.
Safari Excursions from Makadi Bay

Address: Hurgada, Makadi Bay

Website: Safari Excursions from Makadi Bay
Makadi Bay: 2-Hour Quad Bike Sea and Desert Tour

Duration: 2.0 hour
Go on a discovery of the underwater world of Makadi Bay, and see its amazing deep sea creatures and flora and fauna without getting wet. Yes, that's possible with the glass-bottomed boat tours. You can marvel at the clownfish, batfish, triggerfish, get up close and personal with eels and reefs, starfish and the sea weed at the bottom of the sea bed. These glass bottom boat tours will give you a feel as though you were in a huge aquarium.
Hurghada Glass Bottom Boat

Address: Red Sea, Hurghada

Website: Hurghada Glass Bottom Boat
Glass Bottom Boat Trip: Amazing Underwater Red Sea

Duration: 2 hours
Makadi Bay underwater is an interesting place for everyone to explore. People from all over the world come here to learn scuba diving and also do scuba diving here. The main reason for scuba diving in these waters is the diverse and beautifully colored fish in the sea and also the sea weed in the sea bed, which is vibrant and cannot be seen else where. Some of the fish species that can be seen in these waters are red sea clownfish, red sea picasso fish, starry buffer, masked buffer, scissortail sergeant, and much more.
Scuba Diving In Hurghada

Address: Makadi Bay, Qesm Hurghada, Red Sea Governorate, Egypt

Website: Scuba Diving In Hurghada
Hurghada Daily Scuba Dive Trip

Duration: 7 hours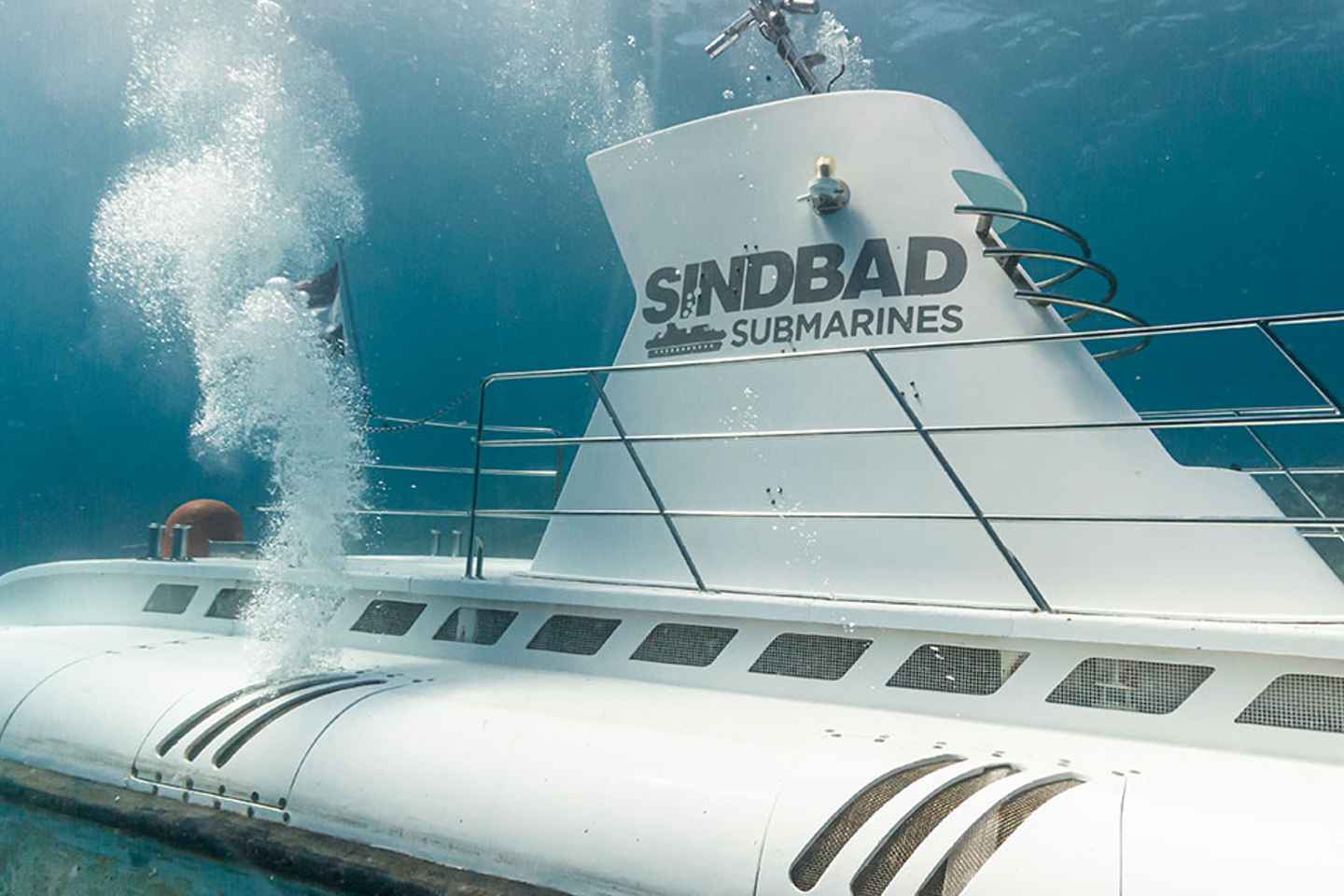 Sinbad Submarine Tour is one of the best things to do while you're in Makadi Bay. The Sinbad Submarine can seat up to 44 passengers along with 2 crew members. It has wonderful panoramic windows which give you a great views. Climb aboard the Sindbad and set off on a fantastic journey into the underwater world of the Red Sea. This incredible under water experience lasts for 45 minutes and you will experience the beauty of the colorful underwater world.
Sindbad Submarine Tour

Address: Red Sea, Makadi Bay, Hurghada, Egypt

Website: Sindbad Submarine Tour
3-Hour Sinbad Submarine Red Sea Tour from Hurghada

Duration: 3.0 hour
One thing you need to do when you visit Makadi Bay area in Egypt is to go for a full day tour of Luxor by an AC deluxe vehicle. You will get a pick up from your hotel and then be driven to see the Karnak Temple, which is considered as the biggest place of worship in the world, it was built two thousand years ago by the pharaohs, the kings of Egypt. Inside the complex, you will see the "Hypostyle Hall" which is a forest of giant pillars.
There will be a break for lunch, at a local eatery in Luxor, on the way to the West Bank of the Nile to see the 2 colossal statues of Amenhotep III and then see the amazing Valley of Kings, where the royal tombs were discovered which were deeply carved in the desert rock. After that you will see Hatshepsut Temple at El Deir El Bahary, and you can spend some time shopping in Luxor, then you will be driven back to your hotel.
Luxor excursions from Hurghada

Address: Luxor, Hurghada

Website: Luxor excursions from Hurghada
Small-Group Luxor and Valley of the Kings Tour with Lunch

Duration: 17 to 19 hours
You must explore the amazing desert when you're around Makadi Bay. Start at sunset because that is the best option for this desert area. You will spend an awesome evening doing a bunch of activities like camel rides, quad running and enjoy a scrumptious dinner under the Makadi Bay skies with the Bedouins for company.
Desert Jeep Safari

Address: Makadi Bay, Hurghuda

Website: Desert Jeep Safari
Hurghada Desert Safari by Jeep 4x4

Duration: 12 to 19 hours
When you travel to Makadi Bay in Egypt, you have to see the ancient city and capital of Egypt known for its Pharaohs, Sphinx and Pyramids. You can opt for a 2 day Cairo tour package from Makadi Bay to Cairo by air. The tour will give you the chance to see all that Cairo has to offer the world. On day one you will see the world famous Giza pyramids and the Sphinx along with other famous attractions. On day two you will be exploring the famed Egyptian Museum and Old Coptic Cairo along with the Citadel of Saladin with its museums and panoramic views from the castle walls.
2-Day Tour of Cairo from Makadi Bay

Website: 2-Day Tour of Cairo from Makadi Bay
Day Trip to Cairo by Bus

Duration: 16 hours
This is a premier diving center in Hurghuda and if you want to explore the Makadi Bay underwater world, then you must check it out. It is located in the resort of Fort Arabesque in Makadi Bay, south of Hurghada. The center is in a beautiful and serene green surrounding, just a few steps away from the beach. You can go for snorkeling trips where you can explore the seabed, float about on the water surface, and they offer various courses for all underwater activity.
iDive Diving Centre

Address: Serenity Makadi Beach, Hurghada, Makadi Bay, Egypt

Website: iDive Diving Centre
Hurghada: 1 or 2-Day Diving Package with Pickup and Meals

Duration: 7.0 hour
A vacation of all sorts in Makadi Bay!
Makadi Bay and the surrounding areas in Egypt have so much to offer tourists, that time seems like a big constraint. The area is abundantly blessed with natural flora and fauna, where you can see the beautiful sea bed with colorful fish in it, go quad biking in the desert, see the ancient ruins of Egypt, go on desert safaris, the list goes on and on!
Disclosure: Trip101 selects the listings in our articles independently. Some of the listings in this article contain affiliate links.
Get Trip101 in your inbox
Unsubscribe in one click. See our Privacy Policy for more information on how we use your data