Within a two to three hour trip from the city of Cebu, is a quiet place that has created a lot of noise in recent years. Oslob used to be a place where life is laid back and is celebrated simply, perhaps with a visit to the church or by attending to one's basic household chores and agricultural work.
Oslob's topography is a series of rolling hills but dominated by open grasslands and second growth forest. About 115 km (71.46 miles) from the city of Cebu, the rich area is blessed with some places still to be explored and which are now currently maintained or developed. Nonetheless, it suddenly became a hot spot, when nature turned its course, bringing big gifts of the sea and turning it into a beautiful destination, on the island province of Cebu.
1. Get a peek at nature's gentle giants of the sea
In the hearts of those who love the sea, is a dream to float peacefully with the biggest creatures in the ocean - the whale shark. Here, in Oslob, there is a 99 percent chance that you not only will get the opportunity to swim with these great creatures but to feed them as well. This phenomenon called "provisioning" has had a great impact on these sea giants and began in 2011. The dilemma of these wild animals getting used to being fed by humans, according to some marine specialists, has disrupted some forms of their natural behavior.
Provisioning (or supplying the animals with food) has meant the whale sharks continually visit this area at specific times - feeding time - which is from 6 to 10 am. So, if you decide to come and visit this place, you'll need to get up earlier than usual. However, if you are not a morning person, there are several places where you can spend the night to make it easier to catch this special time with them. While this has been an issue and is presently controversial, provisioning has meant these sea creatures not only swarm in this area but also give those who want to observe, feed and swim with them, the opportunity to make their own decision and see the pros and cons of such an intriguing site.
Oslob Whale Sharks

Address: Oslob, Cebu

Website: Oslob Whale Sharks
2. Historic treasures in the south of Cebu at the Cuartel de Espana

Historical buildings from days gone by are priceless and are quite common in the south of Cebu, in Oslob. Oslob's focal point is its oldest street, Calle Aragones, which showcases the partially completed military barracks of the Cuartel de Espana, made from 91 centimeter (36 inch) thick walls of coral, that have stood for more than a century.

This building, according to history, served as the first line of defense for naval infantry, due to the town's strategic location. The structure is said to be made from the remnants of a collapsed, five-story bell tower, near the town church. The Cuartel de Espana is a recycled structure, belonging to the past. It's quite a good place to take a photo while enjoying the view.
3. Solemn gratitude as you pay homage to the Nuestra Senora de la Inmaculada Concepcion
Overlooking the coast of Oslob is the colossal church of the Nuestra Senora de la Inmaculada Concepcion (Our Lady of the Immaculate Conception). The church was the brainchild of Bishop Santos Gomez Marañon, who is the same person that made the blueprint for the kiosk that shelters Magellan's cross.
When you enter the structure, you can feel the meditative mood and the fresh aura of the church. One of the oldest churches in Cebu, made from coral stone, the Nuestra Senora de la Inmaculada Concepcion Church is a peaceful place that will give a sense of gratification.
4. Overlooking the skyline in Baluarte
The tranquil sight of Oslob's Baluarte, or watchtower, is a stark contrast to its use in the past. While it served a terrifying role of defense, during Moro invasions, it is now a point of attraction for people who are ready to conquer and be conquered by its grand and mystic vistas. This is a great place for a glimpse of the horizon of Oslob.
5. Tumalog Falls: Nature's magnificent and diaphanous drapery
Nothing compares to the cool mist that you get from a waterfall, during a hot summer day. You can reach Tumalog Falls by hiring a habal-habal (a motorbike that can take you to places not accessible by local transportation) for PHP 50 (USD 1), for a one-way trip. From its jump-off point, a vision of its magnificence can already be seen. To reach the falls base, you need to walk through moist and slippery trails, so do take precautionary measures, when taking this route. Also, make sure your things, such as your charger and other gadgets, as well as your clothes, are covered with waterproof material.
When you arrive at the falls, you'll see several run-offs and pools, from where excess water is drained and contained. You will also come across some tables and cottages before you reach the main basin that holds most of the water. A few hundred yards from this point, you'll see a sort of horsetail type of waterfall, created by the cascading water that maintains contact with the bedrock, creating an attenuated water curtain. The vastness of the horseshoe-shaped landscape is a vision to behold. Make this a great finale to your Oslob trip.
Tumalog Falls

Address: Cebu South Rd, Oslob, Cebu, Philippines
6. Take a dip in the Mainit Springs
Less than 2 hours away from Oslob is the municipality of Malabuyoc, where you can find one of Cebu's finest hot springs - Mainit Springs. The waters are rich in sulfur, which is said to be good for the skin because of its restorative properties. There are three pools in Mainit with varying temperatures. Dipping in the springs is very relaxing, but you have to remember to slowly submerge yourself until your body adjusts to the temperature. After which, you can just sit back and unwind. Mainit Falls is also nearby, in case you want to have a cold shower afterwards.
Mainit Springs

Address: Mainit, Brgy. Montañeza,, Malabuyoc, Cebu

Opening hours: 6am - 5pm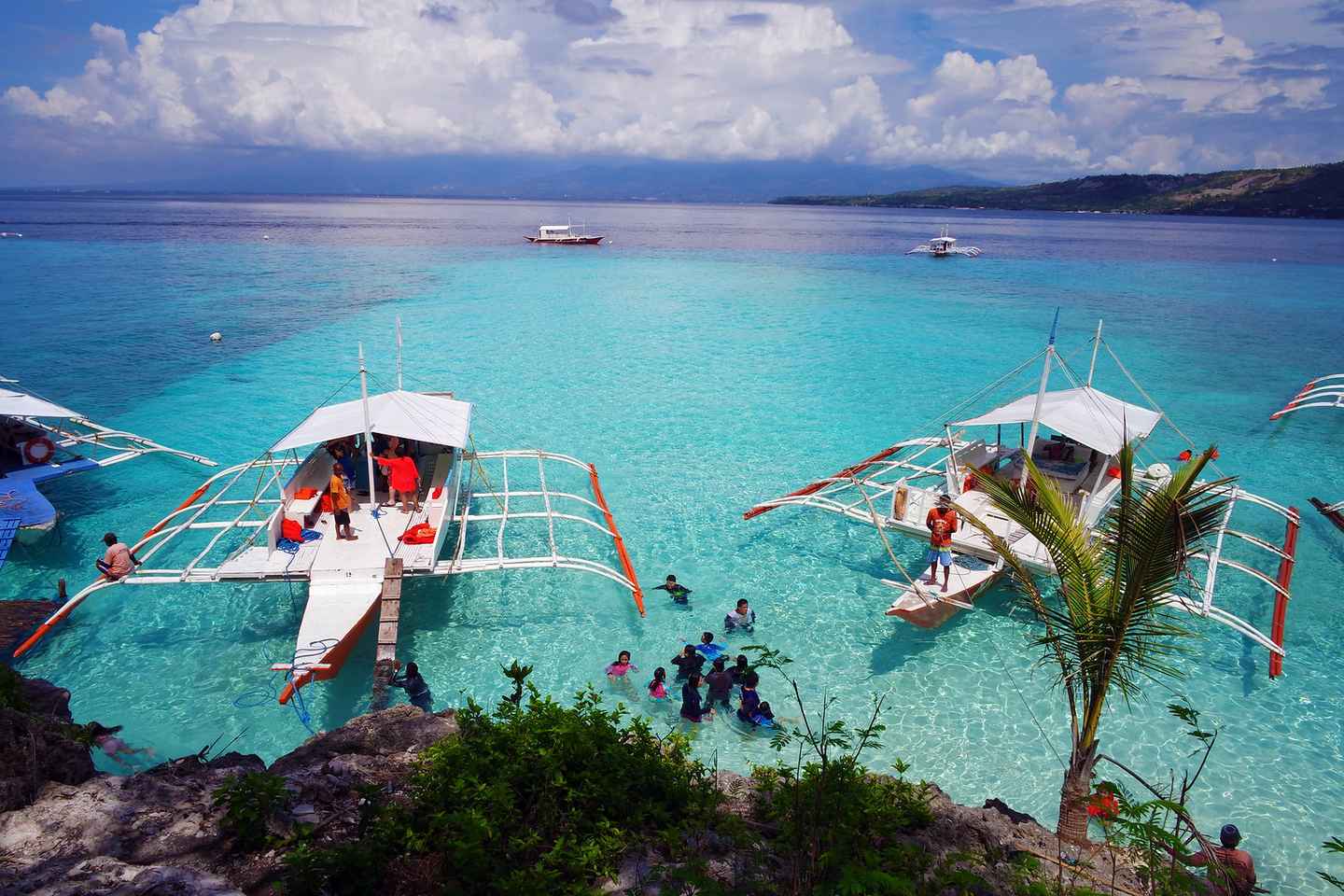 Another amazing destination in Oslob is the island of Sumilon, a marine protected area that's famous for its spectacular dive sites. Sumilon has incredibly clear waters in different shades of aquamarine, which means it provides superb visibility for those who want to see the stunning reefs and the abundant marine species. Some divers even spot black tip sharks on rare occasions. If you're not into diving, you can also just hang out or go sunbathing on the pristine beaches. The island's sandbar is popular as it changes shape and shifts locations around the island depending on the time of the year.
Cebu: Private Sumilon Island & Optional Whale Shark Swim

Duration: 11 hour
Visit a rising destination
The Philippine islands await you with a chance to explore their vast natural wonders, which are untouched but accessible. Don't waste your time waiting for the perfect time to enjoy life and make a plan to visit Oslob, today!
Disclosure: Trip101 selects the listings in our articles independently. Some of the listings in this article contain affiliate links.
Get Trip101 in your inbox
Unsubscribe in one click. See our privacy policy for more information on how we use your data