Tropea is a residential area on the east shore of Calabria, in southern Italy. It's known for its Byzantine burial ground, 12th-century cathedral, cliff top, shorelines and prized red onions. Exceptionally agreeable strolling around the boulevards with loads of intriguing shops and eateries. Around evening time, almost everybody strolls on the streets and additionally, Tropea offers heaps of spots to observe the sunsets. Here's a list of the best things to do in Tropea at night.
1. Explore the Old Town
The Old Town of Tropea is a residential area in southern Italy. This side of town is famous for its shorelines, cliff tops, noteworthy historic centre, and prized red onions. The Old Town of Tropea is built on a former 12th-century Byzantine graveyard, that flaunts marble sarcophagi and Madonna of Romania. The Old Town lightens up at the night and offers spectacular views over the slope. The narrow cobblestone streets, the medieval lamps, and the night lights make Old Town a very special place in the late evening. In addition, you can stop by at a restaurant, cafe or bar to enjoy a cocktail or an authentic Italian meal.
Tropea Old Town

Address: 89861 Tropea, Italy

Website: Tropea Old Town
2. Al Migliarese Cocktail Bar
Al Migliarese is an exceptionally chic cocktail bar in the heart of the antiquated city of Tropea. This beautiful bar is situated next to a standout amongst the most wonderful views in Tropea. In addition, you get to enjoy expertly blended beverages here. They have an extensive variety of drinks, something for everybody. The bar also offers an exceptionally well-prepared appetizer, complimentary with your cocktails. On the off chance that you are in Tropea, make a trip for a drink, and you will be happy that you visited. Al Migliarese is an open-air cocktail bar, ideal for parties, or a night stop. This bar is arranged in a romantic square in the downtown area, with seating in the square itself. The beverages are reasonably priced, exceptionally well made, and one drink will get you super hummed! On the off chance that you like licorice, make a point to attempt the Black Mojito!
Al Migliarese

Address: Largo Migliarese, 7, 89861 Tropea VV, Italy

Facebook: Al Migliarese
3. Explore Mare Grande
Mare Grande welcomes you to an enthusiastic staff that communicates in English and serves well. The menu is in English and German and the food is great and intriguing, yet not very big on the stomach. Mare Grande opens after noon when numerous other outlets are shut. Visitors rate this restaurant as one of the most loved eateries in Tropea. Both areas are set off the shoreline by the St. Maria Del Isola church and it's open through the year. Do try the Italian pizza, pasta, linguini and mollusks here to indulge in authentic Italian flavors.
Mare Grande

Website: Mare Grande
4. Bar Veneto
Bar Veneto is a stage bar for the individuals who like to experiment with new places. Veneto features excellent service, awesome ambient melodies and exquisite square views. Everything is constantly immaculate. You must try the magnificent espresso, aperitifs and awesome cocktails, from expert bartenders. In addition, Veneto offers a great collection of craft brews including. It is lovely here, and it is a delight to visit with friends for the wines ranging from white, red and sparkling.
Bar Veneto

Address: Piazza Vittorio Veneto

Facebook: Bar Veneto
5. Lido Charly
Editor's Note: Photo taken from the establishment's official social account
Lido Charly offers a great morning menu with a touch of polished methodology. This place is not to be missed and is highly recommended while you are in Tropea. You can visit Lido Charly and appreciate the most spectacular views of the ocean and the Tropea shores. In addition, you will be charmed by the nightfall landscape that the porch offers, which is by all accounts extended on the ocean. Incredible views, extraordinary aperitif at sunset, great cocktails, breakfast with superb cappuccinos and proximity from the ocean. You can also hit the clean shoreline, that has umbrellas and sun benches to laze around.
Lido Charly

Address: Via Lungomare, 89861 Tropea VV, Italy

Facebook: Lido Charly
6. Bar Ariston & Papillon
Bar Ariston in Tropea is an awesome eatery, which offers absolute value for money. This bar exhibits a clean area and comfortable seating along with an interesting menu. Ariston and Papilion are located in the notable centre of Tropea. This place is particularly famous for its truffles, however you must also try the pistachio and chocolate and great grain. The other delicacies on the menu incorporate​ Brioche with frozen yoghurt and many delightful desserts. Above all, this bar is also very popular for its Ice-creams and friendly staff members. Come here to enjoy great food, incredible ambience, service and views.
Bar Ariston & Papillon

Address: Via Vittorio Emanuele III, 8, 89861 Tropea VV, Italy
7. Blanca Beach Club
Editor's Note: There's no photo available at the time of writing
If dancing to good music with your toes in the sand is your idea of a great Tropea experience, head over to Blanca Beach Club. It hosts beach parties and other evening events that feature live DJ and band performances. It also has a lounge bar with a wide selection of drinks. Additionally, you can enjoy a slice of amazing pizza while dining enjoying the music - since the club has a pizzeria that serves freshly-made pizza prepared with Neapolitan dough and Mediterranean ingredients. VIP lounges are also available, where guests can enjoy an exclusive five-star treatment with the finest wine and champagne.
Blanca Beach Club

Address: Street Promenade 89861 Tropea (VV) Italy

Website: Blanca Beach Club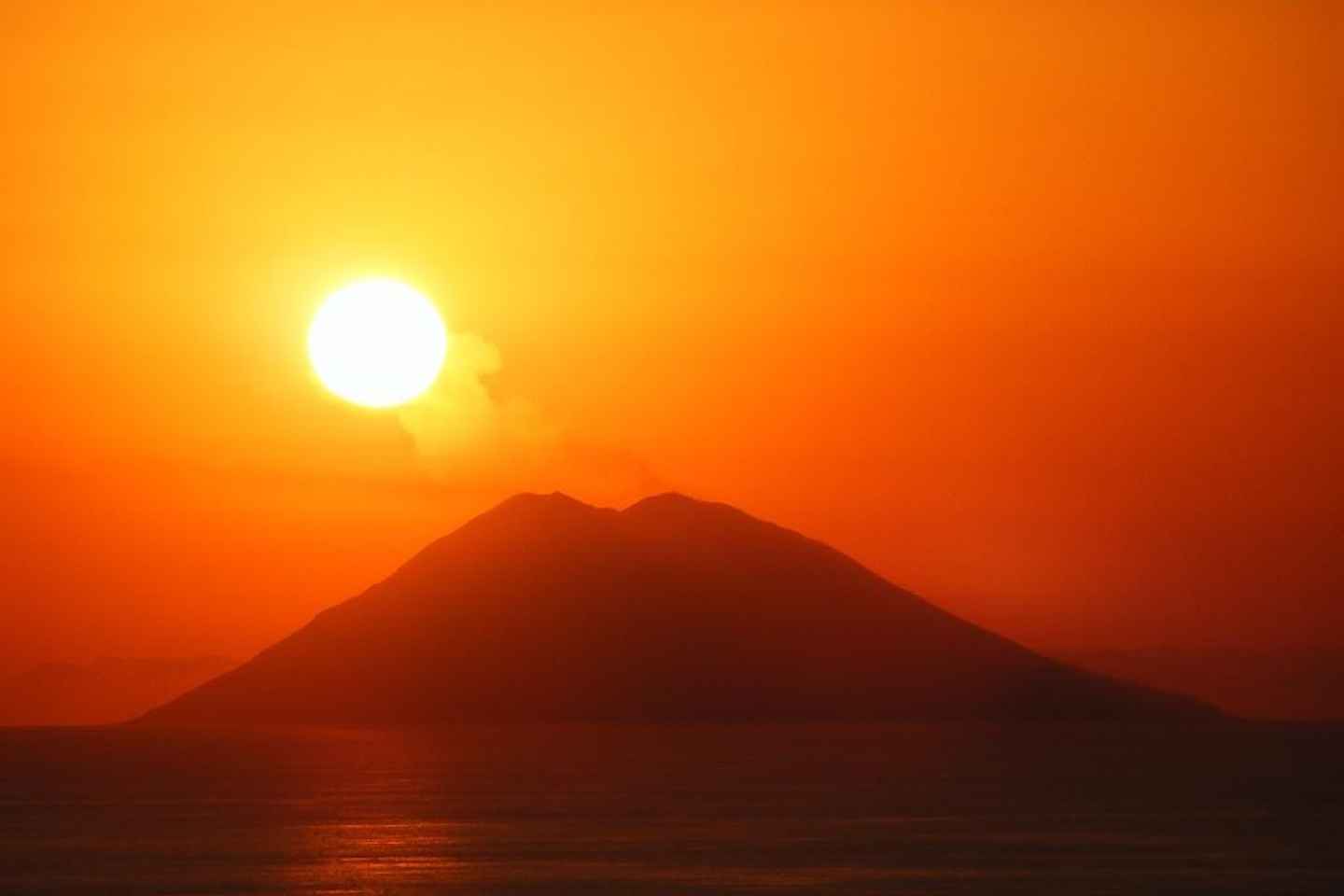 Stromboli is a small island off the north coast of Sicily, where you can find one of the three active volcanoes in Italy. A notable geological feature of the volcano is the Sciara del Fuoco, which translates to 'stream of fire'. A nighttime tour to Stromboli will allow you to get up close with this natural wonder. You can also explore other parts of the island, swim by the black sand beach, and admire the lava fountains along with columns of smoke. You can stroll through the town as well, where you will be enchanted by the small streets between whitewashed houses, the turquoise water, and the lush palm trees.
Duration: 11.5 hour
Enjoy your Italian vacation in Tropea
Italy has such a variety of incredible ocean side resorts and shorelines, that it is difficult to know where to start when arranging a late spring trip. Tropea offers something for everybody and it incorporates the exceptionally loved beach front spots. This side of Italy features an immense number of exquisite spots to visit. Italians adore the ocean and rush to the unfamiliar Italian shoreline every summer. On the off chance that you are visiting Tropea in late July and August, you will enjoy a significantly less expensive vacation. Likewise, June and early September are incredible months to enjoy the serene shoreline in Tropea. The month of May can likewise be decent to visit the beach. But don't forget that just because the sun has set, doesn't mean the water side fun has to end. Enjoy!
Any must-sees we missed? Tell us about them in the comments section or write a post
here
to help out fellow travelers!
Disclosure: Trip101 selects the listings in our articles independently. Some of the listings in this article contain affiliate links.
Get Trip101 in your inbox
Unsubscribe in one click. See our Privacy Policy for more information on how we use your data