We all know that Amsterdam is a leading tourist destination. People flock to experience its unique architecture, stunning canal and relaxed atmosphere. But what made Amsterdam how it is today? We've done our research and found the top museums in Amsterdam. Whether you are taking your children or going solo these interesting tours and museums are guaranteed to shine some light on the many interesting sides of Amsterdam. For example, did you know that Amsterdam is actually built on 11 million wooden poles and has more than 62 miles (100 km) of canals? You can learn this and much more at these selected museums, so let's see what you should explore first. To guarantee your space on tours remember to book in advance.
This museum hosts an impressive collection that documents and showcases Dutch history. There are over 8,000 artifacts on display and the best way to make sure you don't miss anything is to have a guided tour. Tours take 2.5 hours and include a VIP pass which means no queuing! You'll be able to see first hand and hear about some of the best works from world-famous painters such as Van Gogh, Vermeer, and Rembrandt.
Tours take place twice daily and are a small group size so you are guaranteed an informative and insightful tour.
Skip-the-line and Private Guided Tour: Rijksmuseum Amsterdam

Duration: 2 hours 30 minutes
One of the most incredible collections of modern and contemporary art is housed at the Stedelijk Museum. With a two-hour private tour, you'll have the opportunity to see the works from influential expressionists, minimalists, modernists, and iconoclasts. The guide, an art historian, will happily answer questions and discuss each piece of artwork with visitors. With this private tour, you can see first hand Van Gogh, Mondrian, Malevich and many more. Remember to keep time for the new annex which is shaped just like an oversized bathtub!
Stedelijk Museum Amsterdam Private Art Tour in Amsterdam

Duration: 2 hours
No trip to Amsterdam is complete without a visit the fascinating Van Gogh Museum and all the local sites associated with the artist. This nine-hour tour includes a tour around his former village, Neunen, and a canal cruise. If you're interested in Van Gogh art this is an ideal tour for you. With a small group of only eight people, you can really delve into Van Gogh's world and discover interesting facts about the world-renowned artist.
Amsterdam Van Gogh Tour and Museum with Skip-the-Line Access

Duration: 9 hours
This insightful walking tour will allow you to discover more about WWII history and the story of Anne Frank. Lasting for two hours, the tour includes the Jewish Historical Museum, the Portuguese Synagogue, and the Auschwitz Monument. The tour will end at the entrance to Anne Frank House, from here you can continue on your own journey and discover other things that interest you. The group size will be no more than 15 people so you are sure to be able to hear your guide while maybe also meeting a few friendly other walkers.
Amsterdam Jewish Quarter Anne Frank Walking Tour

Duration: 2 hours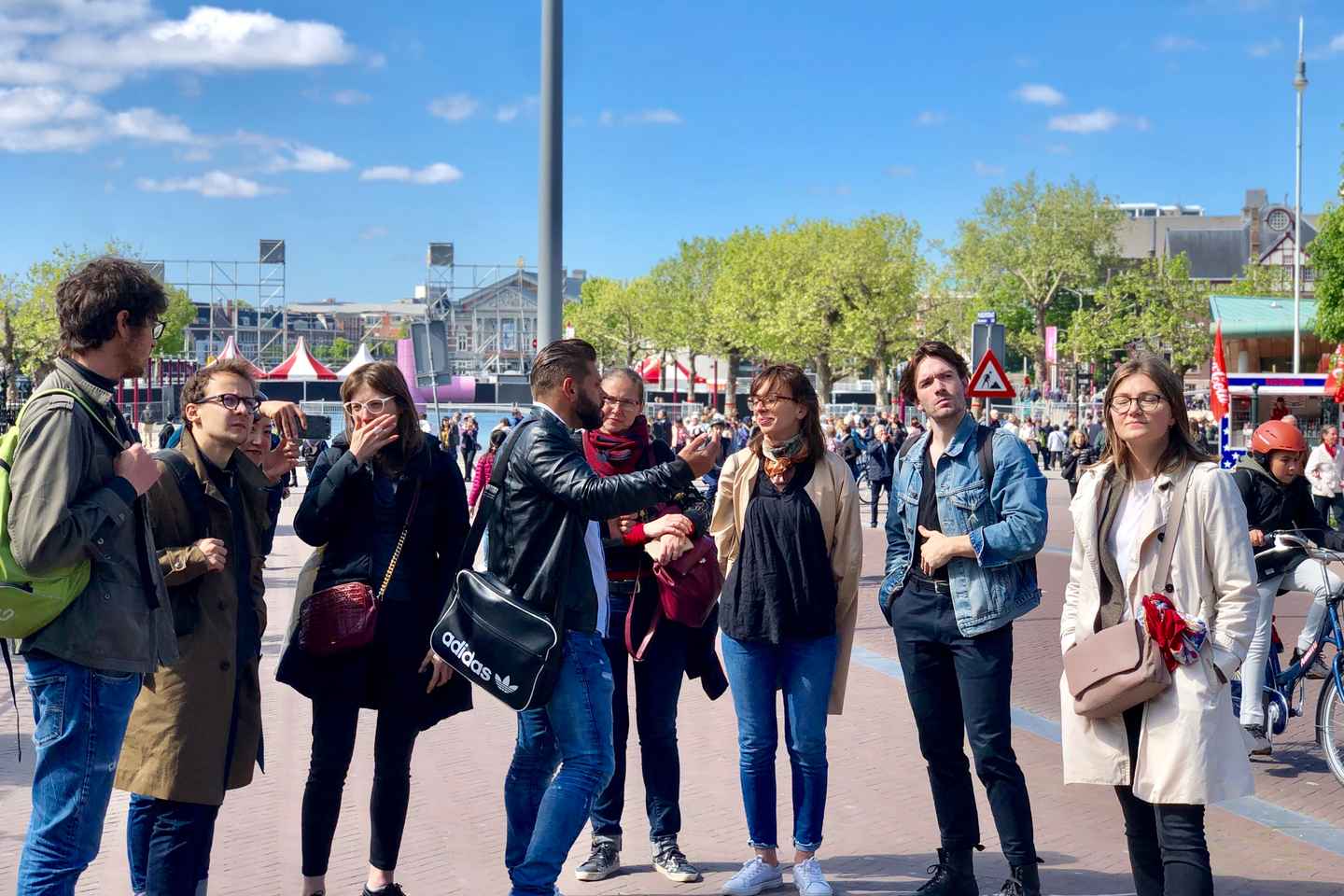 For 2.5-hour stroll in Rembrandt's footsteps as you discover the streets where he lived before heading to the Rembrandt House Museum. On the walking section of this tour, you'll amble through Spiegelquarter, Rembrandt Square and the Jewish Quarter as you listen to interesting facts and the history of the area. Rembrandt and his wife lived for a number of years in the Jewish Quarter and their house now stands as a museum dedicated to the artists' life. The building and furnishings are both authentic, it will feel like you've stepped back in time.
Amsterdam: Guided City Walking Tour and Rembrandt House

Duration: 2.0 hour
A great tour option with children made even better by the fact that you can skip the line. The National Maritime Museum in Amsterdam is based in a restored 17th-century Royal Dutch Navy Storehouse. It features one of the world's largest nautical collections and includes a one-hour audio tour. There are many areas of the museum that are specifically designed to be fun and educational for children. You can even take a virtual seafaring adventure! You'll travel back in time on an 18th-century cargo ship and discover life in Amsterdam port at that time. After the adventure, return back to the museum to see the many artifacts that connect us to the history.
Amsterdam National Maritime Museum Skip-the-Line Ticket

Duration: 30 to 90 minutes
7. Tropenmuseum
This is a fantastic museum of world cultures. There is both a permanent display and a schedule of different exhibitions which focus on the story of various people. These stories could include any topics like mourning, celebration, ornamentation, prayer, and conflict. If you have children be sure to take them to the Tropenmuseum Junior.
Tropenmuseum

Address: Linnaeusstraat 2, 1092 CK Amsterdam, Netherlands

Opening Times: Mondays 10am - 5pm

Price: Adults €15, Ages 4-18 €8

Website: Tropenmuseum
8. Museum Van Loon
First designed in 1672 by architect Adriaen Dortsman the first resident was a pupil of Rembrandt. This historic house is filled with stunning furniture, exquisite portrait work, and specialist pottery. At the back of the house, the landscaped garden is in the style of the 17th century. 5r0-minute tours are available for an additional cost and are led by local experts.
Museum Van Loon

Address: Keizersgracht 672, 1017 ET Amsterdam, Netherlands

Opening Times: Daily 10am - 5pm

Price: Adults €9 (Tours €79)

Website: Museum Van Loon
9. Bijbels (Biblical) Museum
Editor's Note: Museum is permanently closed.
Known as the meeting point for the Bible, art, and culture this museum takes you on a journey of discovery through the world of the Bible via a collection of personal stories. There are a number of temporary exhibits alongside the permanent fixtures. Alongside these include copies of rare Bible, archaeological discoveries and many prized possessions. Guided tours are available for up to groups of 30 people and cost extra.
Bijbels (Biblical) Museum

Address: Herengracht 366-368, 1016 CH Amsterdam

Opening Times: Tuesday-Sunday, 10am/11am - 5pm

Price: Adults €10 (Tours €70 per 15 people)

Website: Bijbels - Biblical)
Educational and fun
There is a lot to see and do in Amsterdam and these museums and tours are at the top of our list. You can learn about the surrounding area, some famous locals and the history and culture that makes Amsterdam such a popular tourist spot today.
Disclosure: Trip101 selects the listings in our articles independently. Some of the listings in this article contain affiliate links.
Get Trip101 in your inbox
Unsubscribe in one click. See our Privacy Policy for more information on how we use your data