With population growth and advancements in technology, the architecture in Taiwan has gradually transformed from the traditional wooden buildings to some of the most spectacular buildings in the world, including skyscrapers, monasteries, churches, and mansions. Besides their surpassing beauty, these buildings feature a variety of attractions that appeal to tourists from different parts of the world. While some have observation decks, where you can enjoy unobstructed views of the city, others feature shopping centers and restaurants, among other recreational facilities. To discover these kinds of buildings and many others, check out our collection of the top famous buildings in Taiwan.
Booking one of the best farm stays or hotels will give you more time to explore these famous buildings, so make sure to check them out as well.
1. High-Heel Wedding Church
High-Heel Wedding Church is a unique structure in Taiwan that was built to commemorate the women that suffered during the Blackfoot epidemic of the southwest coast. During that time, women were significantly affected compared to men. In fact, many female patients were amputated in order to survive and, as a result, many girls could never walk again, hence shattering their dreams of ever wearing high heels.
To instill a bit of happiness surrounding this somber historical event, High-Heel Wedding Church was built. Clearly, there is no greater way to show your support for these noble women than by visiting.
High-Heel Wedding Church

Address: Haixing Street, Budai Township, Chiayi County, Taiwan 625
2. National Taichung Theater
The National Taichung Theater is another famous landmark in Taiwan. The building features a 3-D chessboard grid design, with beautifully curved entrances and a façade with curves resembling a coral reef. These features give National Taichung Theater a unique form that continues to attract tourists from different parts of the world.
Besides admiring its beauty, there are many things you can do at the National Taichung Theater. For instance, you can visit any of the three theatres in this building to be entertained and enlightened about the local culture. Also, outside there is a water fountain, which a favorite with kids and adults alike.
National Taichung Theater

Address: No. 101, Section 2, Huilai Road, Xitun District, Taichung City, Taiwan 40756

Website: National Taichung Theater

Opening hours: Sun - Thu: 11:30am – 9pm; Fri - Sat: 11:30am – 10pm
Sightseeing is relaxing and a great way to appreciate the beauty of a place. Skyscrapers are some of the best places for sightseeing. Take for instance the 508-meter (1666.7-foot) high Taipei 101, one of the things Taiwan is famous for. The skyscraper, which is one of the tallest in the world, offers panoramic views of the bustling city's skyline and its environs. The views are even better at night, with its variety of lights, and it makes the city glow.
In addition to this, Taipei 101 has the fastest elevators in the world, so, besides the views, a visit to this building offers visitors a unique opportunity to experience an iconic moment riding in the lift.
Taipei 101 Observatory E-Ticket
4. Taipei Nan Shan Plaza
Taipei Nan Shan Plaza is another great skyscraper in Taiwan, situated within a stone's throw of the famous Taipei 101. Taipei Nan Shan Plaza is an excellent destination for shopaholics, offering many things to buy in Taiwan. The building is essentially a business center that houses a variety of top brands, including Manolo Blahnik, the famous maker of a range of high-end shoes from ordinary flats to classy heels.
Taipei Nanshan Plaza also houses several Japanese perfume brands where you can refill or replace your cologne. If you are interested in electronics, such as printers, scanners, projectors, and home theatre TVs, remember to check out the amazing deals at the Seiko Epson store on the 15th floor.
Taipei Nan Shan Plaza

Address: 110, Taiwan, Taipei City, Xinyi District, Songzhi Road
5. Luce Memorial Chapel
Situated at Taiwan's Tunghai University is the Luce Memorial Chapel, a Christian chapel built to commemorate the good work of Rev. Henry W. Luce. The Luce Memorial Chapel features unique architecture and a hexagonal base, as well as manipulated planes that constitute the walls, and a magnificent exterior made of glazed tiles.
I.M. Pei, the architect of this unique design, was concerned about the extreme weather in the region and so the building was designed to withstand earthquakes and atmospheric humidity, which occur quite a lot in this area. Outside the Luce Memorial Chapel, there is a well-maintained lawn that is ideal for sunbathing, leisurely strolls, and picnicking with friends and family.
Luce Memorial Chapel

Address: No. 1727, Section 4, Taiwan Boulevard, Xitun District, Taichung City, Taiwan 407
6. Taipei County Government Hall
Although the Taipei County Government Hall serves mostly as an administrative base for the county government, it has a variety of other attractions worth exploring. For instance, there is a multipurpose auditorium, public art exhibition, and an observatory deck on the 32nd floor that boasts unobstructed views of the city. The restaurant on the 33rd floor also has an excellent lookout deck, where you can enjoy even greater views than the 32nd floor, as well as delicious Taiwanese dishes.
Parents of children with special needs can also bring them to the Children Are Us Bakery in the Taipei County Government Hall. Here, they will receive the care they need, as well as interact with other kids with special needs.
Taipei County Government Hall

Address: No. 161, Section 1, Zhongshan Road, Banqiao District, New Taipei City, Taiwan 220

Website: Taipei County Government Hall

Opening hours: Mon - Fri: 8am – 12pm & 1:30pm – 6pm (closed on Sat & Sun)
7. China Steel Corporation Headquarters
China Steel Corporation (CSC) is one of the leading manufacturers of a wide range of domestic products, such as plates, electro-galvanized coils, bars, and wire rods, among others. If you are interested in buying or learning about the production process of these products, come and pay a visit. Here you will find some exhibits, catalogs, and comprehensive brochures detailing their products.
The exterior of CSC headquarters features a steel framework and glass walls that depict some scenes of the blockbuster movie, Iron Man. The views of the building are breathtaking and people often stop to take photos, so remember to pack your camera when visiting.
China Steel Corporation Headquarters

Address: Chenggong 2nd Road, Qianzhen District Kaohsiung City, Taiwan 806

Website: China Steel Corporation Headquarters
8. Chung Tai Chan Monastery
The Chung Tai Chan Monastery is a Buddhist temple and a place for spiritual cultivation, which makes it the perfect destination for visitors who want to meditate and relax in total tranquility. Besides its religious aspect, the Chung Tai Chan Monastery has many gigantic statues of past Buddhist leaders, which makes a sightseeing tour of the facility a total delight.
However, an important point to note is that guests should maintain silence while in the monastery to avoid disrupting those who are praying or meditating. So, if you are visiting as a family, it is advised to keep the children under control.
Chung Tai Chan Monastery

Address: No. 2, Zhongtai Road, Puli Township, Nantou County, Taiwan 545

Website: Chung Tai Chan Monastery

Opening hours: 8am - 5pm (daily)
9. Lungshan Temple
Situated in an area that has experienced devastating earthquakes, the Lungshan Temple has survived many natural disasters, making it one of the oldest and most resilient structures in Taiwan. Today, the Lungshan Temple is a famous sanctuary for believers of three religious groups, namely Buddhists, Taoists, and Confucians.
The temple is usually frequented by people from the local community in search of historical and cultural enlightenment. It holds a comprehensive collection of spectacular sculptures, antiques, and many pieces of art that have been passed down from ancient generations. What's more, the locals do not mind foreigners taking photos within the facility, so feel free to carry your camera when visiting.
Lungshan Temple

Address: No. 211, Guangzhou Street, Wanhua District, Taipei City, Taiwan 10853

Website: Lungshan Temple

Opening hours: 6am – 10pm (daily)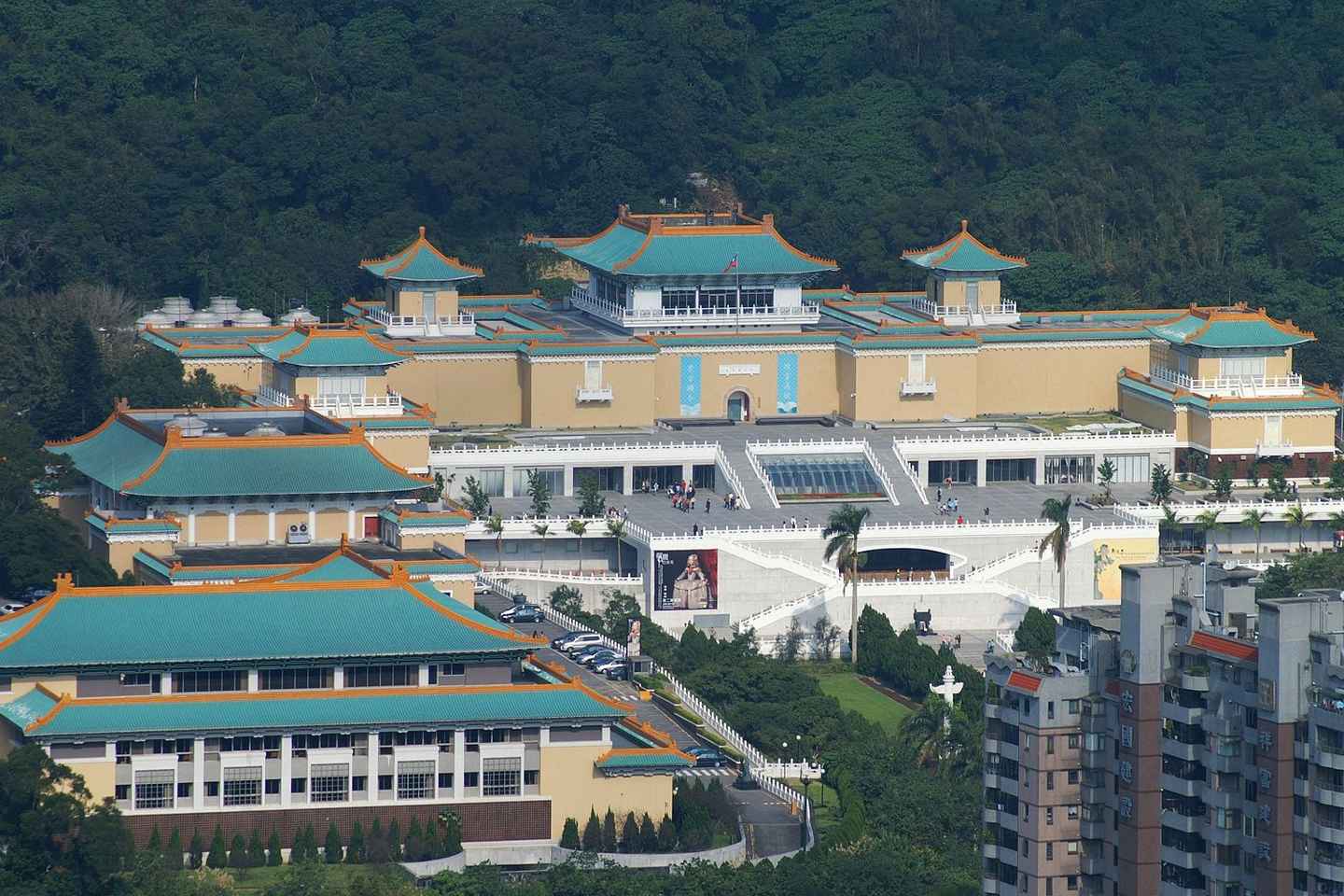 The National Palace Museum has a very comprehensive collection of art and antiques, with over 650,000 pieces from the Stone Age. The museum is well organized and everything, from access to viewing of these collectibles, is easy. In fact, you will not encounter long queues in many public utilities.
Furthermore, Taiwan has one of the most vibrant cultural histories in the world and a significant part of it is preserved in the National Palace Museum. Plan your trip to the museum to see many pieces of history, including the famous Jadeite Cabbage, which combines different colors of jade to emulate the color variations of a real cabbage.
Taipei: National Palace Museum E-Ticket
Extraordinary buildings of Taiwan
In conclusion, Taiwan is a great place to visit if you want to explore some of Asia's best architecture. For starters, try the attractions on our list of famous buildings in Taiwan. There are also amazing street food tours to join and unbelievable things to do while you're here, so be sure to check them out!
Disclosure: Trip101 selects the listings in our articles independently. Some of the listings in this article contain affiliate links.
Get Trip101 in your inbox
Unsubscribe in one click. See our privacy policy for more information on how we use your data