Singapore is a small, tropical island located in Southeast Asia. To make sense of the size of the country, imagine an island 943 times smaller than Texas, and you get Singapore. Despite its size, many tourists from all over the world still flock to this cosmopolitan city, which has gained a reputation for being extremely clean, safe, and modern. They stay in business hotels or vacation rentals that offer amazing amenities. Many also know Singapore as a paradise for foodies, as the island is jam-packed with food options — from restaurants to street food markets — offering all sorts of cuisines. Food centres or hawker centres are a common sight in Singapore. They are large compounds filled with as many as a hundred food and drink stalls. Food centres are the go-to place for a quick, hearty, affordable, and authentic local dining experience! Read on to find out the best food markets in Singapore.
1. Tiong Bahru Food Centre
Editor's Note: There's no photo available at the time of writing
Opened in 1951, Tiong Bahru Food Centre features a fresh market that consists of 255 provision shops and wet produce stalls. These shops and stalls provide a plethora of wet produce options and form part of the building's nightlife as these stores all close late at night.
There is also a food court on the 2nd floor that has 85 food stalls and has a seating capacity of 1,050 people. The large central garden courtyard offers a good place to simply sit back and rest after looking around the various shops, stores, and stalls.
Tiong Bahru Food Centre

Address: 52 Tiong Bahru Rd, Singapore 168716

Website: Tiong Bahru Food Centre
2. Hong Lim Market & Food Centre
Editor's Note: There's no photo available at the time of writing
Located next to Chinatown Point Complex and near the Chinatown MRT station, Hong Lim Market & Food Centre offers a plethora of local Singaporean cuisine that is sure to leave a lasting flavor on the taste buds that you will not forget.
The centre is home to more than 100 hawker stalls with some being listed in Michelin Guide Singapore Bib Gourmand Selection. Previous visitors have praised the centre's delicious selection of food with some stating that the food served is authentic Singaporean cuisine.
Hong Lim Market & Food Centre

Address: 531A Upper Cross St, Singapore 051531

Opening hours: Open 24 hours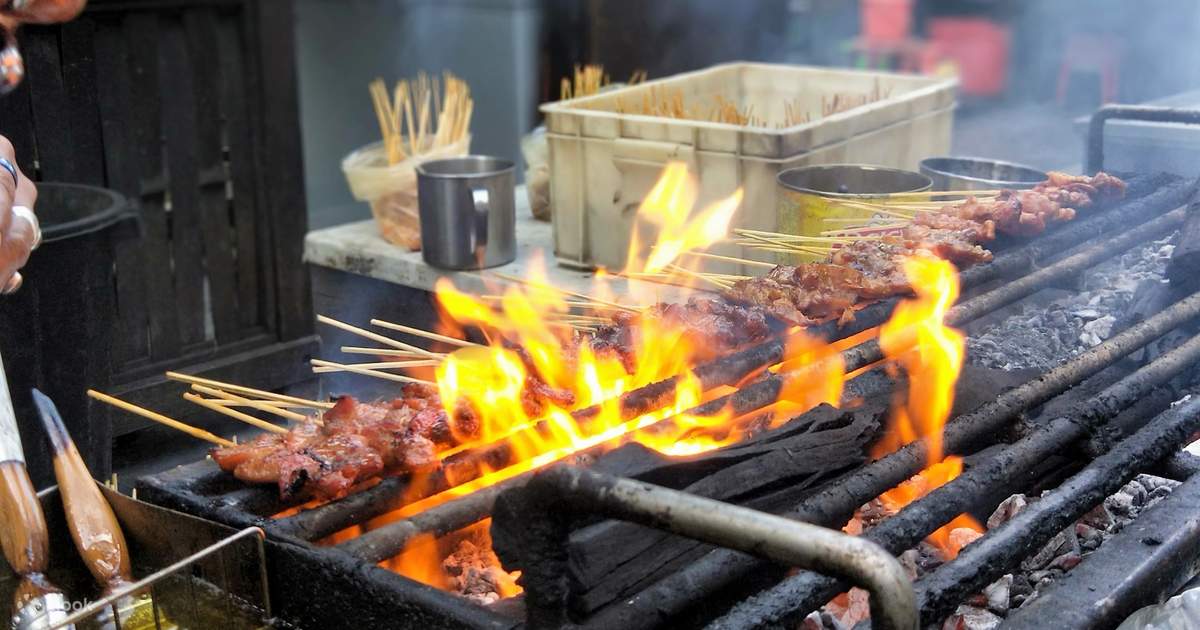 Lau Pa Sat is not just any food market; it is a cultural and historical gem. Its name translates to "old market" in Hokkien. It was built in the 19th century and was gazetted as a national monument of Singapore in 1973. It is situated right in the heart of the central business district, and it features a distinctive octagonal shape with a Victorian-style cast-iron structure. The market offers a huge variety of local cuisine. Apart from local Singaporean cuisine, the fare is very international, too, with stalls serving Japanese, Vietnamese, Korean, and Filipino food. Wash down your satay with some ice-cold Tiger Beer, and revel in the charm of the Lau Pa Sat.
4. Newton Food Centre
Newton Food Centre is steadily rising in popularity with tourists after it was featured in a TV show starring Gordon Ramsay. It also gained traction after it was featured as a filming location for the movie, "Crazy Rich Asians." The food centre has more than 100 stalls, which will leave you spoilt for choice. If you're prepared to wait in line, drop by Hup Kee Fried Oyster Omelette for juicy oysters nestled on a fluffy omelette. Singaporeans love their spicy food, and the sambal stingray is a must-order dish to share with your friends! If you're looking to have a snack, try the satay and chicken wings from TKR Yummy Chicken Wing. There's bound to be something for everyone at Newton Food Centre, so come on down and dine like a "crazy rich Asian" for an affordable price!
Newton Food Centre

Address: 500 Clemenceau Ave. (Newton Food Centre) Singapore 229495

Opening hours: 12pm - 2am (daily)
5. Changi Village Hawker Centre
Changi Village Hawker Centre is at the east side of Singapore, but the huge selection of food makes the journey there worth it. This hawker centre is home to one of the most famous Nasi Lemak stalls in Singapore, the International Muslim Food Stall. For dessert, to combat the tropical Singapore weather, tuck into a bowl of cendol Melaka. This is a traditional shaved iced dessert, topped with rice jelly and a generous amount of sweet coconut and gula Melaka syrup. If you are still peckish, stop for some deep-fried banana fritters, goreng pisang, another sweet treat. Afterwards, you can ride a bicycle to East Coast Park to burn off those calories as well as discover more fun things to do.
Changi Village Hawker Centre

Address: 2 Changi Village Rd, Singapore 500002

Opening hours: Mon - Fri 6am - 2am; Sat - Sun: 24/7
6. Old Airport Road Food Centre
The Old Airport Road Food Centre is well-known and loved by Singaporeans for its huge variety and good quality of hawker stalls. It was even voted the most popular hawker centre in Singapore after a local radio station started an island-wide search. It triumphed with more than twice the votes of its closest competitor. When you go here, make sure to indulge in some Lor Mee from Xin Mei Xiang Zheng Zong Lor Mee, which even has a Michelin Plate. For some roasted meats, try out Roast Paradise. The long, snaking queues at the stall each day goes to show it's popularity and quality. If you are in the area during breakfast time, have a taste of the quintessential Singaporean breakfast - Kaya Toast!
Old Airport Road Food Centre

Address: 51 Old Airport Rd, Singapore 390051

Opening hours: 6am - 11pm (daily)
7. Amoy Street Food Centre
Amoy Street Food Centre is conveniently located in the Central Business District, making it a convenient lunch or dinner pitstop! This Singapore street food market is extremely popular with both the working crowd and tourists alike. It also houses a couple of Michelin Bib Gourmand awardees. There are also many stalls that whip up different variants of fusion food, with "hawkerpreneurs" offering a modern take on traditional dishes. Enjoy some Halal poke bowls from Big Bowls Project and a contemporary twist on wonton noodles at A Noodle Story. Enjoy your daily dose of caffeine with Coffee Break's innovative take on traditional Kopi.
Amoy Street Food Centre

Address: 7 Maxwell Road MND Building Annexe B, 069111

Opening hours: 6.30am - 9pm (daily)
8. Maxwell Food Centre
Maxwell Food Centre is the place to go for local Singaporean food, and it is as authentic as it gets! Start your meal off with some oyster cake from Maxwell Fuzhou Oyster Cake. This is a traditional Fuzhou dish, and the stall at Maxwell is one of the last few remaining ones who make it by hand. Don't forget to also try the award-winning Hainanese chicken rice from Tian Tian Chicken Rice. Be sure to visit after the peak lunch hour to avoid getting stuck in long queues. Additionally, you can find China Street Rickshaw Noodles here, which serves a traditional breakfast that many rickshaw pullers had in the olden days.
Maxwell Food Centre

Address: 1 Kadayanallur St, Singapore 069184

Opening hours: 8am - 2am (daily)
9. Tekka Centre
Tekka Centre is part wet market, part food centre, and part shopping mall. It's also a landmark in the Little India neighbourhood. This Singapore food market differs from the rest in this list, as it sells mostly Indian food. Nevertheless, their food great! Drop by Temasek Indian Rojak for a generous buffet-like spread of meals. For some amazing Masala, head to Sri Triffin Stall. After eating your fill, venture to the top floors of Tekka Centre. The higher floors are made up of retail stalls which sell a huge variety of items. Stop by one of these stalls if you want to get some souvenirs or keepsakes. Venture down to the wet market part of Tekka Centre to experience the atmosphere of old school Singapore!
Tekka Centre

Address: 665 Buffalo Road, Singapore 210665 Opening hours: 6:30am - 9pm (daily)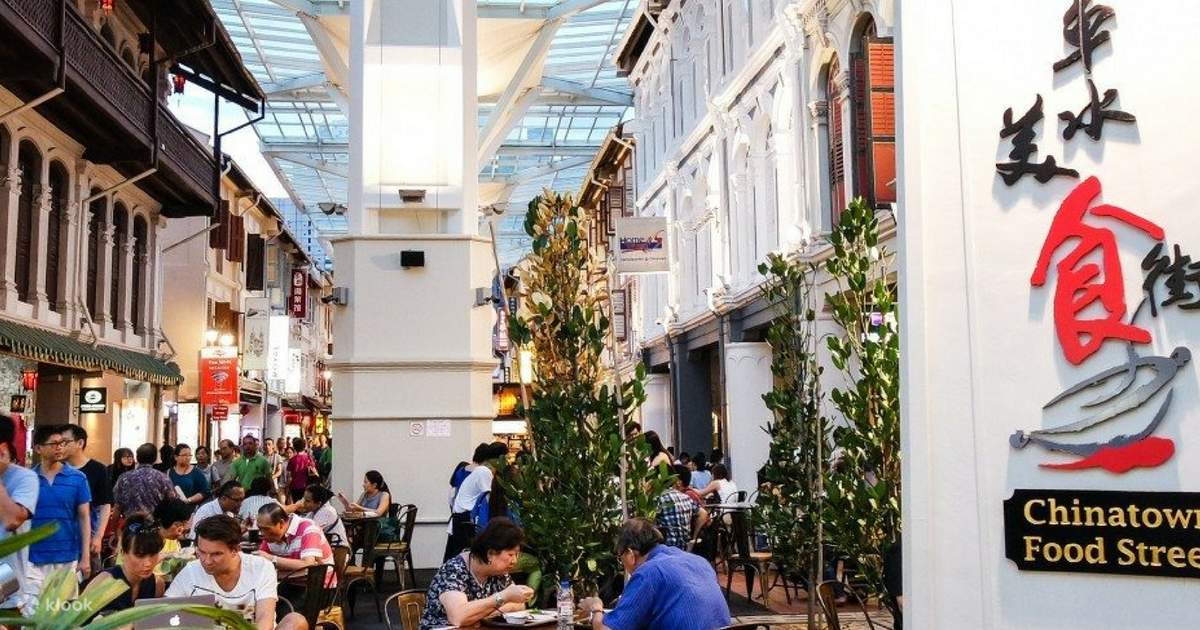 Chinatown Food Street houses many food joints offering a variety of speciality dishes from the different Chinese heritage groups in Singapore. It is located in the heart of Chinatown. It was recently refurbished to resemble how the food street looked like in the past. Have fun buying food out of street carts, or head into one of the shophouse restaurants. There is even a durian station for the adventurous types who want to try the fruit often touted as the King of the Fruits.
11. Adam Road Food Centre
Though smaller than many of the aforementioned hawker centres, Adam Road Food Centre certainly does not pale in comparison. The hawker centre is near the Botanic Garden, which makes for a great place to stop by for lunch after exploring the site and one of the best food markets in Singapore. Indulge in some laksa from Adam Fishball Noodles, or try out Hokkien mee from Stall 22 Hokkien Mee. There are also a few stalls selling delicious satay. Wash down your meal with a glass of refreshing iced cold sugarcane juice. Like dessert spots in the area, Teck Kee Hot and Cold Dessert also has a variety of traditional desserts like green bean soup, tau suan, and ice kacang.
Adam Road Food Centre

Address: 2 Adam Rd, Singapore 289877

Opening hours: 7am - 10:30pm (daily)
12. Chomp Chomp Hawker Centre
Chomp Chomp Hawker Centre is a popular supper spot, as most of the stalls only begin business after 5:30pm. For a dish that is not typically seen at hawker centres, visit Wang BBQ and Grill. The stall serves up lok lok, a skewer dish, where customers are spoilt for choice with about 50 different options ranging from 1.20 to 2 SGD. It seems Chomp Chomp customers cannot get their fill of sugarcane juice as you'll be wowed by a three-litre drink tower offered by a stall called Ding Hao. It will surely quench your thirst.
Chomp Chomp Hawker Centre

Address: 20 Kensington Park Rd, Singapore 557269

Opening hours: 4pm - 12:30am (daily)
Eat 'till your heart's content!
Singapore is a melting pot of cultures, which makes it a paradise for foodies! Its extensive variety of food options that were adapted from many different cultures and countries makes for a unique experience. And if you want to learn more about Singapore's street food scene, why not take a street food tour. Bold flavours burst from every meal you have. Follow this guide for some of the best street food in Singapore!
After the sun goes down, discover more amazing things that Singapore has to offer by exploring the best night markets.
Disclosure: Trip101 selects the listings in our articles independently. Some of the listings in this article contain affiliate links.
Get Trip101 in your inbox
Unsubscribe in one click. See our Privacy Policy for more information on how we use your data