If you are looking for the best backpacking destinations, then you must plan a visit to Nepal. Considered to be one of the most beautiful places in the world, Nepal attracts thousands of tourists every year. In the winter season, it sees a lot of crowds, as the country looks stunning during that time of the year. Nagarkot is among the prominent tourist places in the country. If you want to experience rural life, then you can book your tickets to this place now. Check out these best things to do in Nagarkot, Nepal, when you start planning your visit to this village.
1. Enjoy paragliding in Nagarkot
As Nagarkot is a place that attracts visitors from different parts of the world, there are many interesting that you can do here. You will be delighted to know that most of the people who visit this village usually plan to paraglide to make the most out of their visit. Can you imagine exploring the beauty of the local flora and fauna from the height of about 10,000 feet (1.89 miles)? You will not forget the experience of paragliding in Nagarkot. Enjoy the breathtaking sceneries of the Himalayas, the verdant valleys, and many more.
Nagarkot Everest Paragliding

Website: Nagarkot Everest Paragliding

Opening hours: 9am - 1am (daily)

Price: 90 USD
2. See the Himalayas from atop the village
Do you like hiking in the mountains and spending time away from city life? If yes, then you must visit Nagarkot at least once in your life. The trip will include hiking for about 2 - 3 km (1.24 - 1.86 mi), depending on the package that you select. This village sits about 2,195 m (9,563.648 ft) from the ground and is about 32 km (19.88 mi) away from Kathmandu. You can easily see the Himalayas once you reach the top of Nagarkot. So, what are you waiting for?
3. Hike up to the view tower
You will experience one of the most beautiful moments of your life when you see the Himalayas from the view tower in Nagarkot, Nepal. It takes about an hour to reach the tower since you will be walking through a tarmac road. You will also pass through army bases on the way to your destination. While you are walking on the road, you will see the Langtang mountain range that will take your breath away. If you want to ensure that your trip remains unforgettable, then add this place to your bucket list now.
4. Plant a tree at Nagarkot Buddha Peace Garden
Editor's Note: There's no photo available at the time of writing
Do you want to travel to a place where you can sit peacefully for some time and enjoy the atmosphere? Do you want some time for yourself to figure out what you are doing in your life? If you are feeling lost, then you must visit Nagarkot Buddha Peace Park. You will not only come across lush green forests but also villages that promote the traditional culture of Nepal in today's world. You can even buy and plant a tree while you are visiting and dedicate it to someone special in your life.
Nagarkot Buddha Peace Garden

Address: Mahamanjushree Nagarkot 44812, Nepal

Opening hours: 24 hours (daily)
5. Swim at the Nagarkot Waterfalls
Have you ever hiked to a place near a waterfall? If not, then you might have the chance to hike to Nagarkot Waterfalls. You will pass through jungles where you can admire the beauty of nature and enjoy the warm weather. When you get here, cool off in the waterfall if you know how to swim. Be sure to check out the stunning view of the mountains along the way. You can also capture a spectacular shot of the sunrise or sunset with your cameras.
Nagarkot Waterfalls

Address: Bhaktapur-Nagarkot Trekking Trail, Mahamanjushree Nagarkot 44600, Nepal

Opening hours: 24 hours (daily)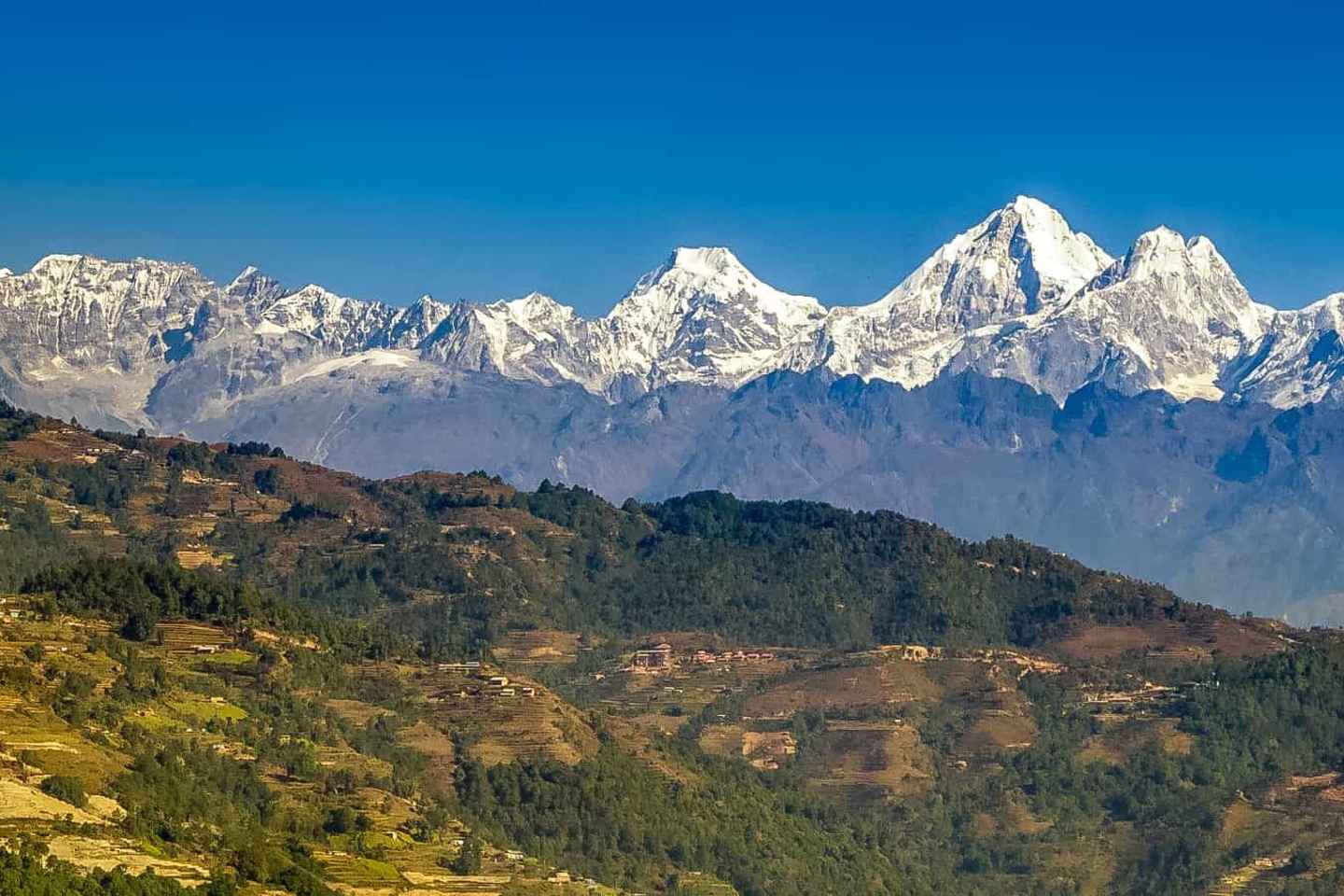 If you want to immerse yourself in nature, then Dhulikhel is a great place to visit. From spectacular views of the Himalayas to watching the sunrise on top of a mountain, you can get many memorable experiences here. Traverse through the rugged mountain ranges and landscapes. You can easily spend up to eight hours in this place by checking out the hamlets and visiting lush forests. A trip to this location will give you an experience you will not forget.
Nagarkot Sunrise & Hike to Dhulikhel Day Tour from Kathmandu

Duration: 8.0 hour
7. Visit the oldest Hindu temple at Pashupatinath Temple
One of the sacred Hindu temples in Nepal, Pashupatinath Temple is situated on the banks of River Bagmati. This place is considered to be one of the 275 Holy Abodes of Shiva in the Asian continent. It is one of the oldest Hindu temples in Nepal and has been standing since 400 BC. Here you will find Vasuki Nath Temple, Ummatta Bhairava Temple, Kirtimukha Bhairava Shrine, Hanuman Shrine, Ram Mandir, Virat Swaroop Temple, and many more.
Pashupatinath Temple

Address: Pashupati Nath Road 44621, Kathmandu 44600, Nepal

Website: Pashupatinath Temple

Opening hours: 4am - 12pm, 5pm - 9pm (daily)
8. Feel like a royal at Kathmandu Durbar Square
If you are planning to visit Nepal, then you must visit the old royal palace to explore its unique beauty. Kathmandu is the capital of the country, and Kathmandu Durbar Square is only one among three recognized UNESCO World Heritage Sites here. This is the place where former kings ruled the city for years. You can explore the courtyards and temples of this place when you visit.
Kathmandu Durbar Square

Address: Ganga Path, Kathamndu 44600, Nepal

Opening hours: 24 hours (daily)
Capture the beauty of Nagarkot
Visiting a place like Nagarkot will let you soak up the beauty of nature. You'll have such a great time that you won't want to leave despite your school or job calling you home. There are many things to do in Nagarkot, Nepal, so don't forget to capture every moment of your trip on your camera so that you can cherish these moments later.
Disclosure: Trip101 selects the listings in our articles independently. Some of the listings in this article contain affiliate links.
Get Trip101 in your inbox
Unsubscribe in one click. See our Privacy Policy for more information on how we use your data