San Jose Del Cabo, Mexico, is one of the top destinations for sun-seeking travelers, and with good reason. The touristy city has everything to offer, from swimming to snorkeling to shopping, and serves as a milder alternative to the chaos of Cabo San Lucas, only a 30-minute drive away. While the nightlife and craziness of the city is a draw for many tourists, the majority of people visit the greater Cabo area for the sandy beaches. With so many to choose from, along the Baja California Peninsula, the following seven beaches are must-sees if you're a beach enthusiast like I am.
1. Playa Palmilla
The areas around Cabo have often been known as spring break destinations, filled with crazy college parties and more alcohol than you can imagine. If you're looking to get away from some of the chaos that is Cabo, head to Playa Palmilla (Palmilla Beach) for a day of sun, sand, and relaxation. This beach has been described as family-friendly, calm, and serene, with no pushy vendors to bother you, which is a rarity on Mexican beaches. Another standout quality of Playa Palmilla is the gentle waters that are perfect for swimming and snorkeling. With many beaches in Cabo having dangerously rough waves, it is always best to find beaches with calm waters if you plan on swimming, or if you are bringing little ones with you. Here's what Kristine had to say about her visit:
"This beach is pristine and beautiful! No vendors bothering you, just beautiful sand and water. Clean clean clean! My husband and daughters went snorkeling and saw angel fish, puffer fish and other various colorful fish. Our favorite beach. So happy we found it!" - Kristine
Playa Palmilla

Address: Highway 1 Km 24, San Jose del Cabo 23400, Mexico
2. Estuary of San Jose del Cabo
Speaking of beaches unsafe for swimming - let's take a look at the Estuary of San Jose del Cabo. While the rough waters make it unsuitable for swimming and snorkeling, it has several other qualities that make it a must-see for visitors, such as the astounding nature and wildlife, within the park. The estuary is a freshwater lagoon, home to hundreds of varieties of plants and wildlife, and offers adventurous activities to make your visit even more exciting: horseback riding, biking, and kayaking through the lagoon, are just a few activities available to guests.
"What a great place for birding or just walking in the peace and quiet. Not a manicured park but a little bit of nature close to the resort strip. During our week we must have visited in on at least four occasions. Well worth a visit." - Walton
Estuary Beach

Address: Paseo San Jose, San Jose del Cabo 23400, Mexico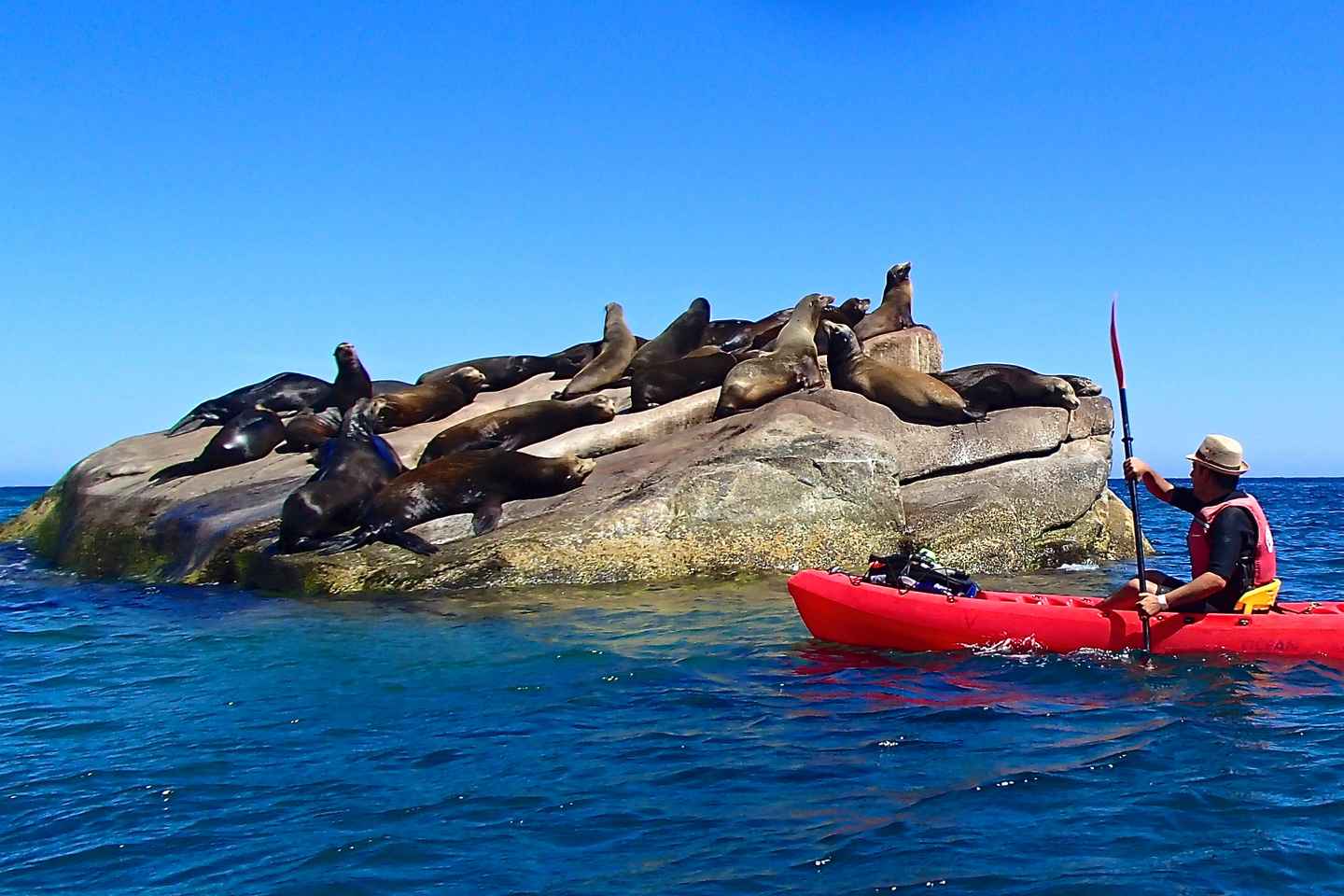 If snorkeling is your activity of choice, Cabo Pulmo National Marine Park should be one of the first beaches you visit. Located 60 miles (96.6 kilometers) north of Los Cabos, this park is one of the most popular destinations, among tourists. Along the five miles (eight kilometers) of coastline from Pulmo Point to Los Frailes, you'll find a shallow bay that is home to one of the three living reefs, in North America. Can you think of a better place to snorkel?!
"The Marine park is outstanding and truly shows how amazing it can be when a community comes out to protect nature. The amount of fish is out of this world..and I have never experienced diving and snorkeling that shows an ocean so untouched, clean, and without any harm done by man." - SharkDiveGirl
From Cabo: Cabo Pulmo Marine Park Snorkeling and Kayaking

Duration: 9 hour
4. Playa Hotelera
"Playa Hotelera (Hotel Beach) is, you guessed it, right along hotel alley, in San Jose del Cabo. Being situated just steps from some of the most popular hotels and resorts in the area makes for easy access for guests, however, it is not recommended that you swim here, as the waves tend to be extremely powerful. Instead, Playa Hotelera is known as the best beach for sunset strolls, horseback riding, and beach volleyball.
"The beach is awesome! The biggest I've ever seen and I've been all over the world. The crashing waves were great to watch and listen to. Saw some stingrays jumping out of the water which was pretty cool. You can walk for miles in either direction! A must visit if in the area!" - Chris
Playa Hotelera

Address: Playa Hotelera, San Jose del Cabo, Mexico
5. Tequila Cove
Tequila Cove, also known as Playa Bledito, is one of the most popular beaches for tourists, and college spring breakers (maybe it has to do with its name…) Aside from its intriguing name, this beach is conveniently situated just outside of several large tourist resorts, such as Hilton Los Cabos, Las Ventanas Al Paraiso, Marquis Los Cabos, and more. This beach, unlike most others, is generally safe for swimming and offers water activity rentals like jet skiing and boating - not to mention plenty of shops, restaurants, and bars, nearby.
Tequila Cove

Address: Tequila Cove, Baja California Sur, Mexico
6. Santa Maria Beach
Santa Maria Beach is constantly described as one of the most beautiful beaches in the greater Cabo area, not to mention one that is safe for swimming and snorkeling. Like many other snorkeling hubs, Santa Maria Beach is a top destination for snorkeling and scuba tour boats, so if you're interested in that, be sure to contact a nearby company to reserve your spot. Another standout quality of Santa Maria is its unique sand, that is pink in color and shaped like grains of rice.
"If you want to swim in the Sea of Cortez, you can do it here. It gets crowded and parking becomes difficult, so it's best to arrive early. A combination of locals and visitors, no food/drink vendors, so come prepared." -Drea
Santa Maria Beach

Address: Hwy 1 Km 11 | or Hotel Twin Dolphin Parking Area, Cabo San Lucas 23410, Mexico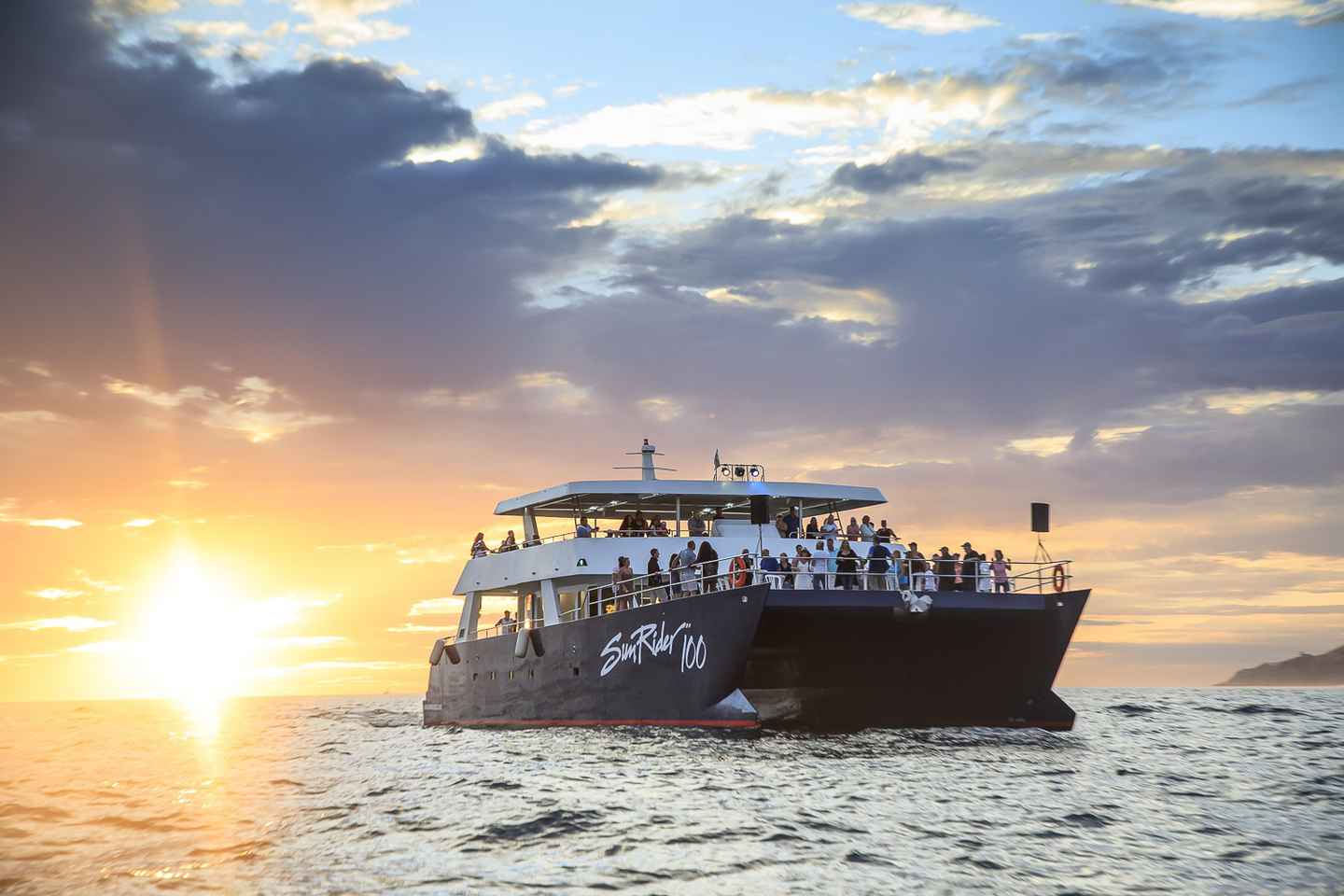 If you're traveling with small kids, or just want to float in calm water, head to Medano Beach, the safest swimming beach in Cabo San Lucas (just a short drive from San Jose del Cabo), due to the calm waters and designated swimming areas. That being said, tourists and locals alike tend to frequent Medano Beach, so be ready for heavy crowds and pushy vendors.
"Been going to Medano Beach for 15 years! Best swimming beach in Cabo! Great for kids because of the calm waters and visibility!" - Cleanseas
Cabo San Lucas: Sunset Dinner Cruise

Duration: 2.5 hour
Popularly known as "Lover's Beach", this tourist beach is frequented by many travelers and locals alike. Situated near the famous Land's End rock formations, Playa del Amor is an easily accessible beach via water taxi from the marina and is dubbed as one of the most relaxing and serene beaches in Cabo. It's a secluded beach stripped off commercialization, with no bathrooms or beach bars to run to. Playa del Amor is a must to check out when in Cabo, experience a relaxing and soothing day out in the sun, completely separate from the bustle and bustle of the city center.
Los Cabos Arch and Playa del Amor Tour by Glass-Bottom Kayak

Duration: 3 hours
Cabo is filled with many architectural gems that history and structure enthusiasts would enjoy. Travelers to Cabo who wish to explore the historic side of the island are recommended to visit the historic Iglesia de San Lucas and Town Square. This landmark is considered Cabo San Lucas' main landmark and home to Cabo's most preserved local customs. Built back in 1730 by a Spanish missionary, the Catholic church managed to stay the course and preserve its interiors despite liturgical changes. To this day, the church still holds faithful masses on Saturday nights and Sunday afternoons; a must to check off your bucket list if you're an avid architecture fan.
Cabo San Lucas and San Jose del Cabo Sightseeing Combo Tour

Duration: 7 hours
10. Explore the local art scene at the San Jose Art Walk
Apart from the stunning beaches and turquoise blue waters, Cabo offers a radical art scene many young people and young people at heart will enjoy. The San Jose del Cabo Art Walk is a much-anticipated seven-month event, usually, from November to June, art exhibits and local talents showcase their prized pieces and has eventually become a tourist attraction throughout the years. San Jose del Cabo Art Walk takes place every Thursday night from 5:00 pm to 9:00 pm and is greeted by a decadent array of artwork, local performers, and music on the streets, organized by the Gallery District Association. Apart from the bustling art walk, tourists visiting can also wine and dine in the area as there are several neighborhood restaurants in the area. Indeed, if you wish to experience a few hours of culture, art, and renowned local delicacies, this art walk is a must to add to your itinerary.
San Jose Art Walk

Address: Alvaro Obregon 20, Gallery District, Centro, 23400 San José del Cabo, B.C.S., Mexico

Website: San Jose Art Walk

Opening hours: 5:00 pm to 9:00 pm, Thursdays (November to June)

Price: free admission
Hello, beach bum
If you are fortunate enough to visit all seven of these breathtaking beaches, you may never want to leave. From snorkeling to bird-watching to jet skiing, the beaches in San Jose Del Cabo have a little something, for everyone.
Disclosure: Trip101 selects the listings in our articles independently. Some of the listings in this article contain affiliate links.
Get Trip101 in your inbox
Unsubscribe in one click. See our privacy policy for more information on how we use your data