Jaipur in India is one city which a traveller has to visit in his lifetime. Affectionately known as the Pink City, a pink hue pervades everything in Jaipur. This city is rich in man-made and natural wonders. It is a wonder to see how this city functions, with all elements, intertwined with one another. Pedestrians from various walks of life go about their daily life amid a cavalcade of vehicles such as rickshaws and motorbikes and even elephants. If you are in this magical city of Jaipur, then you will need to ensure that you bring back home a piece of the city with you. Find out below about the top things that you can buy in Jaipur for yourself, friends and family back home.
1. Bandhani work
Bandhani work is a special type of Indian tie and dye technique in which parts of a fabric are tied tightly with wax threads before being submerged into a dye. After that, the ties are removed, leaving parts of the cloth uncoloured and the rest coloured. This traditional Indian form of textile design is prevalent in Jaipur, especially. It is in Jaipur that many textiles are produced and even exported to various parts of the country and abroad as well. It is definitely worth taking a look at these designs and buying a couple or more apparel with Bandhani work on them.
Bandhani work

Where to buy: Lanes of Johari Bazaar & Kishanpole Bazaar
2. Lehariya saris
Lehariya saris are commonly sold in Udaipur and Jaipur. They are known to be traditional saris which are easily identifiable by their beauty and richness. This sari is one of the most sought-after designs when looking for designer Rajasthani saris. Lehariya saris can be found across Jaipur and at various prices.
Nandini Sarees

Address: Chaura Rasta Road, G-1, Lal Ji Sand Ka Rasta, Tripolia Bazar, Jaipur, Rajasthan 302003

Website: Nandini Sarees
3. Meenakari work
Apart from Kundan work, Meenakari work is another form of surface decoration which is applied to the surface of metals like jewellery. Meenakari designs are usually found in ornaments such as decorative objects and jewellery like earrings. As these are fancy and come in varied designs, they make great gifts or souvenirs.
Geet Jewels

Address: Showroom: G-2, K. J. Tower,, Ashok Marg, C Scheme, Ashok Nagar, Jaipur, Rajasthan 302001

Website: Geet Jewels
You might be interested in these Airbnbs!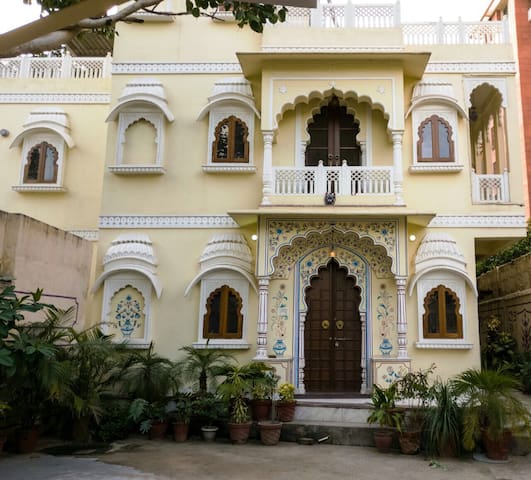 (2)The haveli , a home stay in c scheme
Jaipur, RJ, India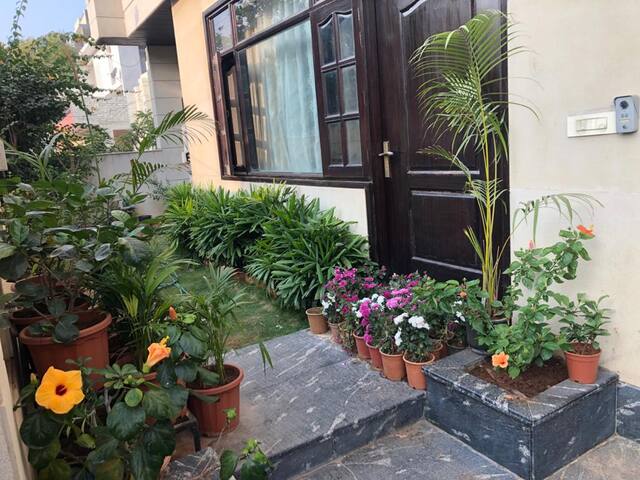 Gardenia
Jaipur, Rajasthan, India
Bali Blue Peaceful Place
Jaipur, Rajasthan, India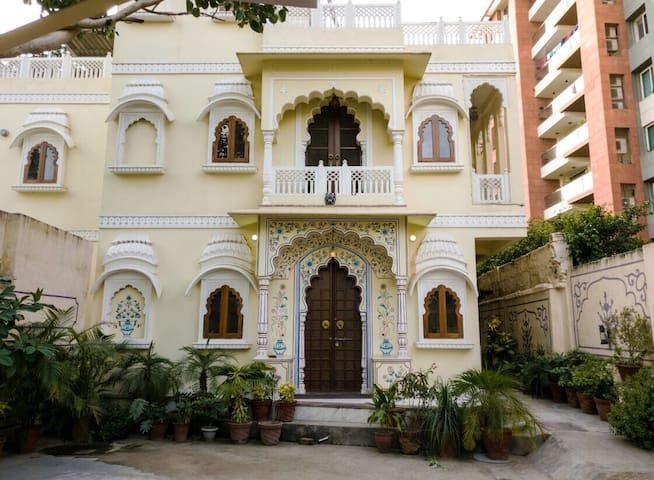 The haveli ,studio room with terrace (c scheme )
Jaipur, RJ, India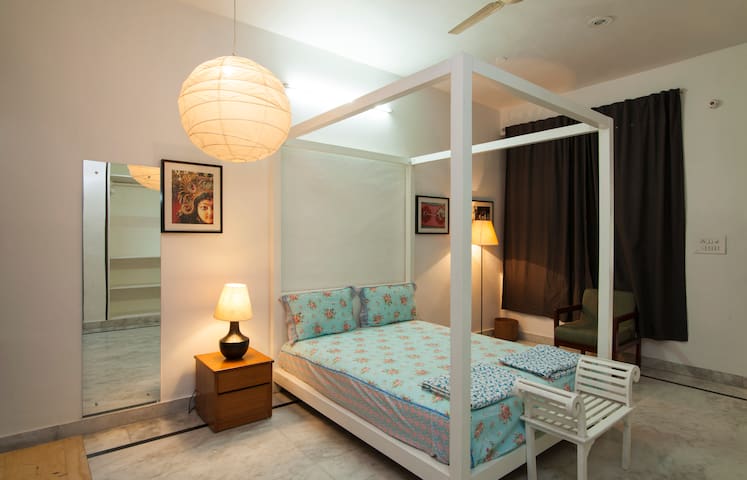 Hari Sadan (Varanasi Private Room)
Jaipur, Rajasthan, India
4. Gemstones
Jaipur is universally well known for its gemstones trade. If you were to simply stroll through the lanes of famous streets of Jauhari Bazaar, you will be able to find many gem stores. With so many designs to choose from, purchasing gemstones will be an adventure of its own. Go explore and pick what you like, but do remember to bargain well.
The Gem Palace

Address: Shop No. 348, MI Road, Jayanti Market, New Colony, Jaipur, Rajasthan 302001

Website: The Gem Palace
5. Kundan work
Kundan is essentially uncut stone jewellery which stems from the royal courts of Rajasthan. True Kundan jewellery often have a regal look as they are made of uncut diamonds which have been set in metal with a gold leaf surrounding it. Kundan jewellery is great for occasions such as weddings and matches very well with Indian outfits like saris and lehengas. Nonetheless, you will also find many Kundan jewellery with artificial stones, costing much less.
Kundan work

Where to buy: Markets like Bapu Bazaar and Johari Bazaar
6. Mojris
Mojri is a style of handcrafted footwear which is widely produced in South Asia. Usually made in tanned leather by artisans, these footwears come in various styles and colours. The upper sides of the Mojris are usually embellished with ornaments like brass nails, cowry shells, mirrors and beads. The end products are highly classy and add beauty to any kind of Indian apparel.
Mojris

Where to buy: Bapu Bazaar and Nehru Bazaar
7. Ghevar
Ghevar is a traditional Rajasthani sweet famous especially during the festival of Teej which comes just before the onset of the monsoon period. Nonetheless, this sweet can be purchased throughout the year in Jaipur. Ghevars are disc-shaped sweet cakes which are made of all-purpose flour and then soaked in sugar syrup. There are many varieties of Ghevar available in the market. Even if you are not too much into Indian sweets, do take a bite to experience the flavour for yourself. Additionally, you can buy some back for your friends and family.
Laxmi Misthan Bhandar

Address: No. 98, 99, Johari Bazar Rd, Bapu Bazar, Biseswarji, Jaipur, Rajasthan 302003

Website: Laxmi Misthan Bhandar
8. Blue pottery
Although blue pottery in Jaipur has a Turko-Persian, it is widely recognised as a traditional craft of Jaipur. The blue hue comes with a beautiful blue dye which is used to colour the pottery. Several types of pottery such as tile, doorknob, bowls and plates are made in this design. These pieces of work make great keepsakes for yourself as a memory of your trip to Jaipur. There are many places around Jaipur to buy this pottery.
Jaipur Blue Pottery Art Centre

Address: Near Jain Mandir, Amer Road, Jaipur, Rajasthan 302002

Website: Jaipur Blue Pottery Art Centre
9. Puppets
Editor's Note: There's no photo available at the time of writing
Puppets play a very important role in Jaipuri culture. These are usually crafted from materials such as wood, clay and stones. These dolls which are widely produced in Rajasthan are not only for children to play with but also used in religious rituals and festivals. These puppets are locally known as 'kathputli' and are considered to be the heart of Rajasthan handicraft. Many locals and tourists alike are attracted to these dolls. Puppet shows are also very famous in Jaipur and no festival or social gathering is complete without having a puppet show.
Puppet House

Where to buy: Shop No. A-34, Hwa Sadak Road, Jaipur, Rajasthan 302002
10. Jaipuri razai
Yet another hot-selling item to buy while in Jaipur is the Jaipuri Razai, handmade cotton quilts. These razais are made up of soft cotton and can be folded into a small bundle. This way, the razais can be taken back to your home country. These razais come in various Jaipuri prints and colours.
Jaipuri razai

Where to buy: All markets around Jaipur
Exuberance in Jaipur
With so many interesting things to buy when in Jaipur, do ensure you have an empty suitcase to carry home your precious purchases.
Disclosure: Trip101 selects the listings in our articles independently. Some of the listings in this article contain affiliate links.
Get Trip101 in your inbox
Unsubscribe in one click. See our privacy policy for more information on how we use your data