Bali is an incredible island of Indonesia known for lush greenery, white sand beaches, and extensive activities for adventurers. Rugged coastlines, tropical landscapes, and warm locals create the ambiance of paradise that Bali is synonymous with. If you've got 10 days to travel throughout Bali, you'll be sure to see a good portion of the island, although Bali will certainly entice you to stay longer. From Seminyak's glorious beaches to Ubud's sacred temples, there is no shortage of natural and cultural wonders in Bali. Read on to discover this round up of the ultimate Bali itinerary for 10 days, and get inspired for your Bali vacation!
Things to know before going to Bali
As with any adventure there are a few things to know before jet-setting to your location. Currency exchange, cost of living, and transport are three important aspects of travel to have some awareness about before reaching Bali. Here are important tips for you to ensure you're a savvy traveler.
Currency exchange and conversion in Bali
Bali uses the rupiah, or Rp. The official currency code is IDR so you may see this abbreviation as well. The current currency exchange rate is 1 USD equaling 13,650 IDR. Some cost of living pointers to keep in mind: a short taxi ride is about 50,000 IDR or about 3.6 USD; a cappucino is around 25,000 IDR or 1.82 USD; a mid-level Western-style meal is about 120,000 IDR or 8.72 USD. It is possible to live quite well in Bali with the strong currency exchange rate with the USD.
The best season to visit Bali
Coming when it is low season however still dry enough is key when visiting Bali. April-June and September-October are great shoulder seasons when you can avoid major crowds and monsoons. Weather in these months is somewhere between 30 - 35 degrees Celsius (between 86 to 95 degrees Fahrenheit). Bali's rainy season runs from October to April.
You'll assuredly need transport when you arrive in Bali. Options include: Gojek/Grab, scooter rental, and private car hire. Gojek is something like Uber for Bali; essentially a ride-hailing service worth knowing about, and downloading the app for. If you need a quick breakdown on these apps, this article may help you through the basics in using Grab & Gojek!
Scooter rental can be found through agencies such as Bali Scooter, and is a great way to rent transport at around 6 USD a day. Lastly, private car hire is a nice way to travel without the stress of driving oneself. Check out Klook's private car hire which at an affordable price is a wonderful choice.
[SALE] Bali Private Car Charter

Duration: 10 Hrs Duration
Your itinerary begins here!
Seminyak should be on every traveler's itinerary when they visit Bali. Known for tranquil beauty which includes dreamy beaches and a breezy ambiance, Seminyak has a strong expat community. Because of this outside influence, the accommodations in Seminyak range from high-end to more budget-friendly. Hotels are great for those on a stricter budget, and can range from 50 USD per night to over 250 USD. Expect classic hotel amenities such as a pool, sun terraces, and closer proximity to the nightlife. Alternatively, Airbnbs are another great choice when coming to Seminyak. Additionally, Airbnbs run the gamut as far as price, but some stunning accommodations start at as low as 20 USD for a private room, and go up in price with greater space and privacy.
When you're looking for lunch in Seminyak, check out The Luhron, offering incredible Indonesian and vegetarian fare. Run by a local family, the prices are affordable and the food is fresh. After lunch, head to a uniquely Balinese experience by horseback riding on the beach! A tour through Viator is a great way to try out such an exciting activity, with a local guide. Nothing says vacation quite like a trip to the spa, and after horseback riding, it may be just what the doctor ordered. Check out Klook's Montigo Spa Experience for a great rate. Top off the day with dinner at Ku De Ta, a beach lounge known for delicious bites such as fresh fish and refined takes on European and Asian meals. With so much activity, you'll be ready for a good night's sleep!
Exclusive Horse Riding on Seminyak Beach Bali

Duration: 1 hour
It's time to seize the day in beautiful Seminyak. Get a kickstart with a strong cuppa coffee from Revlover which is a boutique coffee house that serves Australian-style coffee and breakfast and lunch. Try a unique drink such as an espresso tonic; espresso served with tonic water and a splash of lemon. It's time to get geared up, because surf lessons are on the agenda for Day 2 in Seminyak. Head to Legian Beach for a private lesson from GetYourGuide. For the course of one to two hours, you'll learn how to become a confident beginner surger in just a matter of hours.
Once you're done, head to the kitchen for a lesson in Balinese cooking! Start at the market to pick out fresh fruit and vegetables, then head to the outside kitchen for lessons in 12 Balinese dishes! Lunch is included in the tour price. Lastly, end the day at Potato Head Beach Club for some beachy vibes. A creative village, Potato Head Beach Club mixes art, wellness, and food to create a zen atmosphere. Try out one of their restaurants, including Ijen which serves up local fish on an open fire.
Nia Bali Seminyak Cooking Class

Duration: 4 hours 30 minutes
It's Day 3 and time to do some shopping in the local boutiques of Seminyak. First, start the day at Sisterfield's Cafe, a contemporary cafe serving Australian cuisine. Sisterfields serves an all-day brunch menu with items such as coconut sago pudding, a fig & ricotta crepe, and acai berry bowl. Once you're fueled, it's time to do a little shopping at Seminyak Square, in the center of Seminyak, and home to many shops and restaurants. Check out Megabatik for all your batik needs, or pick up some coffee as a gift at Black Canyon Coffee. When hunger strikes again, point your toes toward The Honeybees, which serves American, Indonesian, and vegetarian friendly food. Small and charming, The Honeybees' prices are just right, and food, delicious.
Lastly, head to a sunset tour through Viator, which takes you to Tanah Lot Temple. Three different temples are included in the tour, and an English speaking guide ensures you get all the information about these sacred sites. If you're still looking for more ideas, check out this article on the best things to do in Seminyak.
Bali Half Day Guided Tour

Duration: 5 to 6 hours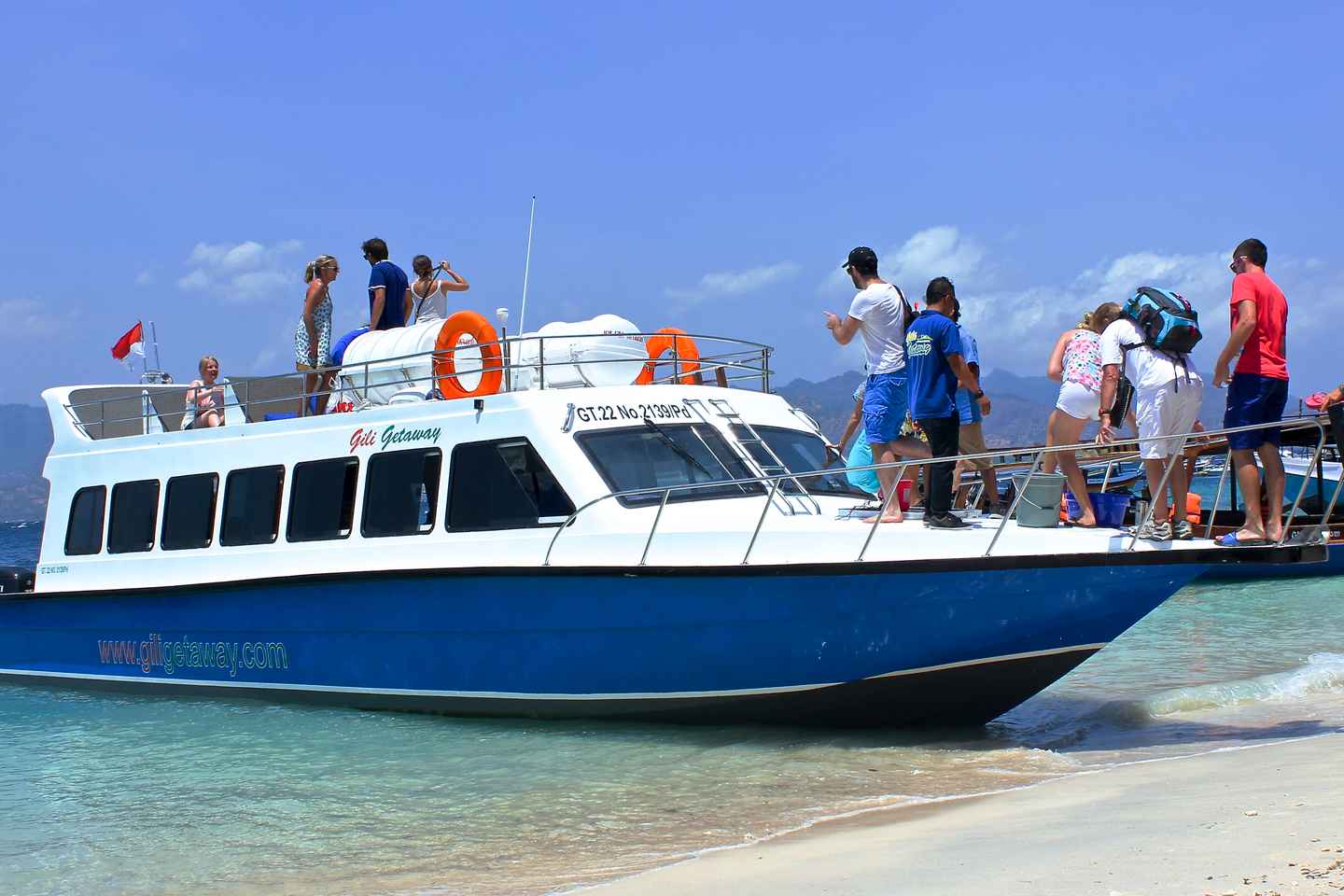 It's time to depart from the fun-filled Seminyak and head to Gili Islands, just off the northwest coast of Lombok. A three-island chain, Gili Islands is known for its sandy beaches and colorful reefs. There is no direct route from Seminyak; in general, you will need to head to Padang Bai first, some one-and-a-half hours away by bus.
There are a couple of ways to reach Gili Islands from Padang Bai, the first of which is the ferry. The public ferry is the longest way to reach Gili Islands, departing from Padang Bai, then heading to Lombok. From Lombok you then head to Gili Islands. This is the cheapest option at around 40 USD (including a bus to Padang Bai), however time-consuming and takes in total, about six hours. The next option is a fast boat from Padang Bai, which takes about two to two-and-a-half hours to reach Gili Islands. Expect to spend about 30-45 USD (not including getting to Padang Bai).
The Gili Islands are comprised of three islands: Gili Trawangan, Gili Air and Gili Meno. Each islands has a little different personality. Gili Trawangan attracts the most visitors with well-established infrastructure. Though peaceful, Gili Trawangan has the most hotels and resorts out of the three islands. Gili Air has a minimalist vibe and retains a secluded charm. Arguably, Gili Air has the most pristine beaches, although it's hard to choose! Gili Meno is the smallest of the three islands and is known for coconut plantations, a small native population, and is small enough to walk the periphery of.
You'll most likely find accommodations on Gili Trawangan as it is the largest, and most built-up island. Stunning resorts for all price-points make choosing a location on Gili Trawangan difficult. Check out Trawangan Nirvana starting at 34 USD a night, Good Vibes Bungalows starting at 26 USD a night, or more suggestions with our article here. Once you get settled, Gili Trawangan Night Market is perfect for a dinner meal, with outdoor seating for their barbeque fare. Alternatively, check out Tiki Grove for an after-dinner drink, complete with drink specials and tiny umbrellas in the drinks!
Fast Boat Transfers between Bali and Gili Trawangan

Duration: 3 hour
Hopefully after all that travel yesterday you've rested and settled into island life. Today is all about exploring Gili Islands, and every successful day starts with a good breakfast. Find a bite at Pituq Wareong, a vegan restaurant that will have even meat-lovers rejoicing. Eat local-style by sharing all the dishes in the open air. Now that the day has begun on the right foot, it's time to go snorkeling! Voyagin provides an incredible tour to see the sea turtles at an affordable rate of 53 USD.
Once you've exhausted yourself in the water, it's time to get cooking with Viator's Sweet and Spicy Indonesian Cooking Class. Learn the secrets of making mie goreng, chicken taliwang, steamed fish, yellow sauce, and peanut sauce to recreate when you get home. Then sample your masterpieces after class is finished. Finally, have a late dinner to wrap-up the day at Casa Vintage Beach, serving Jamacian and Carribean cuisine. With beautiful decor, great vibes, and meals cooked with love, Casa Vintage Beach is the perfect place to unwind.
Sweet and Spicy - Indonesian Cooking Class in Gili Trawangan

Duration: 2 hours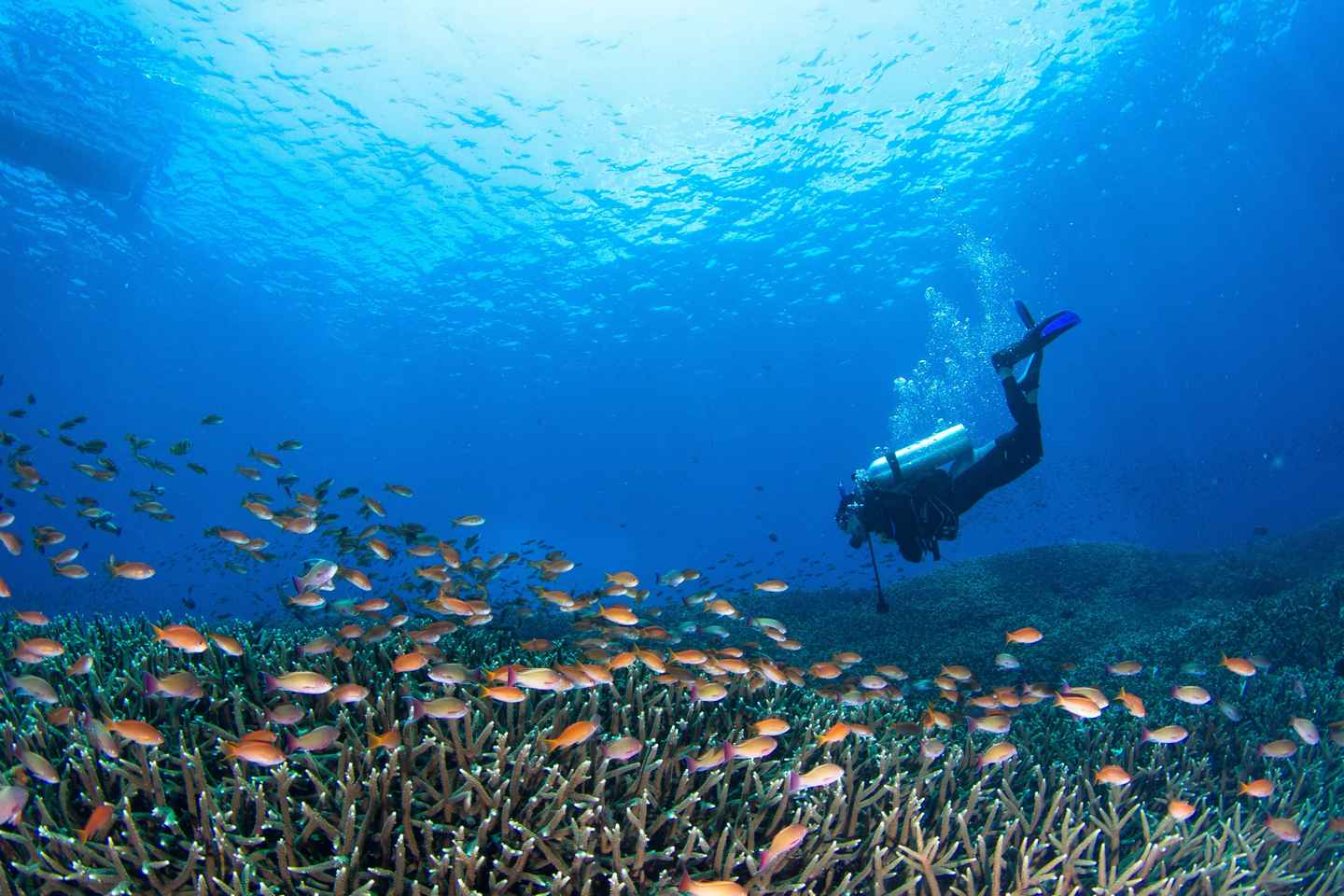 It's Day 6 and time to explore around Gili Islands. First, catch a quick and fresh meal at Hellocapitan Lifestyle Café, which touts vibrant drinks and dishes. Then, head to the Gili Trawangan ferry, which will transport you to both Gili Air and Gili Meno. Both ferries are about a 15 minute ride from Gili Trawangan and cost around 16 USD, one-way.
Gili Air and Gili Meno are two incredible spots to scuba or snorkel from, and Gili Meno even has its own underwater sculpture garden to explore. Created by underwater photographer, Jason DeCaires Taylor, the sculptures now have coral growing on them, which are attractive to fish.
Simply hanging out the beach is enough, however renting a bike on Gili Air, or trying to circumnavigate Gili Meno, are additional ways to take in the beauty of each island. When you return to Gili Trawangan, try and get some rest and relaxation. Try Jali Kitchen, whose dishes are Asian fusion, and ambiance, delightful.
Gili Trawangan, Gili Air & Gili Meno: Fun Dive Trip

Duration: 8 hour
It's time to leave the dreamy Gili Islands behind and head to Ubud, home of all-things-spa, as well as glorious landscapes. A fastboat back to Padang Bai (around 30-45 USD), is the quickest way to to go, although the laborious ferry option to Lombok, then Padang Bai, is possible. Then getting to Ubud, one can either choose a private transfer from Kuta for around 23 USD or choose to take a public bus from Batu Bulan. The bus, however is quite slow and takes about ten hours!
Once your arrive in Ubud, check in to a hotel or accommodations of your choosing. Unique opportunities such as staying on an organic farm or renting a private bungalow, are dreams come true on Ubud. An early night at Ubud after a long journey, is certainly in the works. An quiet dinner at Murni's Warung, a local gem with Indonesian dishes, is a peaceful way to end the day.
Private City Transfers Around Bali
Today is the day to head into all the glory of Ubud's natural wonders. Begin the day with breakfast at Suka Espresso, a hip breakfast spot with dishes such as roasted cherry tomato-avocado toast and tropical hotcakes. Then head to the Sacred Monkey Forest Sanctuary, where you can witness the Balinese Long-Tailed Monkey first-hand. For a small entrance of about 6 USD, get up within reach of the beautiful monkeys, great for some species-to-species interaction.
Then journey to Saraswati Temple, honoring the Hindu Goddess Saraswati, who is beloved for learning, literature, and art. A water garden and lotus pond are outdoor highlights of the temple grounds. Tegenungan Waterfall is another must-see in Ubud, an impressive waterfall that is a trademark of the area. Steep steps are part of the territory, so visitors beware. Also, bring your bathing suit as swimming is possible. Tours of the area are also possible through companies such as Klook, and can take the stress out of organizing.
After a long day of many rich experiences, a lovely dinner with drinks is to be arranged. Simply Social, a casual eatery and bar focused on fresh ingredients, is a wonderful choice. Sample their current Chinese New Year menu, or sip on one of their hand-crafted cocktails. New to the Ubud dining scene, Simply Social is a delight.
Ubud Classic Private Tour

Duration: 8 Hrs Duration
With the days of vacation dwindling, it's important to live it up to the fullest. Start Day 9 with Seniman Coffee Studio, a testament to the island's love of coffee. A spacious restaurant with a focus on local beans and coffee excellence, you will come away energized after visiting Seniman Coffee Studio.
Today is a great day to do some shopping, and Ubud's Traditional Art Market offers the chance to get uniquely Indonesian souvenirs. Hand-carved statues, batik fabrics, and beautifully woven dream catchers are all some of the items sold at Ubud's Traditional Art Market. Then it's time to go to the Satria Coffee Plantation where you can learn about how coffee beans are grown as well as tea. Relax in the plantation's beautiful surroundings, as you sip on different beverages.
Lastly, find your way to Tegalalang Rice Terrace to hike through the terraced fields and take iconic pictures in this remarkable landscape. To find out more on what to do at this lovely place, this detailed guide may be what you need. Finish the day with incredible views and eats at Kepitu Restaurant at the Kanyon Jungle, with delicious food and friendly waitstaff. If you'd rather do your own homework on where to eat, check out this article on restaurants in Ubud for other fantastic suggestions.
Ubud: Electric Bike Tour to Tegallalang Rice Terraces

Duration: 3 hour
Saying good-bye is so hard to do, especailly when Bali is a tropical paradise! Plan out your return trip with an easy shuttle through Klook, which makes getting to the airport a breeze. Before you go, do some last-minute shopping at Beachwalk Shopping Center whose beautiful open-concept design is worth visiting, even if you aren't going to purchase anything.
Take one last swim at Kute Beach, then grab a bite of local food at Warung Chef Bagus, which offers meat as all as vegan options. If you've got a later departure and need more ideas of things to do, check out this article on things to do in Kuta.
Shared City Transfers from Ubud
Beautiful Bali
With such a well-rounded, robust itinerary you may need a vacation from your vacation when you get home! Bali is the stuff that dreams are made of: beachy, warm, and verdant. It'll be no wonder if you begin planning your next trip back as you depart. With this ultimate Bali itinerary for 10 days, may your journey be smooth and memorable, and undeniably unique.
Disclosure: Trip101 selects the listings in our articles independently. Some of the listings in this article contain affiliate links.
Get Trip101 in your inbox
Unsubscribe in one click. See our privacy policy for more information on how we use your data
Still Need Travel Insurance?
You can buy and claim online, even after you've left home. Travel insurance from WorldNomads.com is available to people from 140 countries. It's designed for adventurous travellers with cover for overseas medical, evacuation, baggage and a range of adventure sports and activities.
*5% off when you book with our promo code: TRIP101
*For our Canadian and US travellers, unfortunately due to financial services laws, we cannot provide a discount. This promotional code cannot be used with any other discount offer, including World Nomads Members' discount for travel insurance policy holders.