One of the world's most populated metropolitan cities, Tokyo is constantly bustling with excitement and wonder. There are so many things to do and see in this fascinating city. They say that the best way to get to know a new city is to get lost in it, allowing you to discover hidden gems off the beaten path and really get familiar with the layout. Fortunately, you don't have to get lost yourself to discover these treasures. Take in the sights by roaming the streets on a bicycle with a local guide. Enjoy the outdoors and avoid the costs and waiting times of transportation by joining one of these specifically curated bicycle tours.
Many bicycle tours are designed for large groups and have a very strict itinerary. This one is different. With a maximum of five riders per tour, the guide is able to adjust the itinerary to fit your needs and interests, stopping whenever you'd like for pictures or shopping. Ride through back roads to check out the Imperial Palace and several shrines and temples. Learn about Sumo wrestling at Ryogoku and get a taste for Otaku culture at Akihabara. This trip usually takes a total of five hours with a stop in the middle at the Tsukiji fish market, for lunch (included in the price).
5-Hour Tokyo Historical Bike Tour through Tokyo Imperial Palace

Price: 55 USD
Best for a small group of travelers, this tour allows for a more personal experience. As this tour comes with a professional local guide, you and your friends shouldn't hesitate to ask questions while riding around the streets of Tokyo. Make sure to bring your camera as you admire the iconic structures of places like the Tokyo Imperial Palace and Zozoji Temple. Explore Japan's premiere shopping destinations like Ginza, Omotesando, and Aqua City Odaiba. Pass by along the scenic routes to find the city parks like Yoyogi Koen and Meiji Jingu Gaien. Complete your tour and climb atop the Tokyo Metropolitan Government Building to admire the 360-degree city view. With these bunch of attractions lined up, you can get a glimpse of what Japan is like and learn about the local culture at the same time. And make sure you have enough stamina to cycle around town!
Tokyo Bike Tour with Meiji-jingu Shrine, Aoyama Cemetery

Duration: 6 hours 30 minutes
Tokyo has a lot of iconic attractions to offer, especially to first-time travelers. Be a part of this three-hour unique cycling tour and witness these structures first-hand. Ride and pass by the Tokyo Skytree tower, the tallest building in Japan, and unto Asakusa's main attraction and the oldest temple in Japan - the Senso-ji Temple, where you'll be taught the way locals perform their rituals at a temple. Lastly, pedal your way to the Ueno Park which houses multiple museums and a zoo. It is also a home to more than 1000 cherry blossom trees, so be sure to visit during the blooming season. This open-for-all tour includes a bottle of water, a local guide, and bike insurance. The total tour comprises a 12-kilometer (7.45 miles) ride where you can enjoy Japan's picturesque attractions and learn the way locals do things, with charming rivers and streets along the way.
Cycle around the iconic sites of Tokyo

Duration: 3 hours

Price: 62 USD
Perfect for a large group of first-timers to Tokyo, this guided cycling tour runs for approximately six hours where you ride unto eight different routes, covering major tourist sites in the city. First, your group will be led to a stopover at Tsukiji Jogai Market to take in the sights, smells, and to even taste fresh seafood. Next, you'll pass by the famous attractions including Zojo-ji Temple, Roppongi, and Aoyama Cemetery. The next stopover will be the Meiji Jingu Shrine, where you can stroll through the spacious shrine grounds or just appreciate the wonderful architecture. The last stop is the Imperial Palace, where you can view the splendid Nijubashi Bridge or enter the East Gardens. This tour includes a lunch of your choice, bottled water, and a friendly tour guide that will help familiarize you with the culture-rich and highly developed city. Infant seats are also available for those families traveling with their children.
Tokyo: Small-Group Bike Tour

Duration: 6 hours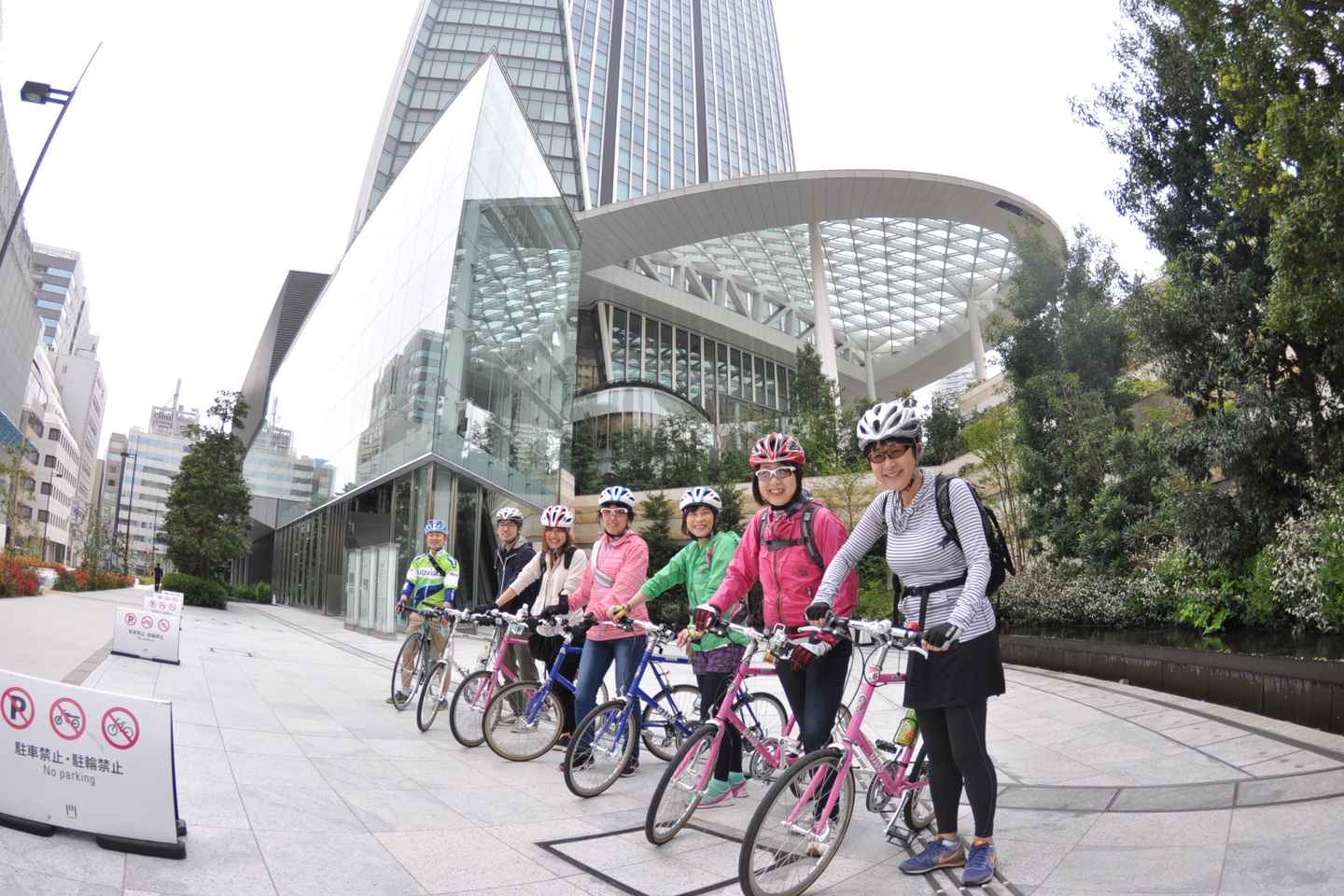 What better introduction to Tokyo than a full day tour highlighting all of the city's most iconic destinations. Take your time and enjoy all the best the city has to offer. This 4.5-hour long trip covers 18 km (11 miles) of the city over flat roads and at a relaxed pace. Your guide will take you through Hibiya Park, the Tsukiji Fish Market, and over the Kachidoki bridge. You will also get to see the Kabukiza theatre, the Imperial Palace, and Tokyo Station. This is a perfect chance to get acquainted with the city at the beginning of your stay, so you know where things are before delving in deeper. It is also a great option if you don't have much time in Tokyo and want to see as much as possible in one day.
Tokyo: Full-Day Bicycle Tour

Duration: 4.5 hour
With tourist-friendly bike lanes, join this tour to ride comfortably and see the city at an acceptable pace. If you're a group of 6-15 persons, this is the best tour for you. The local guide will lead you to bike along the Meguro River where you'll be enchanted by the annual bloom of cherry blossom flowers (if you're lucky enough to visit during the sakura season). Escape the busy streets at Yoyogi Park and the iconic Meiji Shrine Imperial Garden and explore the youthful vibe of Takeshita Street and Meiji Jingu Gaien Batting Dome (admission included). Lastly, ride through Aoyama Cemetery and end the tour with another lovely view of the cherry blossom trees. This exclusive tour allows Tokyo to be introduced to travelers in an active and fun way while seeing and hearing more of Japanese broad culture and customs.
Tokyo Bicycle Tour - 4 hour Central City Ride

Duration: 4 hours
This is the ultimate hybrid tour, combining walking and cycling, then ending in a cruise. Get to know the waterfront neighborhood of Odaiba in an intimate way. Walk with your group from the meeting point to the Tsukiji fish market. After exploring the fish market, your group will then walk over to the Rainbow bridge before hopping on bicycles to check out a hidden cove at the Marine Park. You will then bike over to DiverCity Tokyo Plaza for lunch and end the tour with a cruise on the Tokyo Bay (tickets included in price). This trip usually lasts about six hours, including the cruise.
Tsukiji Market, Odaiba Guided Bike Tour with Tokyo Bay Cruise

Duration: 6 hours
Meander around Shitamachi district at a leisurely pace on this small group, six-hour long bicycle tour. Ride and stop to explore the Fukagawa-fudo Temple and Tomioka Hachimangu Shrine. Then head over to see the Ryogoku Kokugikan Sumo Stadium before cycling through the intricately landscaped Kiyosumi gardens. Check out koi fish gardens, then finish the tour at Tokyo Skytree, where your guide will give you advice for continuing on your own, whether up in the tower or over to nearby attractions.
Tokyo: Skytree, Kiyosumi, Sumo Stadium Small-Group Bike Tour

Duration: 6 hours
Long days of sightseeing and traveling can get exhausting. On this bicycle tour, the electric-powered pedals do much of the work for you so you can spend more of your energy taking in the sights. Only three hours long, this tour gives you the option to choose either a morning, afternoon, or evening start time, each with slightly different itineraries. Get off the beaten path and check out famous sights like the Imperial Palace and the Skytree via routes through neighborhoods like Asakusa, Roppongi, and Akihabara, as well as smaller local areas. Combine the touristic with the authentic and see the streets of Tokyo with a hands-on and personal experience.
Electric-Powered Biking Tour: Asakusa, Akihabara, and Imperial Palace

Duration: 3 hours
Get to know Tokyo up close and personal through various bicycle tours
Whether you have specific interests or simply want a nice overview of the city, guided bicycle tours are an active and fun way to explore new areas. There are so many different kinds of tours covering different areas and of different durations. Most of them cater to any level of experienced riders and provide all the necessary equipment and safety features. Public transportation is limited, bus tours miss so many details on the street, and walking is simply exhausting. Take a bicycle through this fascinating city and get the best views and a memorable experience to cherish.
Disclosure: Trip101 selects the listings in our articles independently. Some of the listings in this article contain affiliate links.
Get Trip101 in your inbox
Unsubscribe in one click. See our Privacy Policy for more information on how we use your data