Commonly known as 'Monkey Forest Temple', Sacred Monkey Forest in Ubud, Bali is a nature reserve and Hindu temple complex that is a very famous tourist attraction. Situated in the Padangtegal village, this is a very sacred site that is much-revered by the locals. As the name suggests, it is a lush green forest where hundreds of monkeys live and thrive. There are many ancient temples within the forest that are used to this day as places of worship. About 700 hundred monkeys and hundreds of species of trees abound in the 12.5 hectares (30.8 acres) of forest land. Visitors to this forest can enjoy interacting with the cute and cheeky monkeys, visiting the beautiful temples and exploring the forest grounds that are replete with trails, wooded areas, bridges, waterfall, wildlife and more! To learn more about this amazing example of harmonious coexistence between humans and animals, check out our guide to Sacred Monkey Forest, Bali.
Things to do / Highlights
See the temples in the forest
The forest also has three beautiful Hindu temples nestled within in it that date back to the 1350s. Each of the three temples is dedicated to a different Hindu god; thus, the Pura Dalem, Pura Beji and Pura Prajapati temples are dedicated to Shiva, Gangga and Brahma Prajapati respectively. The main temple is the one dedicated to Shiva, the second one is also called the 'Holy Water Temple' and is used for ritual bathing and purification ceremonies and the last one is a cremation temple that also sees a mass cremation ceremony every five years. All the temples are very sacred and used for worship. Visitors can admire their traditional architecture and take in the spiritual serenity of the place.
Admire the amazing statues, trails, trees and other areas of the forest
Many beautiful, interesting and unusual statues and carvings are scattered across the temples and forest. These ancient statues are of gods and animals, covered in green moss, making for superb pictures. There are huge carvings of Komodo dragons, statues of laughing creatures, monkeys and several strange ones as well. As you wander through the forest, you will see picturesque bridges, wooded areas, a deep ravine, streams, creek and waterfall. The entire forest is lush green and very pretty to look at.
Interact with and take pictures of the monkeys
The topmost thing to do here is spending time looking at and taking hundreds of pictures of the cute and cheeky monkeys! The forest is home to hundreds of macaques or Balinese long-tailed monkeys for whom the trees of the forest are a veritable playground. These handsome monkeys are a photographer's delight. Try to catch their various poses, moods and expressions from different angles. You can, of course, interact with the monkeys, but proceed with caution and don't feed them, since they can get quite aggressive at times.
Travellers tips
Follow the guidelines about monkeys
The staff at Sacred Monkey Forest has set up a set of guidelines that all visitors must follow for their own safety. Do not run, panic, look a monkey in the eye, hide food, bring a paper or plastic bag, touch, grab, disturb the monkeys (especially babies since the mothers are defensive) or feed peanuts, cookies, candy, bread or any snack or drink to them. Leave your valuables at home, empty out your pockets and keep a firm grip on your belongings since the monkeys will try to steal items from your bags and pockets.
Wear respectful clothing
Since this nature reserve is sacred and has temples within its lands, visitors are advised to wear respectful clothing. Cover your shoulders and knees, not just for the temples but as protection from the monkeys who will most likely approach you and interact with you.
Don't buy bananas
The monkeys are fed thrice a day and there is no need to give them extra food. But there are many vendors outside the forest selling bananas to visitors to attract the monkeys in the forest. It is best to avoid feeding the monkeys anything, even bananas since they will run towards you and grab the bananas. If you insist on buying bananas, make sure you don't hide them, especially in your clothes, since the monkeys can smell them from afar - even when the bananas are gone, your clothes will still smell like them and the monkeys will aggressively grab your clothes in search of them. All this can be avoided by just not buying the bananas.
How to get there
Private vehicle
The most popular way of getting around Bali is via a motorbike and you can easily rent one on the island. Simply drive up to the forest located on Monkey Forest Street in a rental or your own motorbike or car. Since it is a popular tourist attraction, you will not have any trouble getting directions.
Taxi
Taxi is another convenient way of reaching the forest. You can hail a cab from the street or pre-book it to take you to the forest.
Walk
If you are staying nearby in Ubud, you can easily walk to the forest. Monkey Forest Street, where the forest is located, is a popular street that is lined with shops and restaurants. So finding your way on foot will not be a problem.
Parking information
A paid parking area is available outside the forest. Parking is available for motorbikes, cars, microbuses and buses.
How to book tickets
The best and only way to book direct tickets to Sacred Monkey Forest is offline at the forest itself. At the entrance of the forest, you can pay the entrance fee of approximately 6 USD (IDR 80,000). The entrance fees for children are approximately 4 USD (IDR 60,000). Entrance to the temples and all other areas of the forest are included in the admission ticket.
Sacred Monkey Forest information
Sacred Monkey Forest

Address: Monkey Forest Street, Padangtegal Ubud, Gianyar, Bali 80571, Indonesia

Opening hours: 8:30am - 6pm (daily)

Cost: 6 USD (IDR 80,000)

Official Website: Sacred Monkey Forest

Department of tourism: Bali Tourism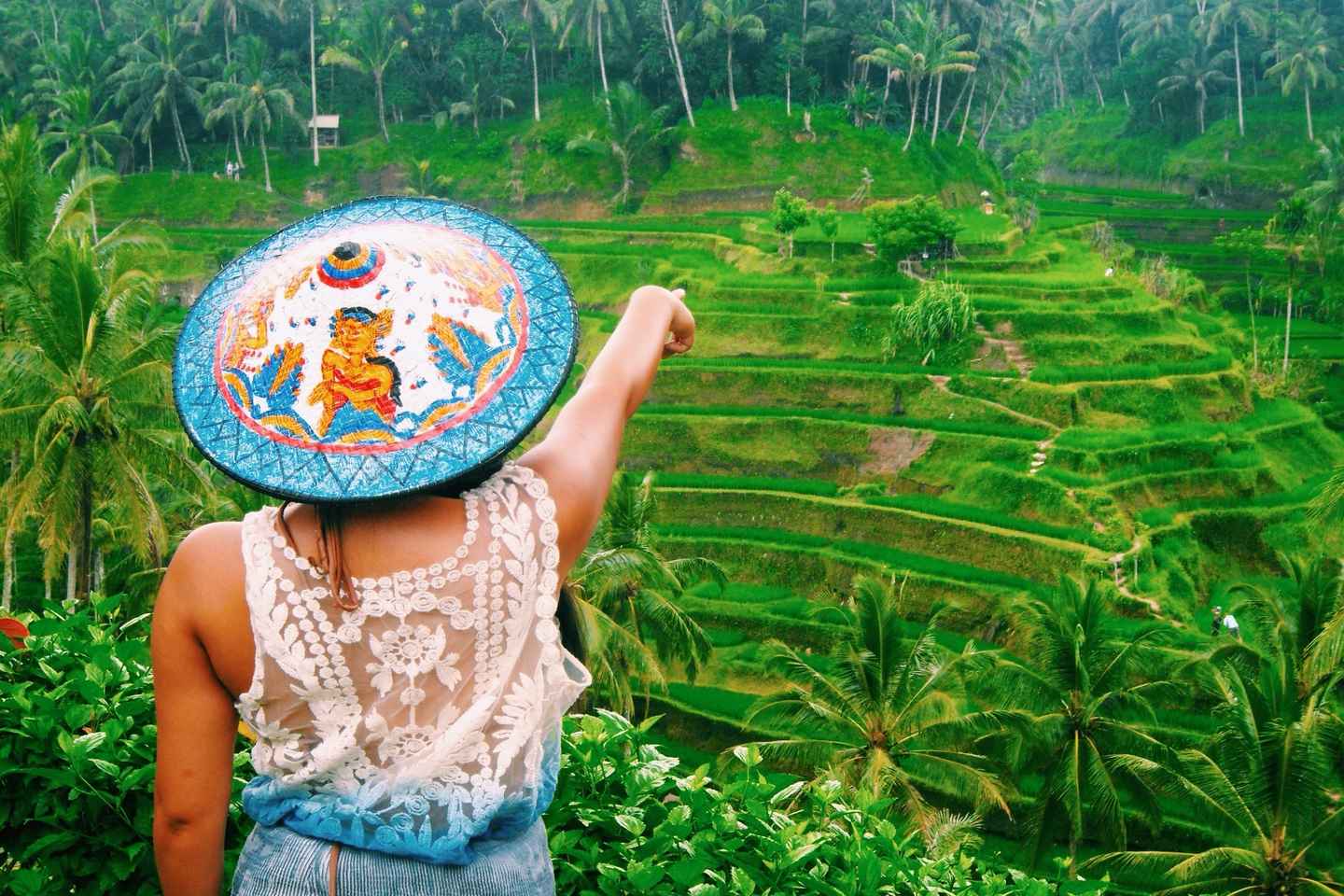 Ubud: Waterfall, Rice Terraces & Monkey Forest Private Tour

Duration: 10 hour
Disclosure: Trip101 selects the listings in our articles independently. Some of the listings in this article contain affiliate links.
Get Trip101 in your inbox
Unsubscribe in one click. See our privacy policy for more information on how we use your data