Anthony Bourdain, chef, writer, and host of CNN's "Parts Unknown" has visited Tokyo twice on his show and has said that Tokyo is his favorite food city. "I went to Tokyo the first time and my head kind of exploded," he said. "Nothing was ever the same for me. I just wanted more of it. If I had to agree to live in one country, or even one city, for the rest of my life, never leaving it, I'd pick Tokyo in a second." He should know–the cuisine in Tokyo is internationally acclaimed and in 2007 Michelin published their first Tokyo guide for fine dining, awarding a total of 191 stars to Tokyo restaurants. So, it is no surprise that Tokyo has a rich cosmopolitan dining scene.
If you have been to Tokyo or never been to Tokyo, one of the best ways to experience Tokyo's food and restaurant scene is to take any of the many food tours that are available. From sushi-making to touring the Shibuya and Ginza districts or culinary backstreets, a food tour is the perfect way to immerse yourself in the myriad of food options that are in Tokyo.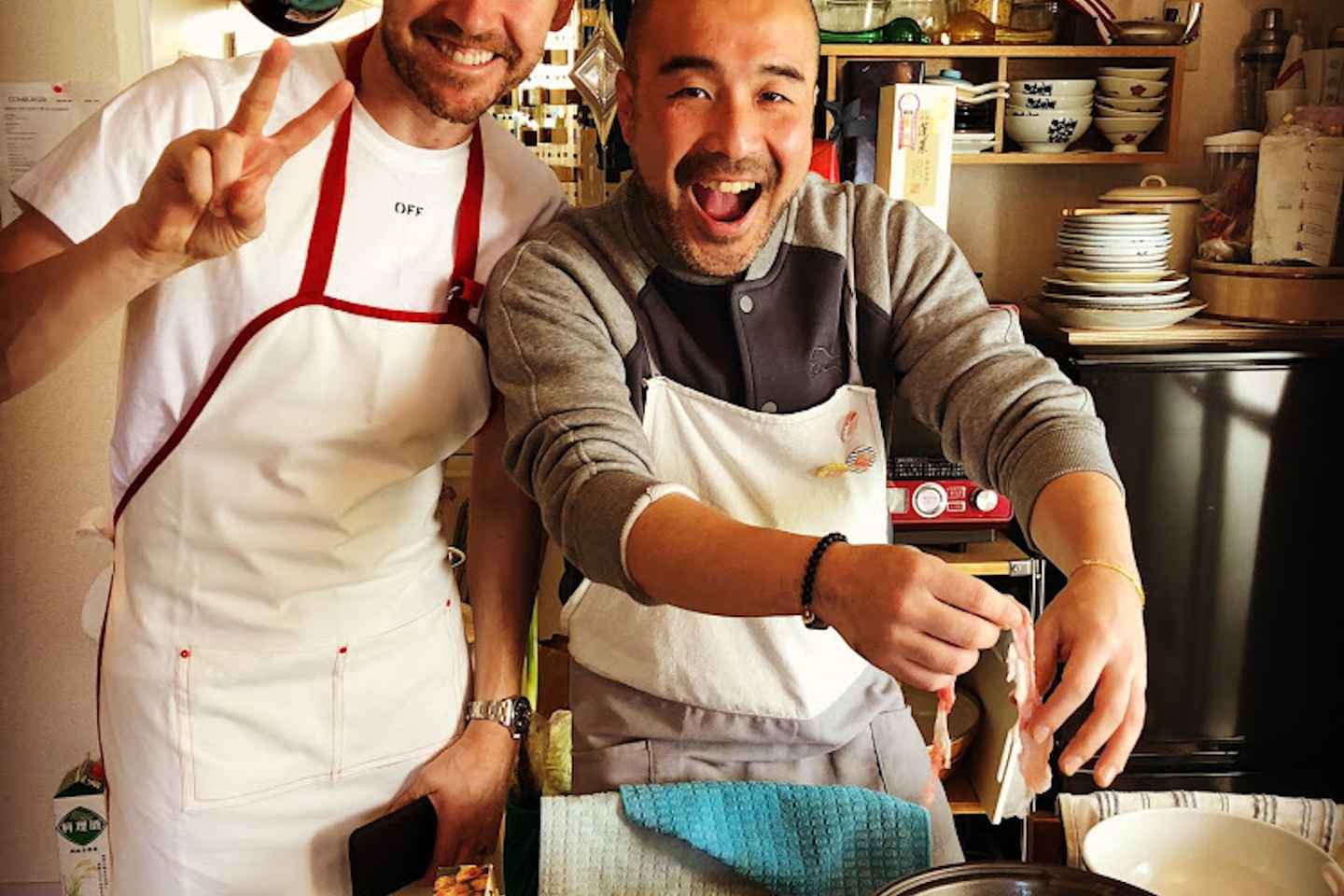 For any travel destination, one of the things to get most excited about is the culinary scene. While eating your way through a city is a given, one of the best ways to experience the culinary scene is to try making the food yourself. Cooking classes have become a popular activity for tourists, especially for foodies who want a more in-depth look at their favorite dishes. Apart from the typical sushi-making classes, a wide array of Japanese cooking classes are now available. Try your hand at making authentic Japanese specialties such as ramen, udon noodles, wagashi (Japanese confectionery), and other Japanese home-style meals as well as vegetarian and vegan options. Sharpen your cooking skills and discover Japanese food on a deeper level by enrolling in a cooking class.
This listing is sponsored by airKitchen.
Tokyo cooking class

Website:
Tokyo: Private Japanese Cooking Class with a Local Chef

Duration: 2.5 hour
Shibuya is one of Tokyo's most colorful and busiest districts, with multiple shopping, dining and nightclub venues. It is also Tokyo's off the beaten path food scene that is a favorite of Tokyo residents. On this three-hour tour you will sample Japanese delicacies as you stop at various side street restaurants. Food choices range from Hiroshima-style okonomiyaki, Osaka-style takoyaki, seven different kinds of sushi, Wagyu Beef or Kobe beef, 'yakitori' (barbecue) skewers, and some taiyaki dessert. You will have a chance to visit a "depachika", an underground food hall, to peruse the many food items for sale.
Walking Food Tour of Shibuya at Night

Duration: 3 hours
This small group tour limited to twelve people takes you on a three hour food tour visiting several of Tokyo's nighttime popular bars and restaurants. You will have a chance to learn about Japanese culinary and cultural traditions while sampling local food and drink. The tour begins in Yakitori Alley with its many informal restaurants known for their yakitori (grilled chicken skewers). Next stop is Monja Street to sample monjayaki, a pan-fried pancake, a favorite local delicacy. The tour ends in Ginza, a district packed with confectionery shops and Tokyo's most famous shopping, dining and entertainment district. You will conclude your nighttime food tour with a chance to sample sweets at a local pub.
Tokyo by Night: Japanese Food and Drinks Experience

Duration: 3 hours
Spend three hours exploring the streets of Tokyo while eating and drinking through some of the top local eateries that few tourists get to experience. You will visit the Yurakucho, Ginza, and Shimbashi districts while enjoying 6-8 food tastings and dessert at three popular and traditional venues. Stops include Gado Shita, a maze of the 1970s era restaurants under elevated train tracks, an upscale grocery store in Ginza, and several local izakayas (gastropubs) in Shimbashi where you will try five different varieties of yakitori and imbibe on two drinks.
Tokyo Allstar Food Tour

Duration: 3 hours
Visit the home of a local culinary expert to discover the secrets of homemade Japanese dishes as you enjoy an authentic Japanese culinary experience with a small-group cooking class. Learn about seasonal ingredients and how to use them, how to cook Japanese seasonal dishes, and what local people cook and eat in their own homes. Learn about Umami, the essence of Japanese cuisine, and how to make it from scratch. The three-hour class includes a main dish of your choice that may include fish/chicken Nanban, Ramen Chicken Karaage (Japanese fried chicken), Tempura, or Sushi roll. Also included are two side dishes, and miso soup with rice.
3-Hour Guided Musubi Japanese Home Cooking Class

Duration: 3 to 4 hours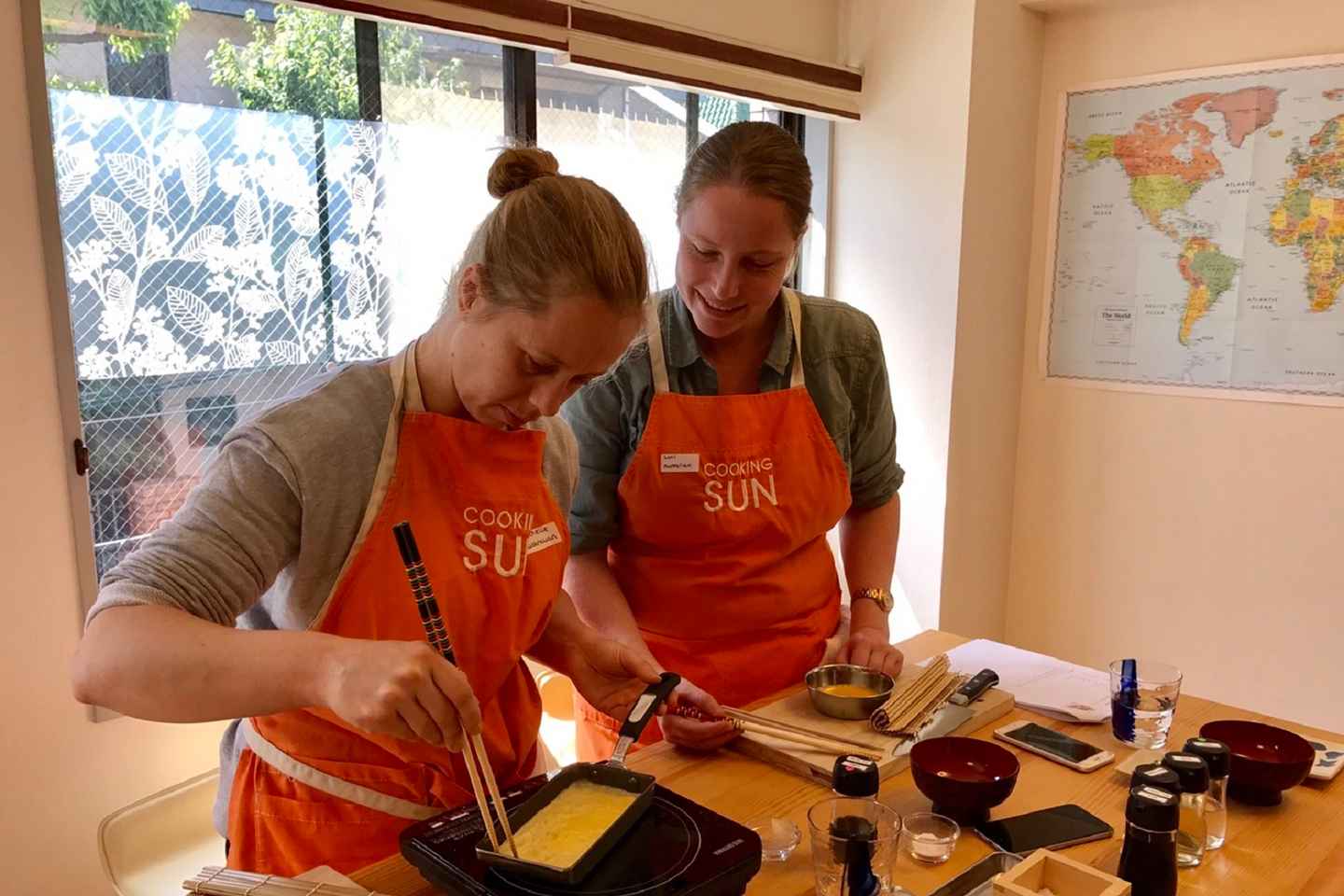 This is a chance to try your hand at Kaiseki, authentic Japanese cooking with seasonal produce. In this class you will use various methods of preparing popular dishes while learning from local instructors in their home as they share their cooking tips. You will learn to prepare and present the popular Wagyu beef steak and seven to eight other traditional Japanese dishes. Afterwards, you will have a chance to enjoy the dishes you have prepared. You will receive a welcome tea and go home with the recipes.
Tokyo: Wagyu & Kaiseki Cooking Class

Duration: 3.0 hour
Book this tour to experience authentic Japanese izakaya bars, and local food and drinks in hidden places only locals know about. The tour starts at Shibuya Crossing, and a local guide will take you around while explaining local culture and taking you to unique bar spots in Shibuya.
Shibuya Bar-Hopping Nightlife Food tour
Tokyo Shibuya District Bar Hopping Tour with Food and Drinks

Duration: 3 hours
The Tokyo Pub Crawl is the largest and longest running nightlife tour in Tokyo. The tour is a great way to experience some of the best nightlife in the city while meeting people along the way. You will visit at least three bars/clubs enjoying free shots at each bar as well as drink discounts. Then, end your pub crawl at one of Tokyo's hottest clubs dancing the night away. If you don't know where to go for Tokyo's best nightlife, this pub crawl is just the right tour.
Tokyo Pub Crawl

Duration: 4 hours 30 minutes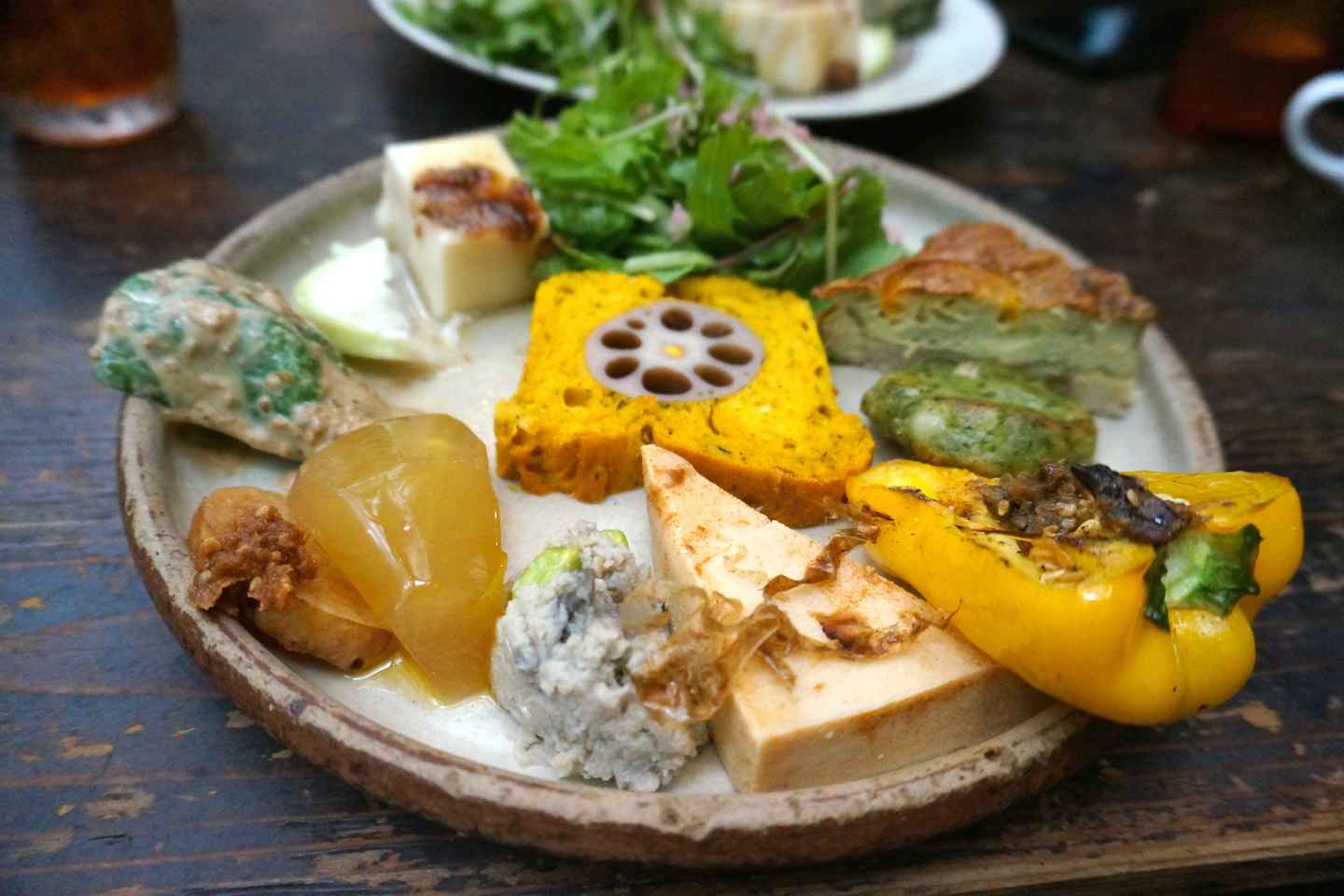 Tokyo is undoubtedly a haven for superb quality restaurants. It has the highest number of Michelin stars combined (314 in total) in 2018 compared to all other countries in the world! You can imagine the array of choices in its immense culinary scene. Indulge in three hours of savour authentic vegetarian cuisine away from the touristy eateries. Begin your food trip at a house cafe. It's a farm-to-table concept serving only the freshest organic vegetable in season. Learn from your local guide about Japan, its culture, and its way of living. Next, visit a ramen restaurant that you would have never discovered on your own. It's so hearty and scrumptious that you will surely then slurp away! Make sure you have room for matcha green tea and traditional Japanese desserts. The cost includes all the food and drinks, and the services of an English-speaking local.
Vegan & organic food tour
Tokyo: Vegan and Organic Food Tour

Duration: 3 hour
Take a 4.5 -our tour of the world famous Tsukiji Fish Market, the world's largest seafood market and one of the top 10 recommended things to see in Tokyo. You will have a 45-minute guided tour of the outer section of the fish market that houses food vendors, restaurants, Japanese cookware stores after which you will proceed to a well-known sushi restaurant near the market. There you will have a chance to make sushi rolls and nigirl (single pieces over rice). Your tour will end with you sitting down to lunch to enjoy your hand-made Japanese culinary art.
Sushi-lover's tour :Sushi Making and Explore Tsukiji Fish Market in the morning

Duration: 4 hours 30 minutes
Mingle with locals as you walk through the culinary backstreets of Tokyo. The walk begins at a "depachika", a department store food hall, to explore traditional foods and new food trends. You will learn about the history of the depachika as you taste pickles, cakes and other Japanese culinary treats. Your tour takes you next to the Shibuya district where you will sample some of the most famous sushi prepared right in front of you.
After sampling sushi, you will board a train to travel out from the city center to Kichijoji, a suburb of Tokyo. Here you will rub elbows with locals while shopping on the Shoten Gal street as you have a chance to learn about some of the basics of Japanese cuisine while sampling food rarely found outside of Japan, such as sake infused with the fin of fugu, puffer fish, teas, and sweets. Your tour concludes in one of the traditional drinking alleys of Kichijoji to sample sake beer and bar snacks at an izanaya, a Japanese gastropub.
Culinary Backstreets of Toyko

Website: Culinary Bakcstreets
Yanaka Shitamachi Backstreets Small-Group Walking Tour

Duration: 1 hour 30 minutes
A short train ride from the center of Tokyo takes you to a brewery where you will go behind the scenes to learn about the brewing process, history and culture of sake, the Japanese rice wine. Your guide will talk about the history and importance of the soil and manpower that goes into the production of sake. After the tour, you will have an opportunity to enjoy a sake-tasting session where you will sample some of the brewery's latest creations. Also included in the tour are a sake handbook and souvenir photo.
Sake Brewery Tour including Sake-Tasting Near Tokyo

Duration: 3 hours
Experience the culinary traditions of Tokyo
Immerse yourself in local culinary traditions, eat and drink where the locals go, and learn how to prepare traditional Japanese dishes. You can experience any or all of those on a food tour in Tokyo while visiting some of Tokyo's most popular areas as well as some more out of the way places. You will meet locals who will share their knowledge of Japanese cuisine and ingredients, visit their homes and sit down to enjoy a homemade Japanese meal prepared by you. A food tour is the best way to get off the traditional tourist route and immerse yourself in local culture and tradition.
Disclosure: Trip101 selects the listings in our articles independently. Some of the listings in this article contain affiliate links.
Get Trip101 in your inbox
Unsubscribe in one click. See our Privacy Policy for more information on how we use your data